Span seeing action in final games to 'keep his rhythm'
Center fielder sustained gash on right knee after diving catch Tuesday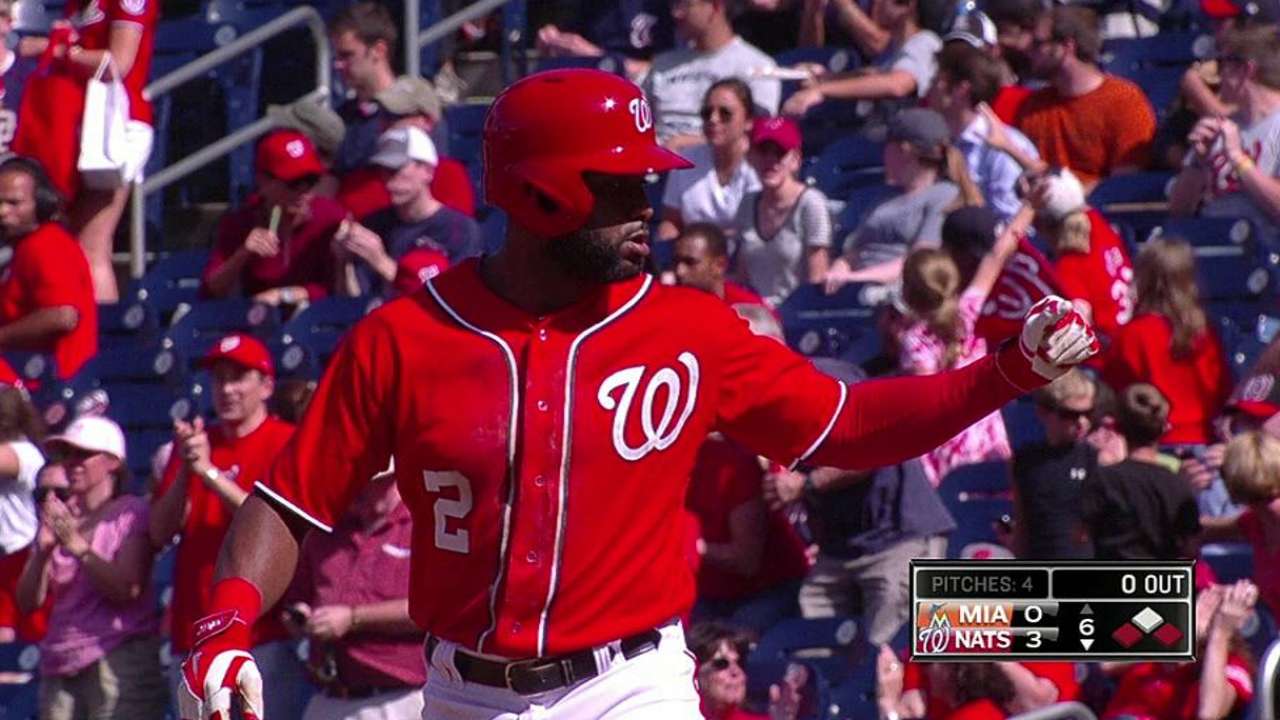 WASHINGTON -- Denard Span still has what he called "a pretty good gash" on his right knee, but the Nationals center fielder and leadoff man was back in the lineup for Friday's 4-0 win over the Marlins, the first game of a doubleheader in which the Nats clinched the top seed in the National League for the playoffs.
Span went 1-for-4 with a walk in his return.
"It feels all right," Span said of his knee. "I was a little rusty since I hadn't played a full game since Saturday. It was a little stiff, but as the game went on, it got better and better."
Span left Tuesday's game when he sustained the injury on a spectacular diving catch on the warning track, and he missed both ends of Thursday's twin bill against the Mets. The Nats, who already clinched the National League East Division title, have approached the situation cautiously, and Span believes he'll be fine for the rest of the season.
"You don't want to miss too many games," he said. "I feel confident and comfortable about playing."
Span worked out on Thursday, jumping rope and doing sprints on a treadmill, but he decided it would be best to wait until Friday to return. The plan is for him to play just the first half of the doubleheader, then both of the last two games of the regular season. Span's only concern is that because of the gash, it will hurt when he slides, but he intends to cover the area with a knee pad and will try not to "slide aggressively."
"He's just a little bit sore, but he'll work through that," manager Matt Williams said before the game. "He needs to play. He's got to play the last few games here to keep his rhythm."
Span set a new career high with his hit in Game 1 on Friday (181) and is now only two hits shy of tying Cristian Guzman's club record for a single season.
Worth noting
• Ryan Zimmerman was in the lineup in left field for Friday's first game after also playing in the afternoon contest in Thursday's twin bill. It was his second start since coming off the disabled list, and Williams was pleased with how it went and how Zimmerman felt afterward.
"Much better than he did last time, so that's a good sign," Williams said. "He's getting in games and doing things he has to do to pass all those tests. So he went first to third, he ran down the first-base line fine, so I think everything was good in that regard, and he showed up today feeling good, so we'll put him back in there and see how he does today."
Andrew Simon is a reporter for MLB.com. Follow him on Twitter @AndrewSimonMLB. This story was not subject to the approval of Major League Baseball or its clubs.