Konerko's presence will be felt long after last out
White Sox veteran led by example with his focus on the game, professionalism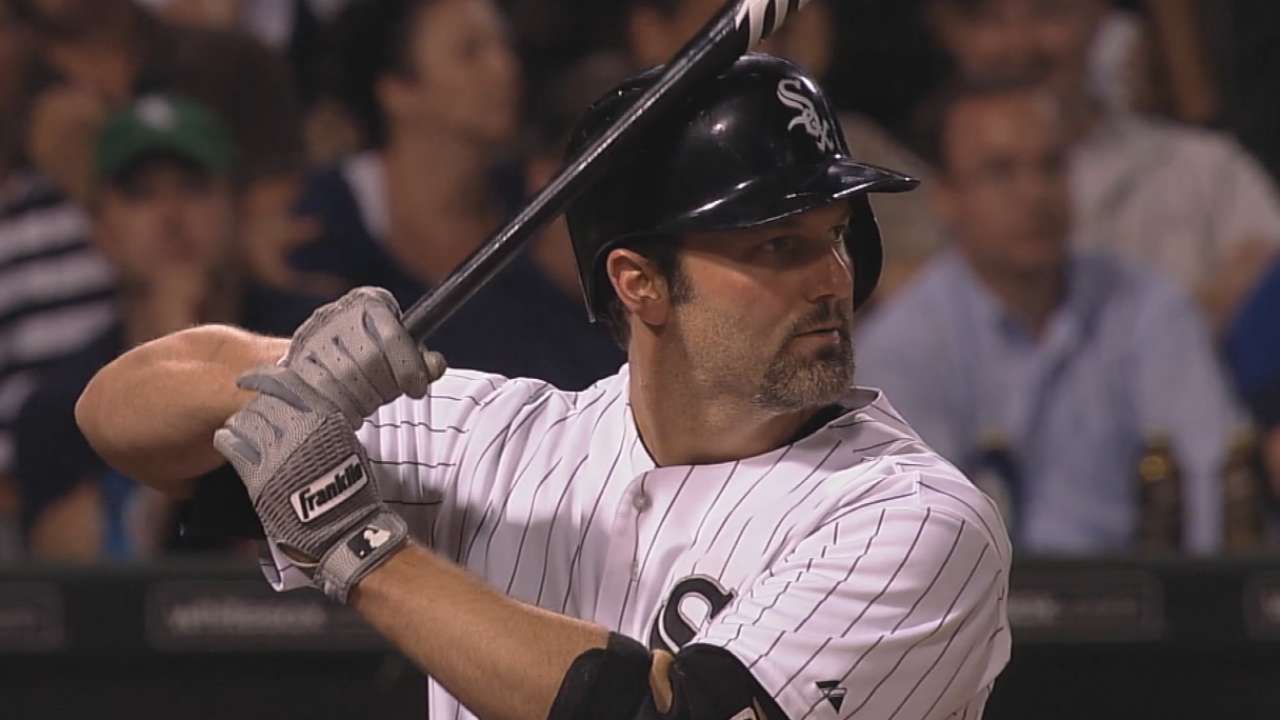 CHICAGO -- The locker occupied by Paul Konerko sits in the front corner of the U.S. Cellular Field home clubhouse, occupied previously by the likes of Frank Thomas and Jim Thome. It's situated next to the player mailboxes where countless baseball cards to sign and letters of appreciation have been sent to Konerko over the past 16 years.
Chris Sale takes a look across the clubhouse in Konerko's direction when asked about the retiring captain, and a mischievous look comes over the face of the White Sox ace.
"I'm just glad he's leaving finally," said Sale with a broad smile. "I'm already setting up my stuff over there."
Sale might very well be moving locker neighborhoods when the 2015 season begins, but he knows as well as anyone in the organization that Konerko won't be replaced. It was Konerko who showed Sale around the clubhouse and the ballpark on his first trip to Chicago after agreeing to terms with the White Sox as their top pick in the 2010 First-Year Player Draft.
This place belonged to Konerko in a way. He was the captain, named by then-manager Ozzie Guillen before the 2006 season. He was the leader. He was the man who hit the grand slam heard around the city in Game 2 of the 2005 World Series and gave the ball from the last out of the World Series championship to chairman Jerry Reinsdorf at the ensuing victory parade before two million of the White Sox closest friends.
He did it his way, without need for fame or adulation.
"Certainly the position-player face of a very successful period of White Sox baseball," said White Sox general manager Rick Hahn of Konerko, listing Mark Buehrle as the pitching face for the same era. "Paulie is always going to be remembered fondly for what he accomplished on and off the field in this uniform and held up as a role model for the type of player we want to have around here."
"I don't think there's anything I can say that anyone hasn't already said in terms of the professionalism, the consistency, the leadership," Sale said.
Statistics alone don't define Konerko's Major League tenure. But those statistics heading into his last series are pretty darn impressive when you look at 439 homers, 1,412 RBIs, an .841 OPS, a .279 average, 2,340 hits and 9-for-13 in stolen base attempts.
"Every single hit went to the outfield," said Konerko's friend and former teammate Brian Anderson, with a jab at Konerko's lack of speed. "The last time P.K. got an infield hit was 2000 and never."
Anderson refers to Konerko as a mentor after the two played together from 2005-09. He tables the sarcasm about Konerko's wheels to make a point about the first baseman's Hall-of-Fame stature: His numbers, accrued the right way, should make Konerko a candidate for enshrinement.
Of course, Konerko would be the first person to argue against that Hall of Fame point. Individual accomplishments were never Konerko's target. He never once asked "Why not me?" or "Where are my accolades?" It sounds cliché, but there was no "I" in team for Konerko, and there was no purpose each day other than doing all he could to make the White Sox better.
"It's just having a clear-cut idea on what is really important," Konerko said. "The other stuff is fun and you kind of dive into it here and there, but it's all about just doing the job. It doesn't matter how well you do or if you make All-Star Games. The job description is the same right now as it was, well maybe not right now, but as it was for most of your career. I never really saw how anything should change. Just be the same.
"There are a lot of distractions that can make you think that something is important. But if it didn't play into me getting ready for the game that night or was going to help me on the field that night, then again, it could be something you enjoy in a certain setting or a different time. But it's not meaningful. It's all about the games in between the lines, doing whatever you can to be good in those situations.
"Unfortunately, it's probably become too common of all these different outlets, how people can see what allegedly is important," Konerko said. "I just try to be who I am and I don't really think … . A lot of stuff just doesn't interest me."
Konerko quipped that for the amount of time he has been in the game, he has the least amount of "notable" friends imaginable stored in his phone. Eddie Vedder, John Cusack and Chris Chelios have been known to frequent Konerko's suite at U.S. Cellular Field, but those are his true friends who just happen to be famous.
When the captain takes a final bow on Sunday, he might not be around baseball for quite a while. But his memories live on, through the plays he made and the players he influenced, all in the name of the White Sox.
"I love the game," said Konerko during his Thursday media session."It's great, but everything else that kind of goes with it, I don't need. I don't need people to know who I am, to see me somewhere that's 'so and so.' That's just not me."
Scott Merkin is a reporter for MLB.com. Read his blog, Merk's Works, and follow him on Twitter @scottmerkin. This story was not subject to the approval of Major League Baseball or its clubs.