MLB.com Columnist
Roger Schlueter
MLB Notebook: Jeter did amazing home work
Yankees captain's storybook night fitting end to his career in Bronx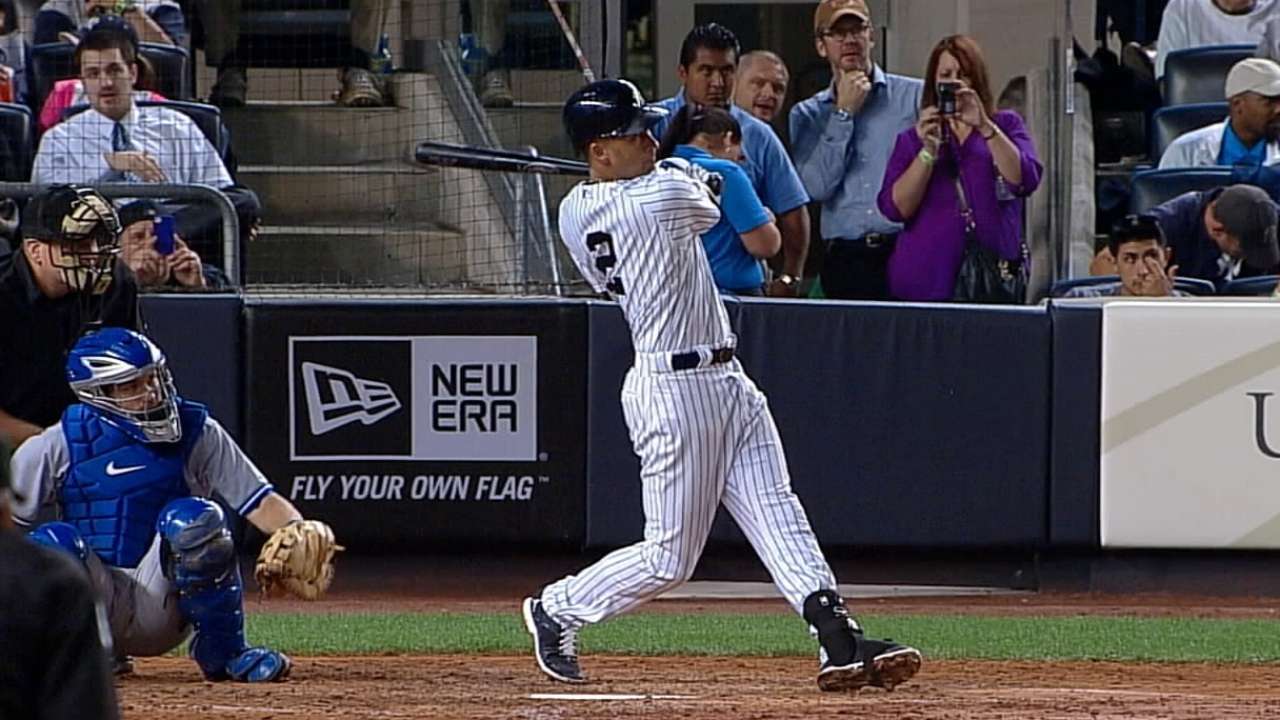 On Sept. 29, 1963, with Curt Flood at second after a leadoff double in the sixth, Stan Musial stepped into the box against Jim Maloney and singled to drive in the first run of the game. It would be the last swing for Musial in his career -- a swing that played a role in the Cardinals '3-2 walk-off victory in 14 innings. Thirty years later to the day, George Brett -- playing in the final home game of his career -- connected for a game-tying single in the bottom of the eighth of an eventual 3-2 walk-off win for the Royals.
From those last hurrahs to Ted Williams homering at Fenway in his last-bat on Sept. 28, 1960 and Derek Jeter hanging a star Thursday, the closing sentences of late-September scripts can sometimes be just about perfect.
Jeter leaves home a hero … again
Playing in his final home game, Jeter delivered a walk-off single to right in the ninth to give the Yankees a 6-5 victory over the Orioles.
A few notes regarding Jeter's standing among all players since 1923 (the Yankee Stadium(s) era):
• Jeter concludes with 1,727 home hits, a total that is fifth highest. Pete Rose leads with 2,123 hits in home games and is followed by Carl Yastrzemski (1,822), Stan Musial (1,815) and Hank Aaron (1,811).
• Jeter concludes with a .313 batting average at home -- the 11th-highest mark among players with a minimum of 5,000 plate appearances for the split. Wade Boggs leads with a .354 average and is followed by Paul Waner, Musial, Rod Carew, Roberto Clemente, Charlie Gehringer, Brett, Paul Molitor, Luke Appling, Chipper Jones and Jeter.
• Jeter now has 865 wins as a starter in games at home, giving him one more than Musial collected. The three players ahead of Jeter are Rose (1,024), Yastrzemski (944) and Aaron (898).
At 40 years and 91 days old, Jeter was the second-oldest Yankees player in the past 40 seasons to deliver a game-ending hit. On Oct. 2, 2012, Raul Ibanez (40 years and 122 days old), hit a walk-off single to give the Yankees a 4-3 victory over the Red Sox.
Jeter also drove in a run with a first-inning double -- his 544th career two-base hit. The double gives him one more than Tony Gwynn, and gives Jeter sole possession of 30th place on the all-time list. Among players with at least 67 percent of their career games at shortstop, the total stands as the third highest behind Honus Wagner's 643 and Cal Ripken, Jr.'s 603.
O's homers not enough
In the Orioles' loss, Nick Markakis and Alejandro De Aza opened the top of the first with home runs -- the first time the O's had hit back-to-back homers to open a game since they hit three in a row to start the proceedings on May 10, 2012 in the first game of a doubleheader. In that game, Markakis hit the third dinger.
In all, the Orioles hit four homers. It was the eighth time this season they'd hit at least four in a game (the most in the Majors), and this game marked their first loss in those eight games. Overall, teams are 73-6 in 2014 when hitting at least four homers in a game.
Victor keeps on rolling
Victor Martinez added another longball to his career-high tally, hitting his 32nd of the year in the Tigers' 4-2 win over the Twins. Martinez also added his 33rd double and struck out once.
Martinez has 65 extra-base hits with 42 K's on the season, he has a slash line of .337/.410/.571, and he owns a 170 OPS+. His strikeout percentage currently stands at 6.66. The past five players to finish a year with an OPS+ of at least 170 and a strikeout percentage as low as Martinez's current mark:
• Barry Bonds in 2004 (263 and 6.65 percent)
• Brett in 1980 (203 and 4.27 percent)
• Musial in 1957 (172 and 5.87 percent)
• Williams in 1954 (201 and 6.08 percent)
• Musial in 1951 (183 and 5.90 percent)
Scherzer notches No. 18
Detroit's Max Scherzer allowed two runs and fanned nine in six innings to improve to 18-5 on the season. In 2013, Scherzer owned an .875 winning percentage with 240 strikeouts, and this year he has a .783 mark with 252 K's.
Before Scherzer, no right-hander had posted multiple seasons with at least 240 K's and a winning percentage of at least .780. Going all the way back, there had been 11 instances of this happening before Scherzer in 2013: Old Hoss Radbourn (1884), Mickey Welch ('85), Smoky Joe Wood (1912), Walter Johnson ('13), Dazzy Vance ('24), Denny McLain ('68), Dwight Gooden ('85), Pedro Martinez ('99), Curt Schilling (2001), Tim Lincecum ('08) and Justin Verlander ('11).
After his outing on Thursday, Scherzer's strikeout rate rests at 27.9 percent for the year. He posted a 29.4 percent in 2012 and 28.7 percent in '13. He is one of five righties to have at least three seasons being at or above 27.5 percent. Nolan Ryan had six such seasons, while Martinez and Schilling each had five, with Kerry Wood joining Scherzer at three.
Edinson lighting it up for Bucs
Edinson Volquez fanned 10 in seven scoreless innings and picked up the win as the Pirates defeated the Braves, 10-1.
Volquez is 13-7 with a 3.04 ERA in 192 2/3 innings this season. From 2009-13, his overall work outlined to a season average with a 7-7 record, a 4.94 ERA and a 115 innings.
Since the All-Star break, Volquez owns a 2.20 ERA in 13 games, which is tied for 14th lowest among pitchers with at least 10 second-half starts. His 1.08 ERA in September is the lowest among pitchers with at least five starts this month.
The Pirates own a 2.20 team ERA in September -- the lowest in the Majors. The last Bucs team to post a September/October mark below 2.50 was the 1972 club (2.34).
Here and there
• In the Mariners' 7-5 win over the Blue Jays, Logan Morrison hit a go-ahead, three-run homer in the fourth inning and then added a go-ahead solo shot in the sixth. Morrison has hit five homers in September which have either tied the game or given his team the lead. Those five in September are the most for any Mariners player since Adrian Beltre in 2006, and they tie Morrison with Carlos Santana for the second-most in the Majors in 2014. Adam LaRoche has seven for the Nationals this month.
• Casey McGehee drove in three runs in the Marlins' 6-4 win over the Phillies, and now has 74 RBIs on the season. McGehee has also hit four home runs in 600 at-bats while playing 154 games at third base. The most recent player to have at least 74 RBIs, play at least 150 games at third, and own a HR/AB mark as low as McGehee's was Pie Traynor in 1933. That year, Traynor drove in 82 while going deep just once in 624 at-bats.
Roger Schlueter is senior researcher for MLB Productions. This story was not subject to the approval of Major League Baseball or its clubs.