Giants set for special Willie Mac night
Players, coaches vote on honor they consider among most prestigious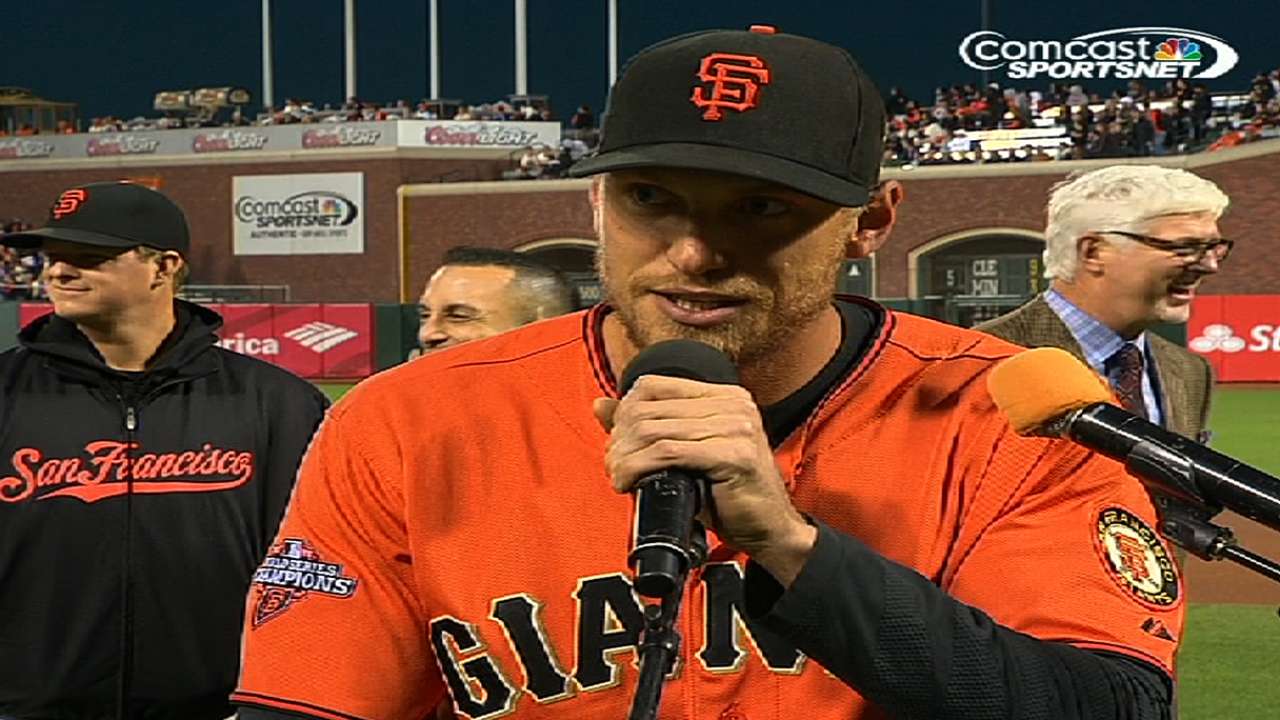 SAN FRANCISCO -- Friday will represent one of the finest days of the year on the Giants' calendar, right up there with the home opener and Until There's A Cure Day.
This is the night that the Willie Mac Award will be given to the Giant who's selected as the team's most inspirational player. The distinction, obviously enough, is named for Willie McCovey, the slugging first baseman who matched his clouts with class.
"He was really an icon for me," said Giants broadcaster and former pitcher Mike Krukow, who won the award in back-to-back years (1985-86). "He was bigger than life."
This Willie Mac Award presentation will be different this year, because McCovey likely won't be at AT&T Park to announce the winner. The 76-year-old was recently hospitalized with complications from an infection. But his presence will certainly be felt at what promises to be an emotional ceremony.
"We're all thinking about him, praying for him and hoping that he gets better," said former first baseman J.T. Snow, another two-time Willie Mac winner. "We're going to miss him there, but he's out there in spirit."
Numerous winners of the award, including Darrell Evans, Chris Speier, Larry Herndon, Marquis Grissom, Bob Brenly, Jeff Kent and Andres Torres are expected to join the festivities. The list is longer than it was in recent years, as if the attendees are reaffirming the award's significance in a tribute to the absent McCovey. Here's what some of the previous Willie Mac recipients had to say about the honor.
The award
Ryan Vogelsong, pitcher (2011 winner): "First of all, it's an amazing honor, because it's voted on by your teammates and the coaches. I know the fans have a little bit of a vote, but the highest percentage comes from the guys you're with every day. Any time that you get recognized by the guys you play with every night, that means a lot."
Dave Dravecky, pitcher (1989): "It's something that is so much bigger than the game of baseball. You're selected by your peers, your teammates, to receive that award. It means the world to a player when your teammates think that much of you that they would want you to be a recipient of that award. ... When you walk into my office, there's one award that I have put on the wall that means more to me than anything I've ever received."
J.T. Snow, first baseman (1997 and 2004): "I don't have many trophies or awards in my house, but I do have the two Willie Mac Awards hanging on the wall in my office. Those are something that's pretty special."
The man
Vogelsong: "There aren't too many times you're going to be put in the same category as a Hall of Famer. To be given an award from a guy who's not only a Hall of Fame player, but also a Hall of Fame person, that means a lot."
Hunter Pence, right fielder (2013): "It's tough to describe the magnitude. To have your name mentioned with his, it's an honor."
Mark Gardner, pitcher (2001): "He's always such a class guy. He'll talk to you any time. He was such a great player. A lot of great players don't have the time of day for you. And he always does."
Snow: "It's special because when you think of the San Francisco Giants, you think of McCovey and Willie Mays and all the Hall of Fame guys. He'd come into the clubhouse and was the nicest guy. He never talked about himself or his Hall of Fame career. He was very humble. He was one of the guys."
Dravecky: "He's a man of integrity, he's a man of character and he's a Giant."
The legacy
Gardner: "We take it very seriously -- who we vote for. Who receives it should be worthy of it. All the guys who have received it certainly have earned it. It's not just something we give away to the best player. This guy needs to inspire people and lead by example."
Vogelsong: "You know what that award means to this organization. Just from talking to other players and talking to [club president] Larry [Baer], they take that award very seriously in this organization."
Snow: "I think it's an award that guys really take their time to vote on. They know who persevered and gave it a great effort all year long. It's not necessarily the guy who has the best numbers or stats. It's a guy who everybody respects and who everybody wants on their team."
Dravecky: "It represents everything that is great about baseball, because it represents Willie McCovey."
Chris Haft is a reporter for MLB.com. Read his blog, Haft-Baked Ideas, and follow him on Twitter at @sfgiantsbeat. This story was not subject to the approval of Major League Baseball or its clubs.