MLB.com Columnist
Jim Callis
Pipeline Inbox: Where would Boston's Castillo rank?
Jim Callis responds to fans' questions about the next crop of Major League talent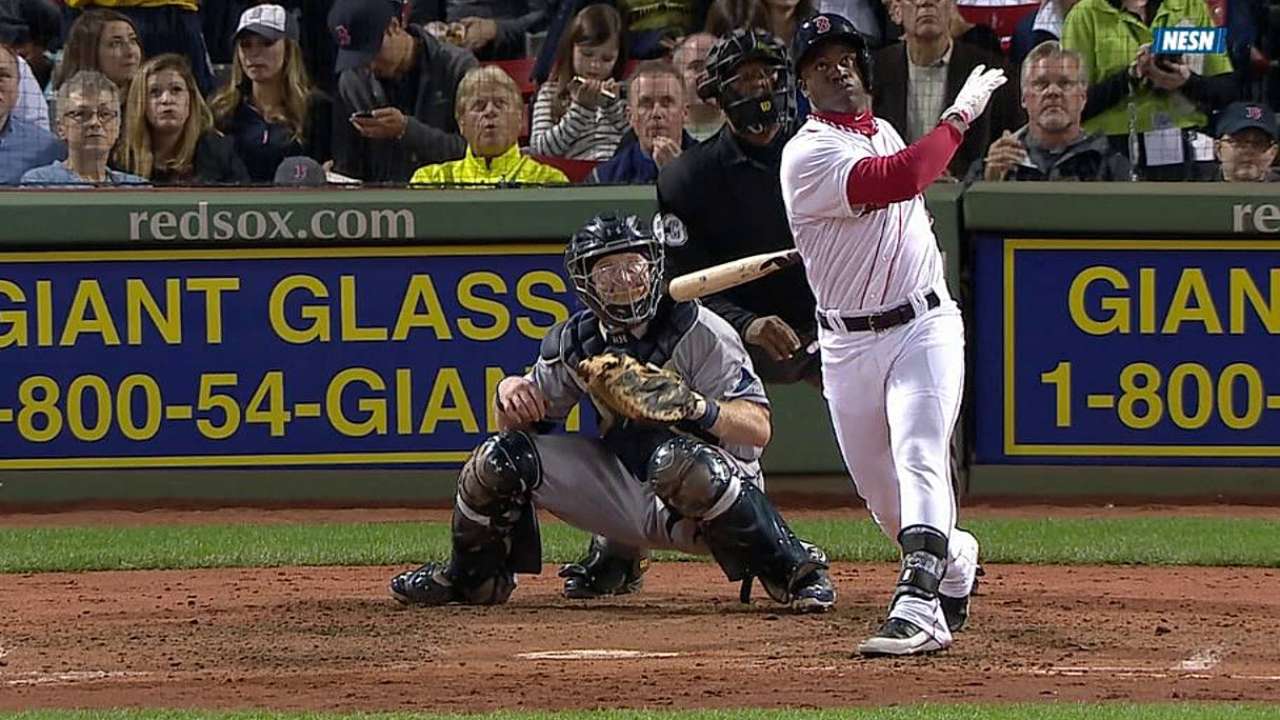 The D-backs news that drew the most attention Thursday was the hiring of former All-Star pitcher Dave Stewart as general manager. De Jon Watson, who had been Dodgers vice president of player development, also joined the franchise as its new senior vice president of baseball operations.
With far less fanfare, the new regime moved one step closer to getting the No. 1 overall pick in the 2015 First-Year Player Draft. The Rangers eliminated themselves with a 2-1 win over the Athletics in 10 innings, meaning that Arizona will choose first unless it sweeps the Cardinals this weekend and the Rockies lose three straight against the Dodgers. There's no clear-cut top 2015 Draft prospect at this point, though Duke right-hander Michael Matuella is the frontrunner.
What are your thoughts on right-hander Aaron Nola's first year with the Phillies?
-- Matt A., West Chester, Pa.
The seventh-overall pick in the 2014 Draft, Nola went 4-3, 2.93 in 12 outings (11 starts) split between high Class A and Double-A after signing for $3,300,900. He posted a 45/10 K/BB ratio in 55 1/3 innings, while opponents batted .240 with eight homers against him.
That quality performance at a high level for a first-year player really wasn't a surprise, because scouts considered Nola the most polished and advanced pitcher in this year's Draft. He throws a ton of strikes with a three-pitch mix highlighted by a lively low-90s sinker and a quality changeup. He should be the first starting pitcher from his Draft class to reach the Major Leagues, which could happen sometime next year.
Were he eligible for MLBPipeline.com's Red Sox Top 20 Prospects list, where would outfielder Rusney Castillo rank?
-- J.P. S., Springfield, Ill.
After coming close but ultimately missing out on Jose Abreu, the Red Sox didn't get beat on the next blue-chip Cuban defector who became available. They landed Castillo with a seven-year, $72.5 million contract in August and already have brought him to Boston after a brief tuneup in the Minors. He slammed his first big league home run Thursday night, a 388-foot shot off Steve Geltz.
When he was in Cuba, Castillo was best known for his well-above-average speed. The 27-year-old has gotten stronger since defecting, and he now packs 205 pounds on his 5-foot-9 frame, and he projects to have average power. He also is a good defender in center field, albeit with a below-average arm.
The recent and immediate success of Yoenis Cespedes, Yasiel Puig and Abreu has eased concerns about Cuban hitters making the transition to the Majors. MLBPipeline.com considers international players who don't count toward bonus pools as the equivalent of foreign big leaguers rather than prospects, but if we did rank Castillo, I'd put him third on our Boston list behind Henry Owens and Blake Swihart. That would be hedging my bets a little, but Owens is on the short list of the best left-handed pitching prospects in baseball, and Swihart is the game's top catching prospect.
What do you make of Cubs outfielder Albert Almora's development this year and last? It's odd to have watched him go from prized prospect to an almost forgotten man in a deep system. Where do you see his floor and ceiling now relative to Draft Day 2012? How do you feel Arismendy Alcantara's emergence in center field and Billy McKinney's acquisition affect Almora's future?
-- Rian W., Wilmette, Ill.
Almora struggled this season, batting .270/.291/.392 in 125 games between High Class A and Double-A. He seemed to turn a corner in July, when he posted an .892 OPS with five of the nine homers he would hit this year, but he slumped again in August. The biggest concern was his lack of patience at the plate, as he walked just 14 times in 529 plate appearances.
When Almora signed for $3.9 million as the sixth-overall pick in the 2012 Draft, he was an extremely advanced high school player with impressive instincts in all facets of the game. His ceiling was a Gold Glove Award-caliber center fielder who could bat third in the order, and his floor was as a plus defender who would hit for average with fringy power.
While Almora needs to work deeper counts and walk more often, he doesn't swing and miss excessively, and he's still just 20 years old -- so it should be safe to project him as a .275/.320/.425 hitter. He still draws raves for his defensive prowess and still looks like the Cubs' center fielder of the future. As long as Almora hits, Alcantara likely will settle in at second base or into a super-utility role, and McKinney is destined for an outfield corner.
When can White Sox fans expect Tim Anderson to make an impact? Is it reasonable to believe that when Alexei Ramirez's contract expires in two years, Anderson will be ready and able to play shortstop?
-- Nick D., Chicago
That's very reasonable. Despite missing two months of his first full pro season with a broken wrist, Anderson did bat .303/.328/.481 with 10 steals in 84 games and reached Double-A at the end of the year. The 17th-overall Draft pick in 2013 needs to work on his plate discipline after recording a strikeout-to-walk ratio of 82/9 in 362 plate appearances, but all of the tools are there. He's a plus-plus runner who should become a solid hitter with more pop than most middle infielders.
Still raw at shortstop, Anderson has committed 53 errors in 145 pro games, but he should be able to stay at the position. Anderson was known more as a basketball player as an Alabama high schooler and has less baseball experience than a typical 21-year-old prospect. He has the actions and first-step quickness to be an asset at shortstop, and he has silenced doubters as to whether he has a strong enough arm for the position.
Jim Callis is a reporter for MLB.com and writes a blog, Callis' Corner. Follow @jimcallisMLB on Twitter. This story was not subject to the approval of Major League Baseball or its clubs. This story was not subject to the approval of Major League Baseball or its clubs.