MLB.com Columnist
Jonathan Mayo
Unveiling the 2014 All-Prospect Team
Sluggers Bryant and Gallo make the cut, as do pairs of Dodgers, Nationals and Red Sox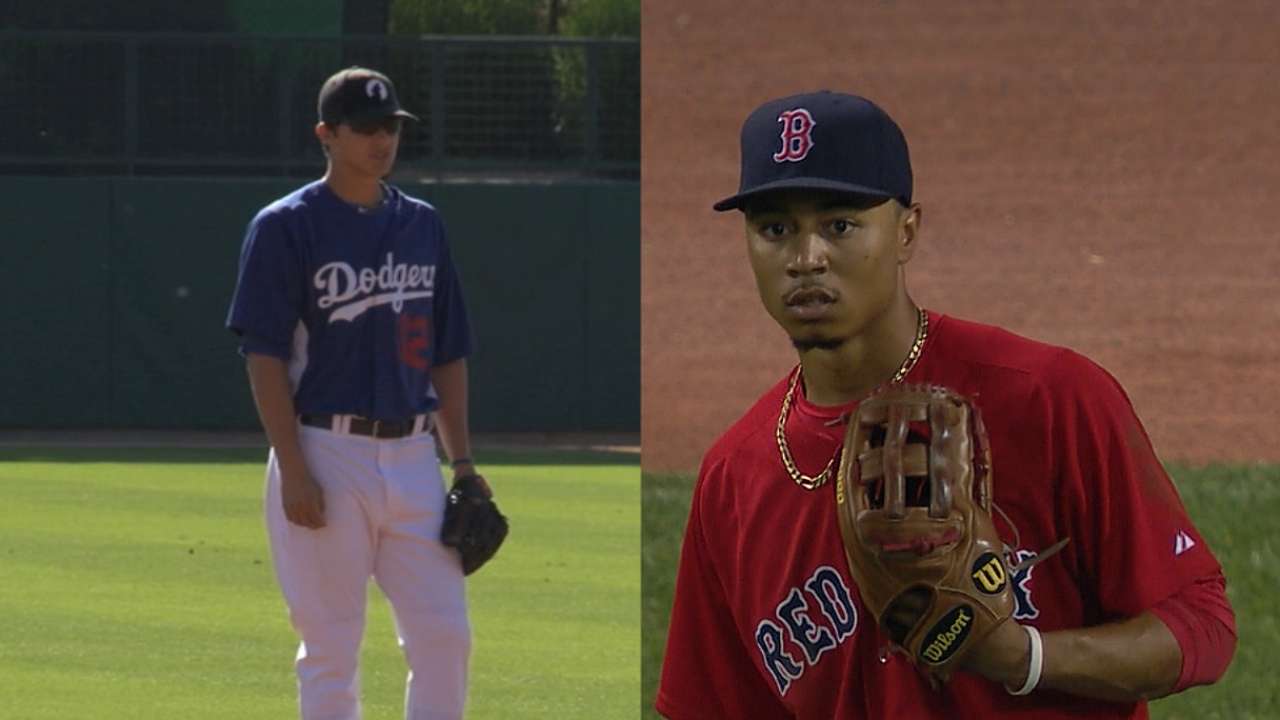 Last week, MLBPipeline.com handed out year-end awards for top hitting and pitching prospects. As much as Kris Bryant and Tyler Glasnow were deserving recipients, it was clear there were many other fantastic performances in 2014 that deserved some attention.
With that in mind, MLBPipeline.com announced its 2014 All-Prospect Team on Friday. There's a prospect for each position, including three outfielders, a DH, a right-handed and left-handed starting pitcher and one reliever. The only requirements were that a player appeared at some point on a team's Top 20 list on Prospect Watch and spent the majority of the year in the Minor Leagues.
1B: Matt Olson, Oakland A's
Perhaps lost in the shadow of the power displays of Bryant and Joey Gallo, Olson finished third in all of the Minors with 37 home runs. The A's No. 2 prospect also walked 117 times to lead the Minor Leagues, allowing him to finish with a robust .404 OBP and .947 OPS.
2B: Mookie Betts, Boston Red Sox
Betts has more than held his own in the big leagues, playing center field and second base. He began the year as the No. 62 prospect on the Top 100, then moved up to No. 14 on the re-ranked list this summer. The jump was thanks to a huge season at Double and Triple-A. Betts hit .346/.431/.529 with 33 steals in 99 games before getting called up to Boston.
SS: Corey Seager, Los Angeles Dodgers
The fact that Seager hit in the California League surprised no one. Neither did the fact he kept on raking when he reached Double-A. The Dodgers' top prospect hit a combined .349/.402/.602 to win the Minor League batting title, and his .602 slugging percentage was also good for fourth in the Minors. All coming from the shortstop position, while reaching the upper levels of the system at age 20.
3B: Kris Bryant, Chicago Cubs
He was the Hitting Prospect of the Year, after all. The Cubs' top prospect led the Minors in home runs, slugging percentage and OPS. He was second in OBP, third in RBIs, and he even stole 15 bases while reaching Triple-A in his first full season.
C: Blake Swihart, Red Sox
Ranked as the No. 2 catcher, Swihart began the year in Double-A and finished it with the International League champion Pawtucket Red Sox in Triple-A. Combined, the switch-hitting 2011 first-round pick hit .293/.341/.469. He also threw out 46 percent of would-be basestealers and improved his defense behind the plate.
OF: Joc Pederson, Los Angeles Dodgers
Quick quiz: How many professional baseball players went 30-30 in 2014? One: Pederson. At No. 16 on the Top 100 and No. 3 on the Dodgers' list, Pederson was the only player at any level to accomplish the feat. The outfielder did it in just 121 games and 448 at-bats with Triple-A Albuquerque before receiving a September callup. Pederson not only had 33 homers and 30 steals, he also had a 1.017 OPS, good for fourth in the Minors. Sure, he struck out 149 times, but he also drew 100 walks en route to a .435 OBP, third among Minor Leaguers.
OF: Michael Taylor, Washington Nationals
A raw, toolsy shortstop-turned-outfielder, Taylor had a breakout year, largely in Double-A, in 2014. The Nationals' No. 3 prospect had a 20-30 season (23 home runs, 37 steals), went to the Futures Game and earned his first big league callup. His strikeout rate is still quite high, but his walk rate and OBP improved this year, signs he's moving in a very good direction.
OF: Steven Souza Jr., Washington Nationals
Souza may not have the same marquee value compared to others on this list -- he's one of only two players not on the Top 100 -- but it's impossible to look past the year he had before joining the Nationals. Souza started the year No. 14 on the Nationals' Top 20 and moved to fifth after hitting .345/.427/.577 over 100 Minor League games. His 1.004 OPS was sixth-best among all Minor League hitters, and he stole 28 bases to boot.
DH: Joey Gallo, Texas Rangers
Gallo certainly belongs on this list, but he was blocked at his normal position by Bryant. The Rangers' top prospect finished just one homer behind Bryant, narrowly missing out on his second straight Minor League home run crown. More impressive than his power output -- though his Futures Game display will be remembered for a long time -- are the adjustments he made to earn a promotion to Double-A. His approach at the plate matured, and as a result he drew more walks and made more contact, giving him more chances to tap into his plus power.
RHP: Tyler Glasnow, Pittsburgh Pirates
The MLBPipeline.com Pitching Prospect of the Year, Glasnow shook off an early back issue to absolutely dominate the Florida State League. He finished the year with the lowest opponents' batting average among Minor Leaguers and the third lowest ERA. He struck out 11.4 batters per nine innings, which actually lowered his K/9 rate to 12.0 for his career. He also lowered his BB/9 rate by nearly a walk per nine from last season to this one.
LHP: Daniel Norris, Toronto Blue Jays
There were several quality lefty prospects to consider -- four received votes for Pitching Prospect of the Year, and five are among the top 30 overall prospects -- but Norris' season truly does stand out. The 2011 second-round pick began the year in the Florida State League and ended it in the big leagues, putting up eye-popping numbers along the way. The Blue Jays' No. 1 prospect finished fifth in the Minors with 163 strikeouts, held hitters to a .212 batting average and finished with a 2.53 ERA. His 11.8 K/9 rate was coupled with a 3.1 BB/9 mark.
RP: R.J. Alvarez, San Diego Padres
Alvarez began the year as the Angels' No. 7 prospect, but was dealt to the Padres in the Huston Street deal. He's not on the Padres Top 20 currently, but he's pitched as though he belongs. Between the two organizations, Alvarez posted a 1.25 ERA in 38 relief appearances, striking out 12.7 per nine while walking 2.7. Hitters managed just a .192 batting average against him in the Minors, and he's been just as stingy during his big league debut this September.
Jonathan Mayo is a reporter for MLBPipeline.com and writes a blog, B3. Follow @JonathanMayoB3 on Twitter. This story was not subject to the approval of Major League Baseball or its clubs.