MLB.com Columnist
Mike Bauman
Colletti: Dodgers' intangibles just as pivotal as their talent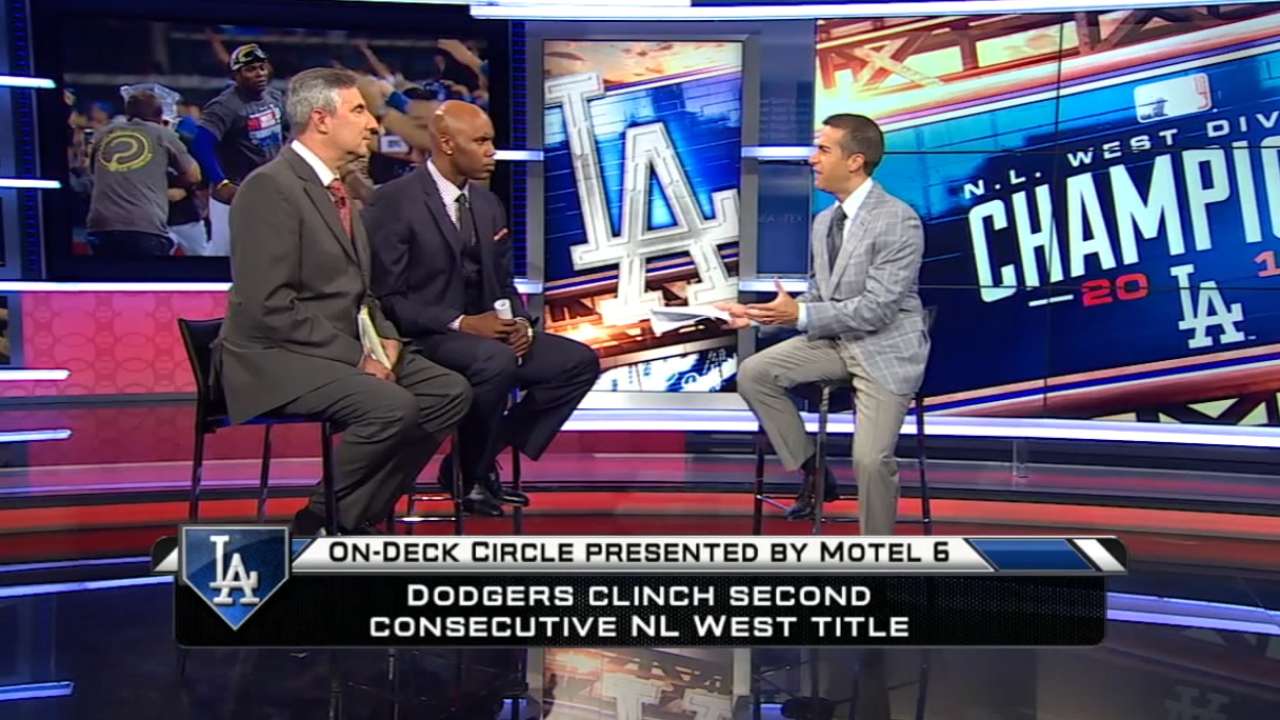 LOS ANGELES -- For many people, the narrative of the 2014 Los Angeles Dodgers' season is that, inevitably, the talent eventually carried the day. And we all saw the result Wednesday night when the Dodgers, behind the brilliance of Clayton Kershaw, clinched the National League West title.
It was interesting in the midst of the Dodgers' clinching celebration to hear the view of the same season from Dodgers general manager Ned Colletti. The GM has a view of his club that tends to focus more readily on the intangibles.
It's a grittier, more determined, more persistent version of the Dodger club that you get from Colletti. It goes against the grain of the concept of them as supremely talented but occasionally not completely engaged.
But it's Colletti's club, in more ways than one, and he just might know something other people don't. And the GM has his reasons for his view of the club. They revolve around the Dodgers coming from 9 1/2 games back in the NL West to overtake the Giants.
"Expectations were so high, and it's tough sometimes to play with expectations," Colletti says. "And then you have injuries. Every team has injuries. We're no different than anybody else. But we started out the season with Clayton making one start and then going on the DL. [Hyun-Jin] Ryu has been on the DL for a while. Hanley [Ramirez] has played through all sorts of things. Matt Kemp started the season on the DL. We had so many guys who were hurt off and on, I could go on forever -- [Juan] Uribe -- and yet we stayed with it.
"We were down 9-10 games to San Francisco at one point. You've got to be resilient and you can't expect to catch it up in one day. Just keep plodding along.
"It's really come together the last couple of months. Our guys battled through injury, and they battled through digging ourselves a pretty big hole. We were around .500, which really isn't that bad, but San Francisco was so far up that we couldn't look at them and say let's erase it overnight. Through persistence and a lot of hard work by the manager and the coaching staff and the guys that play, we're here tonight.
"It's a resilient group, it's a talented group. The feeling we had against St. Louis, [losing in the NL Championship Series] last year, is a feeling we don't want to experience again. It's a feeling we'll have a chance to wipe out."
The Dodgers have an ideal focal point in Kershaw, not only a likely NL Cy Young Award and/or MVP Award winner, but a positive force off the field. But with a load of star power on their roster, they can have egos to match. Manager Don Mattingly referred earlier in the week to behind-closed-door issues, characterizing managing those issues as "tedious."
This can be part of the total package, Colletti acknowledges. But the total package has led to success.
"When you have stars, you're going to go through things and you're going to have a lot to manage," the general manager said. "But stars also bring talent. We bring talent. And we also bring, obviously, the ability to persevere and to come back. We find ourselves in a hole one day and we start digging out the next. Not everybody can do that, but this team has shown the ability to do that -- two years in a row.
"We've got a good club, and I think we can play with anybody. When we're focused and we're determined, we can slow the game down and make people come to us a little bit and work against what we bring. That's a tough match."
With their second straight division title, the Dodgers present themselves as a team with postseason familiarity. That can't hurt.
"I'm proud that we've done this two years in a row," Colletti says. "Most of this team was here a year ago. That feeling that we had a year ago with St. Louis, you can't let it overwhelm you, but you can't forget it either. We may be better prepared this year because of what we went through. Sometimes adversity builds a lot of positives. You're really measured by what you're able to get through. Last year, we had a great year. We fell two wins short of getting to the Fall Classic. It was a new experience for a lot of people. This year, we've been there one time."
No matter what view you take of the Dodgers, they're a repeat division winner with home-field advantage in the NL Division Series. Their talent is indisputable. And they'll have a golden opportunity to bolster their argument for toughness in October.
Mike Bauman is a national columnist for MLB.com. This story was not subject to the approval of Major League Baseball or its clubs.