MLB.com Columnist
Richard Justice
Jeter's farewell played out just as fans imagined
Emotion took over for Captain at his Yankee Stadium swan song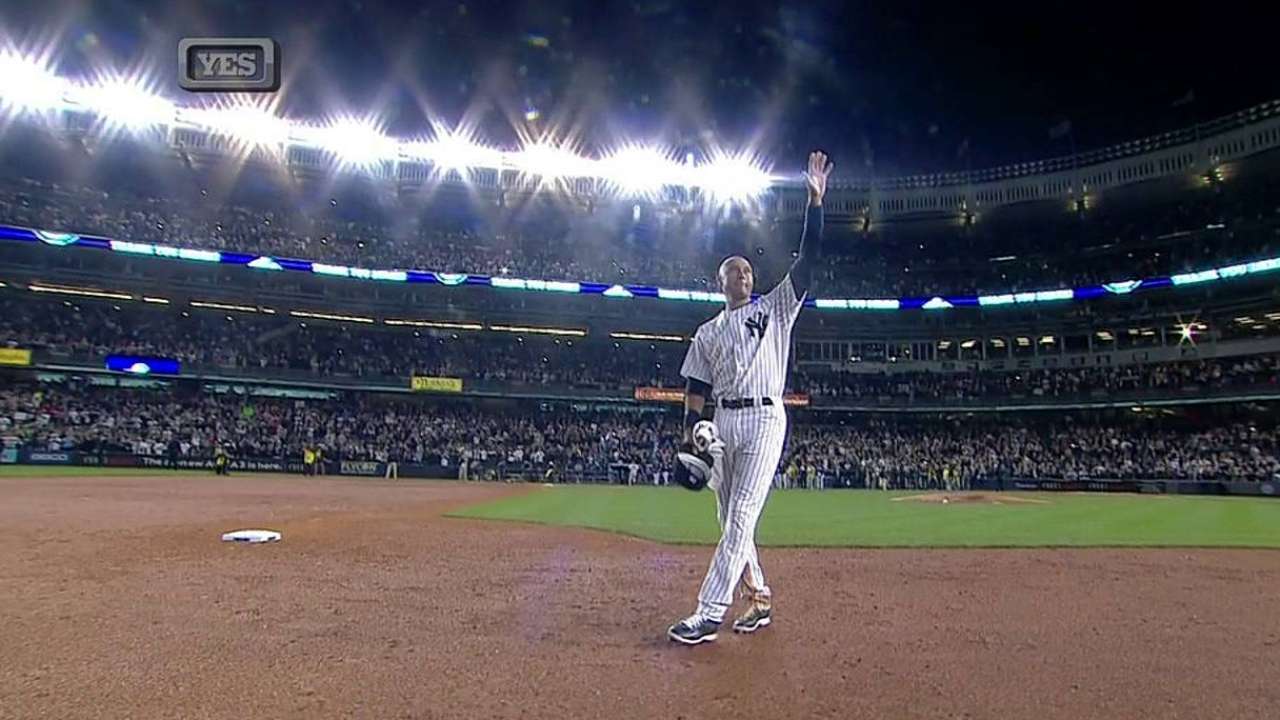 NEW YORK -- Derek Jeter went back on the field once. And then again. And then one last time. In the end, he didn't really know what to do. Later, he would admit to being an emotional wreck.
So he kept going back out there Thursday night after the game because it felt like the right thing to do. He tipped his hat and waved and acknowledged the thunderous cheers. In that way, he told the fans he appreciated them, that he could never repay all they'd done for him.
He hadn't scripted any of it. He couldn't have. As he said later, "I was a mess." He'd gone up the tunnel behind the Yankee dugout a couple of times during the game, away from his teammates, and cried.
He almost broke down driving to Yankee Stadium for this final home game, and then when his teammates presented him with a painting and a watch before the game, he turned away.
He was breathing deeply and biting his lip for a good portion of the night. At one point, he wished his manager, Joe Girardi, would simply come and get him.
Anyway, after it ended, after it ended the way we all figured it might end, with Jeter winning one more game for his Yankees, he went back on the field alone. There with 48,613 chanting his name, he knelt one final time at shortstop, the position he will never play again, the position he defined so elegantly for 20 seasons.
He wanted to get the view from there one last time and to say a prayer of thanksgiving for his amazing life and career. That's the thing he kept coming back to after the game. He wouldn't change a thing.
He said some other things he hadn't said very often. He said he never had as much talent as some other players, but that he'd succeeded because he outworked everyone and because all he ever cared about was winning.
Almost no one gets to write the perfect ending in sports. Athletes very seldom leave on their own terms. Rather, the game tells them when to go. They often leave broken of body and spirit.
Jeter is going out on his own terms. He believes in his heart he can still play baseball at a high level. But he's leaving because he's ready to do something else with his life. Which didn't make it easier.
He'd been fighting his emotions the last few weeks, knowing it was almost time to say goodbye. When this day arrived, it was almost overwhelming. So his 1,390th regular-season game in the Bronx might have been his most difficult.
Guess what? It was perfect. It was perfect in tone. It hit all the right notes. He was surrounded by fans who love him, by his parents and people like Joe Torre and Mariano Rivera, who've meant so much to him.
Best of all, he heard the cheers and saw the standing ovations, and he allowed it all to wash over him.
Here's the part of the evening that will surprise no one. Jeter played like a champion. No big deal there. Been doing the same stuff for 20 seasons.
He slapped a run-scoring double off the left-field wall in the bottom of the first inning and got another run home with a broken-bat grounder in the seventh.
And in the bottom of the ninth inning, in his last at-bat at Yankee Stadium, with the game tied, he grounded a run-scoring single to right field to drive in a run and give the Yankees a 6-5 victory over the Orioles.
During his final at-bat, he kept nervously adjusting his batting helmet, one of his signature habits. When he got the hit, he sprinted to first base with his hands in the air as teammates poured out of the dugout to mob him. It was a wild, emotional celebration, one that seemed almost too hokey to be scripted.
And then he attempted to say goodbye. It was surreal from the beginning. Players from both teams were watching from the top step of the dugout from the first inning on.
Afterwards, Jeter admitted to being physically exhausted and emotionally drained. He said he'll play some in Boston this weekend, but only as a designated hitter. He said he would play because he owed it to the fans in Boston who care so much and want to see him play one final time.
He just won't play shortstop again. That's the thing he wanted to leave at Yankee Stadium on Thursday. That seems fitting, an appropriate closing of one chapter. He'll get another sendoff at Fenway Park on Sunday. He'll stop again and attempt to comprehend the moment.
Baseball fans will be a long time grasping that we'll never see Derek Jeter play baseball again. But they also understand how blessed they've been, and on Thursday night, he reminded us of that fact one final time.
He did it with style and grace. He made a couple of superb defensive plays. He delivered offensively, too, one final time at home. He kept saying he'd been so lucky. Here's hoping he understands those of us who got to watch him play feel the same way.
Richard Justice is a columnist for MLB.com. Read his blog, Justice4U. This story was not subject to the approval of Major League Baseball or its clubs.