Orioles pay tribute to Jeter after his walk-off single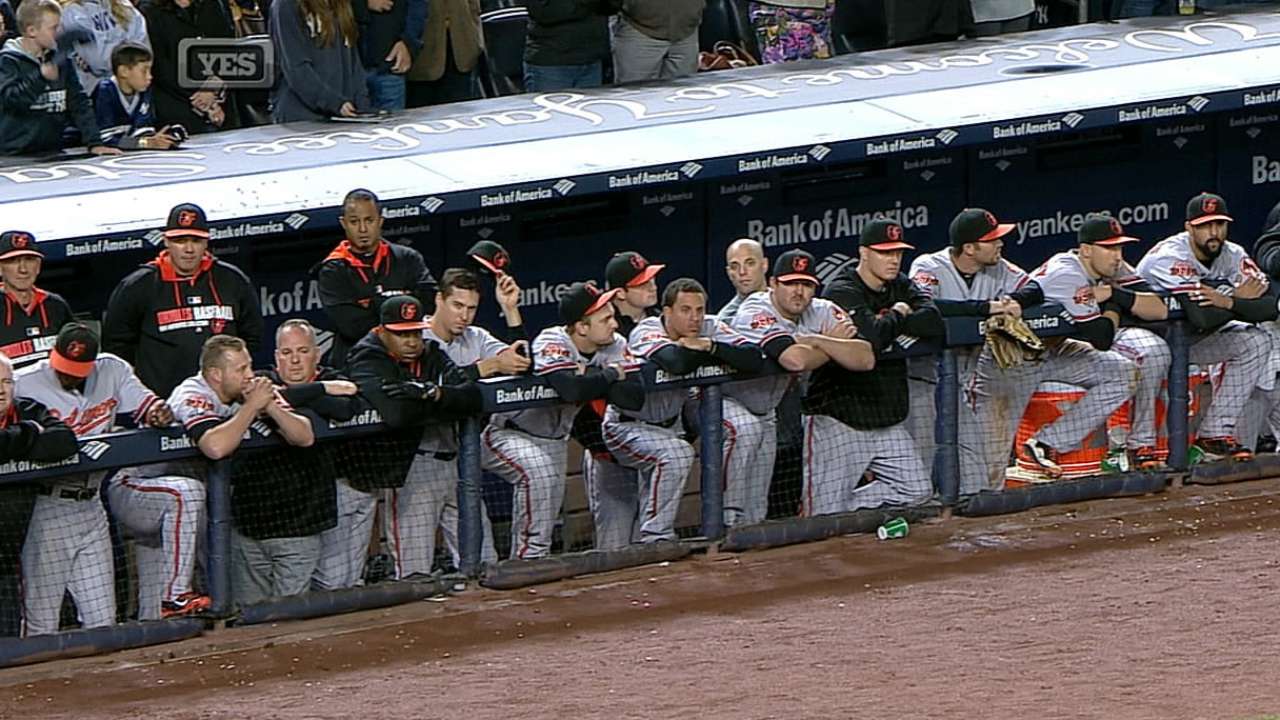 NEW YORK -- The Orioles cheered at the beginning of Thursday's game, as the JumboTron played a tribute to Yankees captain Derek Jeter. And as the immediate effects of the O's 6-5 walk-off loss -- by the bat of Jeter, no less -- started to wear off, Baltimore stayed in the visitors' dugout to clap again and take in Jeter's celebration.
"Just shows what kind of guy Jeter is," said reliever Evan Meek, who gave up the walk off hit and was among those who stayed to give Jeter a tip of the cap. "This guy's last game here, he's doing an interview on the field and he looks over at our dugout and says, 'Good luck. You deserve it'. It just shows the kind of class he has. He looked over in our dugout and said good luck and he meant it sincerely.
"He's a legend. He's done everything right. Not many people can do what he did and went out the way he did. You just cant be upset about it … that moment, the whole day, was above everyone. It was all about his legacy that he's going to leave here."
The moment wasn't reserved for Yankees fans on Thursday night, as Yankee Stadium played a barrage of Jeter farewells, including his recently-wrapped Gatorade commercial. In his first at-bat against him, Orioles right-hander Kevin Gausman -- who gave up an RBI to double -- admitted he pretty much blacked out.
"It kind of seemed like something out of a book," Gausman said of Jeter's farewell in the Bronx. "We tie it up off their closer, and you kind of look up there and 'Who's coming up to bat? All right, maybe he'll be up with a guy on base. Sure enough he comes up and there's a pinch-runner on second base. Just kind of perfect to end up his career here at Yankee Stadium."
Added Meek: "I watched him. When he got the hit, I watched him around first and watched him jump. The crowd went nuts. In that situation, you just can't be upset about that kind of thing. It's bigger than all of us. It was just a great moment. A great moment for the game and him. Theres no better way for him to go out. It was just an amazing moment.
"The game has a funny way of working out. I know they go to Boston to end the season but tonight with it being Derek Jeter's last game here. What better way to send Derek Jeter out than with the game winning hit?"
Orioles manager Buck Showalter, who was Jeter's first big league manager, said Jeter has always been able to dial it up in moments like Thursday night.
"Our guys, everybody has a lot of respect for Derek and what his career has been about," he said. "You never like to lose a game, but you try to keep a grip on reality and the whole gamut of it. We wish him well and I'm sure it was a great moment for him here. And it will be a great moment for us as we go forward to continue to play."
Brittany Ghiroli is a reporter for MLB.com. Read her blog, Britt's Bird Watch, and follow her on Facebook and Twitter @britt_ghiroli. This story was not subject to the approval of Major League Baseball or its clubs.