Core Four helps celebrate Jeter's storybook night
Posada, Pettitte, Rivera take field after Captain's walk-off single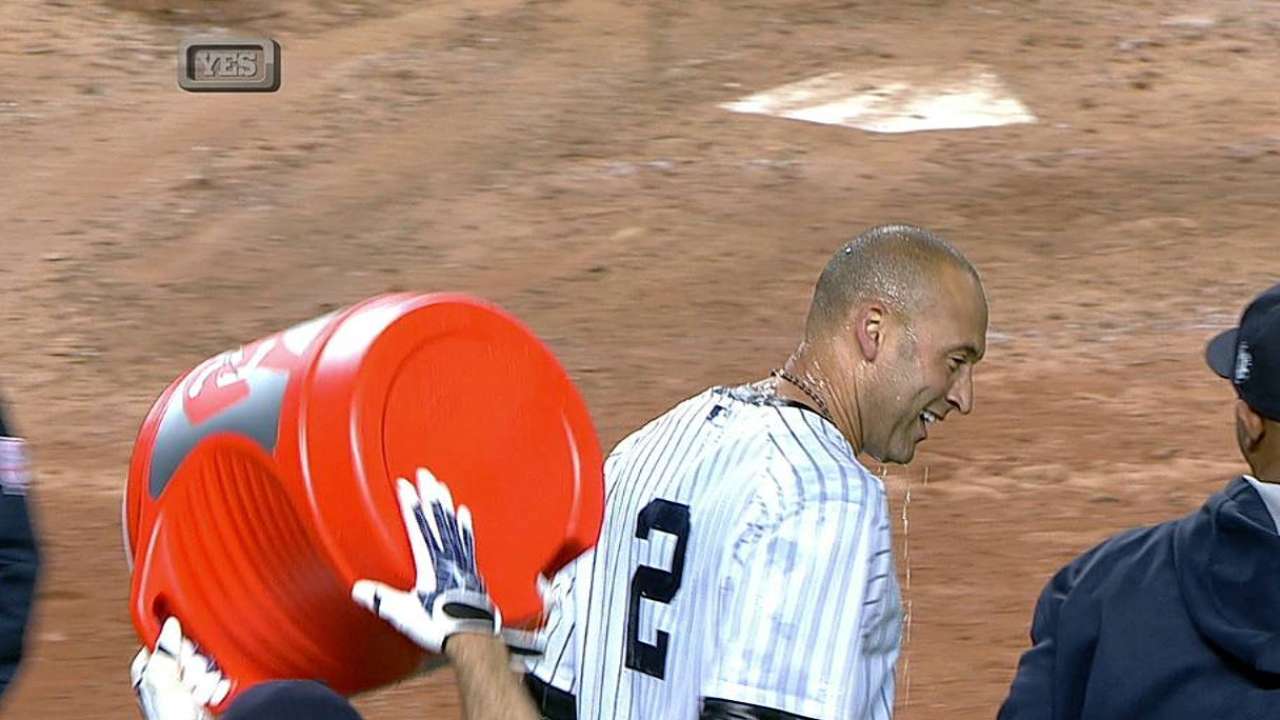 When Derek Jeter stepped to the plate in the bottom of the ninth Thursday night, the potential winning run standing on second base in his final game at Yankee Stadium, he was only thinking one thinking: Don't cry.
At least, that's what he told the sold-out crowd in the Bronx minutes after he grounded the game-winning single to right field, giving the Yankees a 6-5 win over the Orioles.
That's how the game ended, but the ensuing celebrations were just getting going. Seconds after Antoan Richardson came around from second, teammates past and present made their way toward Jeter on the field to offer their congratulations -- high-fives, hugs, brief words. Mariano Rivera, Andy Pettitte and Jorge Posada were among those waiting until Jeter emerged from the initial celebratory mob customary of walk-off endings. So were his family and his former manager, Joe Torre.
"This was a lot of fun," Jeter said on the YES Network before a chant of "Thank you, Jeter" from a chorus of 48,613 strong made him shift gears. "No, thank you."
Jeter made his usual stops in that interview, thanking the fans and, ever the politician, wishing Baltimore luck in the postseason. The Orioles heard him. They were all on the top step of the visitors' dugout.
"That's a typical Derek Jeter night," Rivera said on YES. "You figure it out. David Robertson had done a tremendous job the whole year. On Derek Jeter night, he blows the game to set it up for Derek.
"No, I'm playing around. Those things don't surprise me. The way it happens, the way it's set up for him to be able to come through with the last hit and win the game. I've seen it over and over."
Jeter answered the question everyone has been wondering -- will he play in Boston this weekend? -- though not definitively.
"I'll play in some capacity," Jeter said on MLB Network. "Quite honestly, this is probably my last game at shortstop.
"I want to remember that view right there," Jeter continued, pointing to his home the last two decades between second and third base on the Yankee Stadium infield. "Out of respect to Boston fans and the rivalry, I will play at some capacity."
Then he made his way around the infield, tipping his cap and trying to take it all in every bit as much as the fans. He eventually found the home dugout again, and before heading down the steps and into the Yankees clubhouse, hugged Torre one last time.
Tim Healey is an associate reporter for MLB.com. This story was not subject to the approval of Major League Baseball or its clubs.