Volquez, Bucs drub Braves, within one of first place
Snider, Walker homer; Harrison has 3 hits; righty K's 10 in 7 scoreless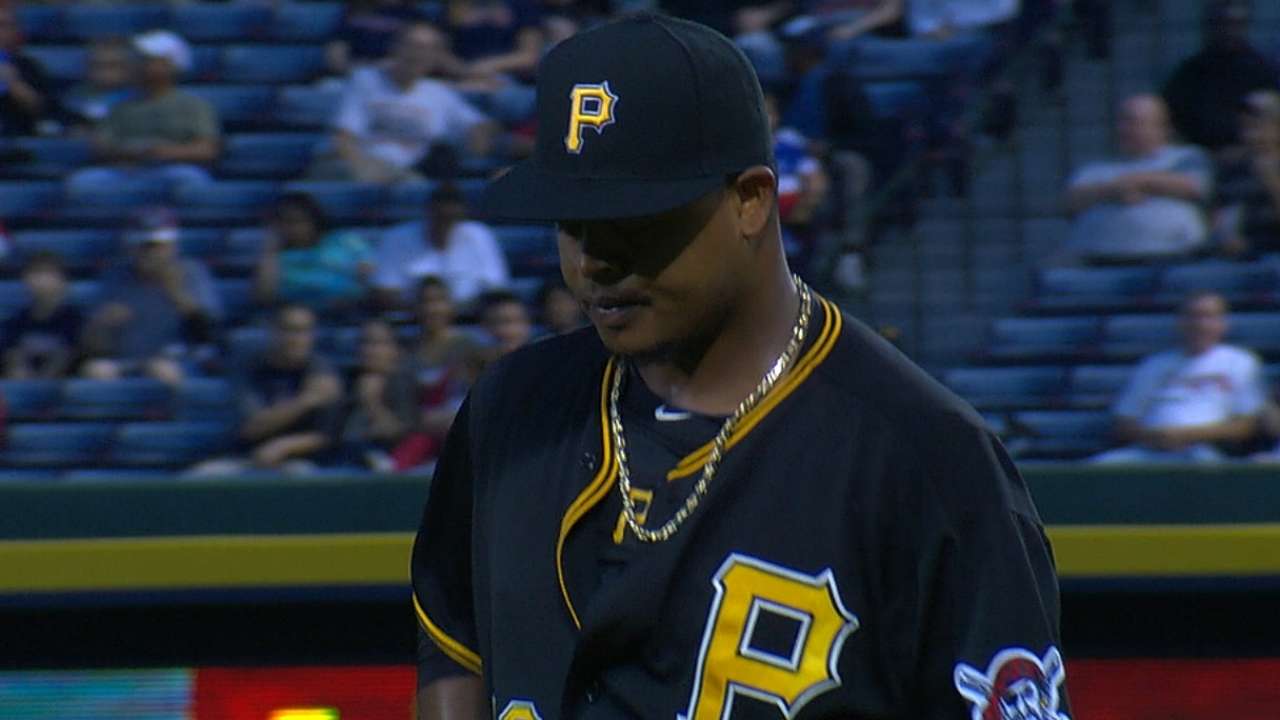 ATLANTA -- A pair of aces is good. But four of a kind is even better, and that's the hand the Pirates are about to deal the postseason.
Edinson Volquez, who may not have the high profile of Francisco Liriano or Gerrit Cole but has sharper numbers, masterfully sent the Bucs into the telltale weekend by firing seven more blanks Thursday night in a 10-1 victory over the Braves.
Volquez has a string of 18 shutout innings and five consecutive wins for the first time in his career after four-hitting the Braves with a season-high 10 strikeouts.
"No," Volquez said about whether he'd ever before approached the wire on such a high. "I just followed [catcher Russell] Martin, whatever he put down. Kept trying to make good pitches."
The win, their 16th in 20 games, moved the Pirates within one game of the idle National League Central-leading Cardinals with three games to play this weekend.
The Bucs will now move on to Cincinnati for their final regular-season series, while the Cards close with their first appearance in Arizona since opening the 2013 season there by dropping two of three.
"We'll pack up and focus on winning a ballgame [Friday]," said manager Clint Hurdle, preferring to not put added weight on the climactic games because "we don't hit another gear. You just want to play. You just get ready.
"You work hard to get here. And part of it is acting like you've been there before."
From Travis Snider's first-inning homer to Neil Walker's eighth-inning two-run blast, the Pirates turned back on an offense that had stalled with 11 runs in its last seven games.
Their 16-hit attack against starter David Hale and four relievers included three hits each by Josh Harrison and Snider, and multiple-RBI hits by Andrew McCutchen and Starling Marte.
But it was mostly about Volquez, who worked with a slim 3-0 lead as late as the sixth inning.
"Any time you get off the mound with that kind of efficiency, and that kind of command ... right away you know you're in a ballgame, that your pitcher will get you in a good spot," Hurdle said. "He pounded the zone, mixed his pitches. A really, really fine professional outing."
Thursday's gem was merely the latest in a long string of masterful performances for a revitalized veteran who could get the Bucs' first postseason assignment, an honor he has certainly earned.
Barring any juggling or a tiebreaker game, and if the Pirates stay in rotation for the rest of the regular season, Volquez would be in line to start the NL Wild Card Game against the Giants on Wednesday in PNC Park.
There may not be a better choice. Liriano and Cole have both excelled down the stretch, yet Volquez is on a longer run of superiority. The fourth ace in the Pirates' deck, Vance Worley, has won three straight decisions and sports a 2.25 ERA in his last four starts. He'll start Friday's series opener against the Reds.
"I don't want to say there's competition, but every time someone pitches good, the next guy wants to pitch better," Volquez said. "It's great, man, to have a group of guys like that. It's awesome."
Volquez's five straight wins, along with numerous hang-with-'em no-decisions, have come in a 12-start stretch during which he sports an ERA of 1.78.
Then, there's the ingredient of getting the ball at home: In his last five starts at PNC Park, Volquez has been even better, with an ERA of 1.04 (four earned runs in 34 2/3 innings).
A very interesting sidebar to the Pirates' second run was Harrison giving an assist in the batting race to a teammate with whom he is battling for that honor.
Harrison was on third base in the third inning when McCutchen flared a foul caught by right fielder Jason Heyward about 180 feet from the plate. Harrison never hesitated in tagging up and scoring on what thus became a sacrifice fly, saving McCutchen an at-bat to keep his average at .313, rather than having it drop to .312.
That could be a valuable point: Harrison ended his three-hit game leading the league with a .319 average to McCutchen's .314, with Justin Morneau between them at .317.
"There's an edge to him," Hurdle said of Harrison, "and also he's fighting for a batting title. He's not gonna let an opportunity pass by without a fight."
So the stage is set for a memorable weekend in the Queen City: Harrison, the erstwhile bench player, will try to win a batting title in his hometown, and the Pirates will try to make their own title dreams come true.
Tom Singer is a reporter for MLB.com and writes an MLBlog Change for a Nickel. He can also be found on Twitter @Tom_Singer. This story was not subject to the approval of Major League Baseball or its clubs.