May caps rookie year with quality effort
Righty fans seven over six innings against playoff-bound Tigers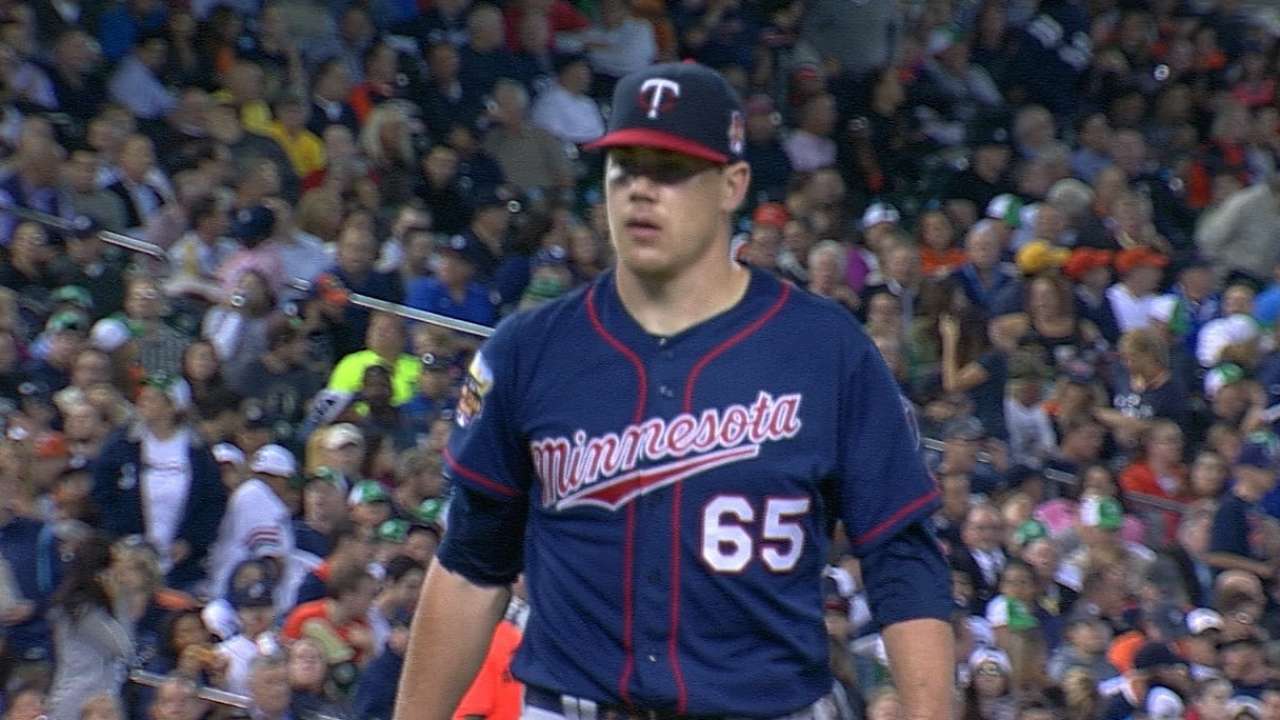 DETROIT -- Trevor May admits his numbers from his first season in the Majors aren't what he had hoped, but the right-hander believes he made plenty of progress over his nine starts to make a case for the Twins' rotation next year.
May ended his season on a high note by registering a quality start, but the offense couldn't back him in a 4-2 loss to the Tigers on Thursday night at Comerica Park. May lasted six innings, giving up three runs on five hits, including homers to Victor Martinez and Miguel Cabrera, to fall to 3-6 with a 7.88 ERA.
"It was one of the better ones and at the top of the list, but it wasn't as good as I wanted it to be," May said. "I would've liked to have come in, especially against a team competing for the playoffs, to take one from them. That would've been great. But I came in with the attitude that I was going to be aggressive and go right after guys and use that atmosphere as a learning experience."
Even though the ERA wasn't pretty, May made progress after starting his career with 13 walks and just three strikeouts over his first nine innings. His control got much better, as he struck out 41 and walked nine over his final 36 2/3 innings.
"I think it was a step in the right direction," May said. "I feel like I made a lot of steps in the right direction. I showed I have the ability to pitch well against a team like this."
He was hurt by the homers, as Martinez connected on a two-run blast in the first and Cabrera smashed a solo shot in the fourth.
May was ahead in the count on both homers, as Martinez's two-run homer came on a 1-2 curveball with two outs, while Cabrera hit an 0-2 slider to lead off the fourth.
"One was just a terrible pitch," May said. "The 0-2 slider to Miggy is supposed to be hit out, especially a hitter like that. The other one was a little bit better to Victor, but he's a guy who hits everything."
May was solid otherwise, striking out seven and issuing his only walk in the sixth, when he intentionally walked J.D. Martinez after Victor Martinez doubled with two outs. May was able to get out of the jam by striking out Nick Castellanos for his seventh and final strikeout of the night to end his season after 144 innings split between Triple-A and the Majors.
"For him to get that big strikeout to end the inning was huge," Twins manager Ron Gardenhire said. "It's a great way for him to end a season. He's pitched a lot of innings and that's a good way to go about your business at the end. That was an important out for him and leaves him going out on a good note."
The Twins made right-hander Max Scherzer work, as he needed 116 pitches to get through six innings, but they scored just two runs against him. He didn't give up his first hit until allowing a one-out double to Oswaldo Arcia in the fourth, but Scherzer had already walked three batters by that point.
"He had good stuff -- I think he was a little erratic at times with his location," Tigers manager Brad Ausmus said. "As a result, his pitch count got up."
Minnesota didn't get on the board until the fifth, when Danny Santana and Brian Dozier both singled with two outs to set the stage for a two-run double from Joe Mauer. But after a walk from Kennys Vargas, Arcia flied out to shallow right field to end the inning.
Detroit got an insurance run in the seventh against reliever Ryan Pressly on a one-out RBI double from Rajai Davis. With the win, the Tigers reduced their magic number to clinch their fourth straight American League Central title to two.
"We missed some opportunities but that's a heck of a baseball team over there," Gardenhire said. "They're really fighting for it. But we were in it. We had our chances. Not too many of them. But our guys are getting after it pretty good."
Rhett Bollinger is a reporter for MLB.com. Read his blog, Bollinger Beat, and follow him on Twitter @RhettBollinger. This story was not subject to the approval of Major League Baseball or its clubs.