Scherzer clamps down as Tigers close in on title
HRs from V-Mart, Miggy put AL Central clincher within reach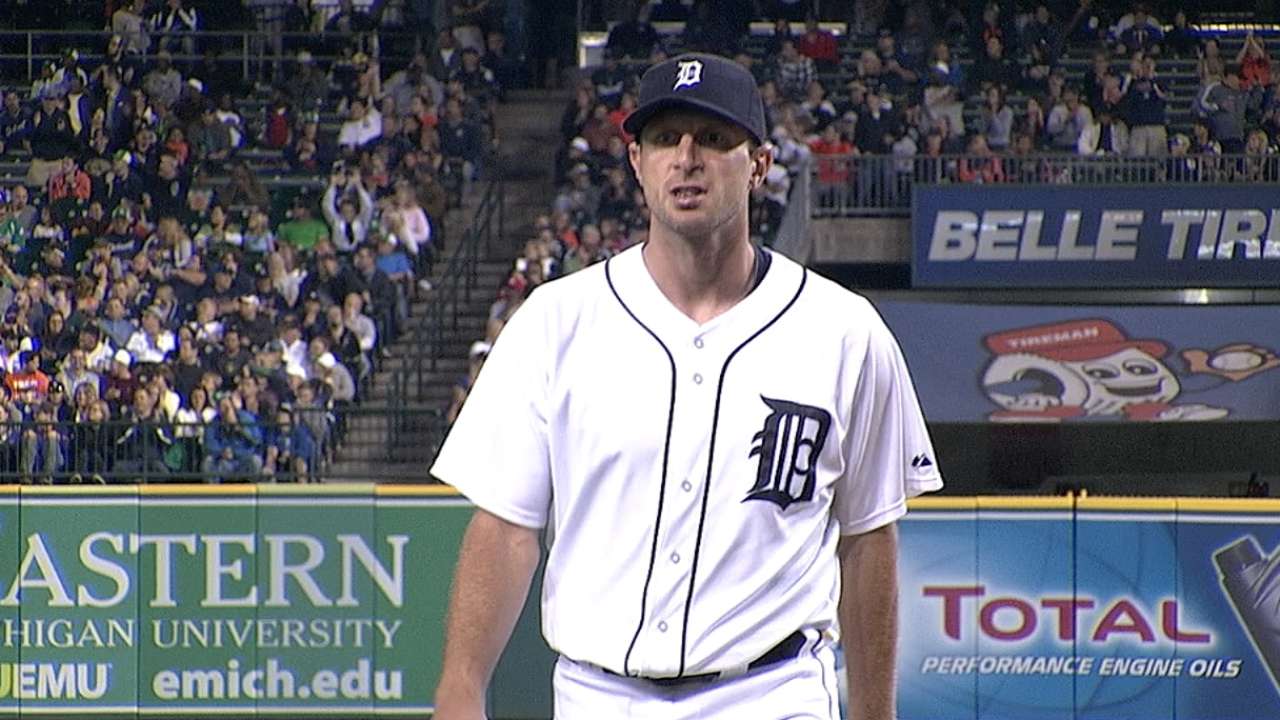 DETROIT -- Max Scherzer has no way of knowing if Thursday was his last start at Comerica Park as a Tiger. He can feel very good about the season he posted in the follow-up to his Cy Young year and the prelude to his expected free agency.
And after Thursday's 4-2 win over the Twins reduced the Tigers' magic number to two for clinching a fourth straight American League Central title, he can feel pretty good about his chances of pitching in another series next week.
"This is closing the door. This is slamming the door shut," Scherzer said. "To go out there and pitch effectively -- I can't say efficiently, but I pitched effectively tonight -- and give this team a chance, that's my job, to go out there and give the team a chance."
As a result, the Tigers will have a chance to wrap up the division as soon as Friday night. Another win over the Twins, plus a Royals loss against the White Sox in Chicago, would clinch it. So would two Tigers wins over the final three days of the regular season.
Do it, and the Tigers can put this surprisingly dramatic division race to an end and get back to the business they've had in mind since the start of Spring Training: finishing the job that they came so close to doing last October.
They're not ready to think about it yet. They're getting close.
"We still got three more games to play," said Victor Martinez, whose two-run homer in the first inning put Detroit ahead for good. "Like I always say, you focus on it day by day, game by game, pitch by pitch, at-bat by at-bat. I think that's been something we've been doing great for the last few years. We don't get ahead of ourselves, and just make sure we live the moment, and play the moment."
Few focus more on the moment more than Scherzer. If he took a moment to think about his years on the mound at Comerica Park, it was a private one. His moments trying to hold off the Twins hitters were the public face.
As he took the mound in the sixth inning, having thrown 101 pitches, he couldn't do anything about the effective but inefficient innings that ran up his pitch count so quickly. Those were done, from the eight strikeouts through 16 batters to the three walks in as many innings.
His chances at the deep outing he wanted were done, but one more inning could get him the outing the Tigers needed to put their bullpen in motion. He could carry the lead to Joakim Soria, Joba Chamberlain and Joe Nathan for the next three innings with a clean slate.
A leadoff single from Kurt Suzuki put him back in a situation with the potential tying run on for a second straight inning, having seen Joe Mauer defy his usual patience and jump on a first-pitch changeup for a two-run double an inning earlier. He got ahead of his next three hitters and retired them -- Chris Herrmann whiffing on a 93-mph fastball, Aaron Hicks popping out to Eugenio Suarez in short left field, then Eduardo Escobar flying out.
With that, Scherzer left the mound to a standing ovation, took a handshake from manager Brad Ausmus, and watched the bullpen carry it through.
"Obviously you want to pitch a little bit longer," he said, "but anytime you can get a win in this situation, this stage of the game, it means the world to everybody in this clubhouse, because everybody's counting on everybody to do their job. When you can say, 'I did my job tonight,' it's very gratifying."
He can say the same of his season. Once Soria, Chamberlain and Nathan went through the Twins lineup in order over the final three innings, Scherzer finished with an 18-5 season, and a 39-8 record since the start of 2013. With 220 1/3 innings, he became the first Tiger to cross the 220-inning mark since Justin Verlander in 2012. His nine strikeouts pushed him to 252 for the season, most by a Tiger since Verlander fanned 269 in 2009 and sixth most in franchise history.
"I feel like I'm executing pitches at a higher level than I was last year," Scherzer said. "Last year I was very consistent, and that's something that's so hard to strive for. I had a few more ups and downs this year, but overall, I still did a heckuva job this year -- in some ways, numberwise, pitched pretty much the same."
If he can take that level into October, he could have more outings to come. If his next start is Game 1 of an AL Division Series, he'd be pitching on the road, as he would in a potential Game 5. His chance at home wouldn't come until the AL Championship Series.
Wherever he's pitching, he just wants to win.
"Where I'm at now and executing pitches, it matters," he said, "and now I need to fine-tune more, because every pitch in the playoffs is crucial."
Jason Beck is a reporter for MLB.com. Read Beck's Blog and follow him on Twitter @beckjason. This story was not subject to the approval of Major League Baseball or its clubs.