Rays routed by rookies in Red Sox lineup
Hellickson struggles in short outing in his season finale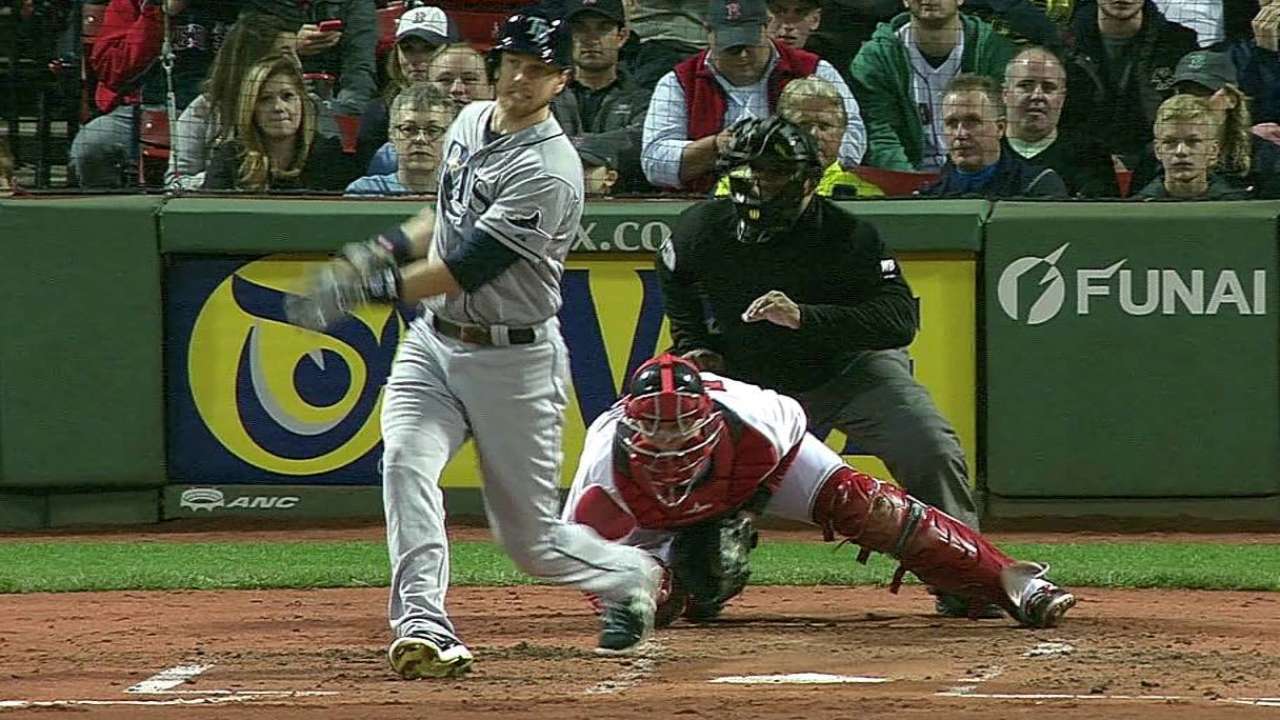 BOSTON -- A Major Leaguer's first career home run is always is a special moment.
Three up-and-coming Red Sox players enjoyed said special moments in two nights, compliments of a generous Rays staff. Two of those special moments occurred in the Rays' 11-1 loss to the Red Sox in Thursday night's rubber game of their three-game series at Fenway Park.
"Give them credit, they totally beat us up tonight," Rays manager Joe Maddon said. "...We didn't pitch well."
The high numbers on the backs of the players fueling the Red Sox's suddenly potent offense were familiar to those seen in the late innings of Grapefruit League games when the Minor Leaguers clean up for the Major Leaguers, who head to the golf course.
"They're nice, but they haven't seen our best pitchers either, that's part of it, too," Maddon said. "...I like them, don't get me wrong. That kid [Mookie] Betts [No. 50], interesting, really interesting. The other guys, I don't know exactly where they fit in to their plans for next year, but they're nice. They're really nice."
Wednesday night Garin Cecchini, No. 70, connected for his first Major League home run in the Red Sox's 11-3 win. Christian Vazquez, No. 55, and Rusney Castillo, No. 38, connected Thursday night. All told, the Red Sox started seven rookies Wednesday night and started seven again Thursday.
Jeremy Hellickson started for the Rays, hoping to end a strange season on a high note. The Rays right-hander had right-elbow surgery in January and did not join the team until July 8. Though pain-free following the surgery, Hellickson struggled to find consistency for most of his 12 starts heading into his season finale. Unfortunately for Hellickson, No. 13 was not a lucky one.
After Hellickson surrendered a sacrifice fly to Daniel Nava in the first to give the Red Sox a 1-0 lead, Ben Zobrist tied the score with an RBI single in the top of the second. The night went downhill for Hellickson and the Rays after that.
Vazquez connected on a 3-2 Hellickson offering with two out in the second and when the ball landed over the Green Monster, the Red Sox had a 3-1 lead.
In the third, Yoenis Cespedes and Allen Craig connected for back-to-back one out singles. Cespedes then stole third before Cecchini reached on a fielding error by first baseman James Loney. Cespedes scored on the play and Hellickson got an early shower.
"It just got away quickly," Maddon said. "Helly was having a hard time."
Steve Geltz took over and Castillo feasted on the first pitch he saw, sending a ball over the Green Monster for a three-run homer to give the Red Sox a 7-1 lead.
Hellickson's final line showed five earned runs on eight hits in 2 1/3 innings to move to 1-5 on the season with a 4.52 ERA. The start marked the fourth start by a Rays pitcher of less than three innings this season while marking the shortest start of Hellickson's career.
Hellickson felt like he had good stuff and command warming up for Thursday night's start. He allowed that he was somewhat puzzled that he didn't fare better and gave some credit to the Boston hitters.
"Yeah, they hit some good pitches," Hellickson said. "And obviously, Vasquez got a mistake. Honestly I felt really good and thought my command was really good. I don't know, it shouldn't have been like that the way I felt."
Hellickson couldn't hide the disappointment of having to wear Thursday night's start heading into the offseason.
"I definitely wanted to go out on a good note," Hellickson said. "It will be nice to have a full offseason, get stronger. In the past, I felt like when the game went on I got stronger. I haven't felt like that this year. I feel like those long innings that just drag on, I just get tired. That's never happened to me before. It's definitely how I wanted to end this season."
Allen Webster got the win for the Red Sox as the rookie right-hander -- wearing No. 64 -- allowed one run on seven hits in seven innings to move to 5-3 on the season.
"He started to use his four-seamer a little bit more, which he's able to keep on the plate and go to an area in the strike zone to get a strike when needed and it enables him to use his two-seamer with some added action rather than trying to fight back into the count all the time," Red Sox manager John Farrell said.
While the numbers on the backs of the young Red Sox sluggers -- and their starting pitcher -- suggested a bus ride back to Fort Myers following a Grapefruit League game in Port Charlotte, there's a good chance the next time the Rays see the likes of Cecchini, Castillo and Vazquez they all will be wearing lower numbers.
Bill Chastain is a reporter for MLB.com. This story was not subject to the approval of Major League Baseball or its clubs.