MLB.com Columnist
Anthony Castrovince
Jeter, Konerko embody what it means to be captain
Rare designation near extinction in baseball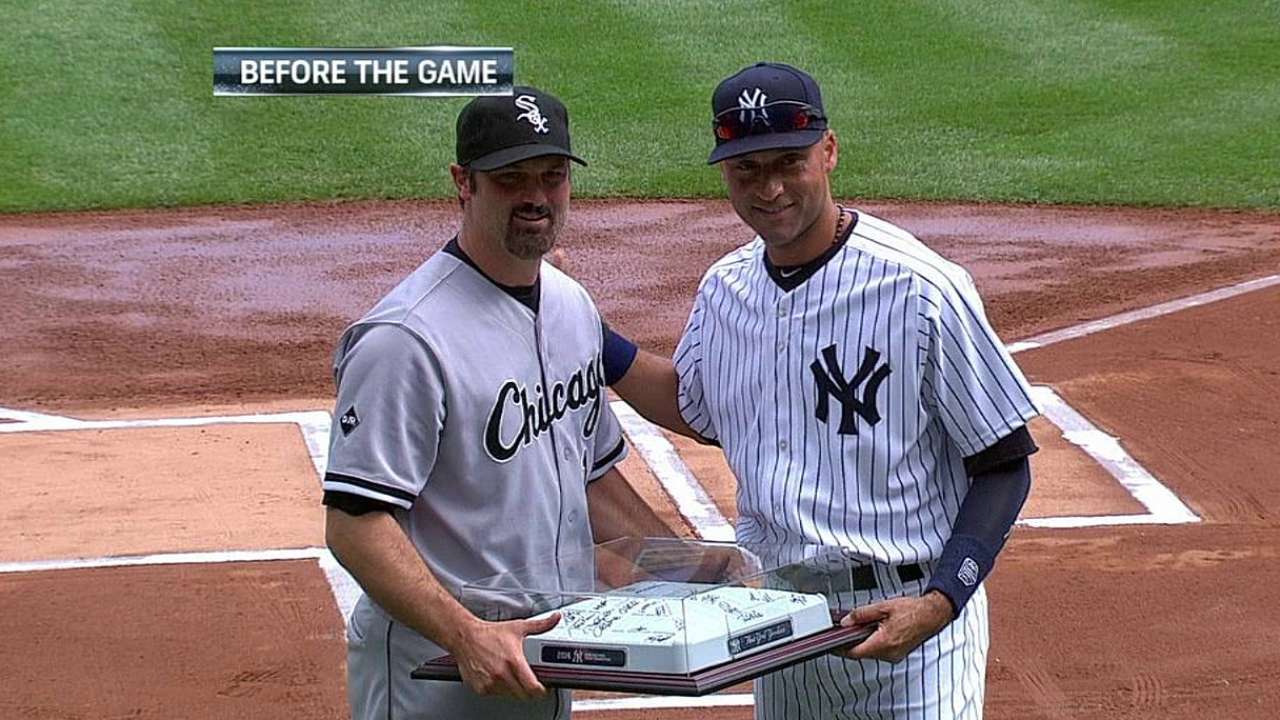 This weekend, it's not "Aye, aye, Captain," but "Goodbye, Captain." It's a salute to two stars and an acknowledgement that a relic of a role in Major League clubhouses and dugouts has almost been put out to pasture.
Derek Jeter and Paul Konerko aren't just great players, but great leaders. They have been representatives of an idea bigger than themselves and their stats. They have been captains -- a status that was honorary but not hollow, intangible yet important. Still, it's a status that's essentially endangered in these transient times.
When the infield dirt settles this weekend, when the Fenway jeers have hit Jeter's ears a final time and Konerko has performed his last tip-of-the-cap to his South Side supporters, Major League Baseball will have but one remaining captain. That's David Wright, in Queens, on a Mets team that bestowed that status upon him a few months after he signed an eight-year, $138 million extension before the 2013 season.
Now that more and more ballclubs from all market sizes are doing a better job of locking up their young talent for the long-term, perhaps we'll eventually see a new cavalcade of captains. Or maybe the established likes of Andrew McCutchen (Pirates), Buster Posey (Giants), Dustin Pedroia (Red Sox), Joe Mauer (Twins) or Yadier Molina (Cardinals) will be recognized in such a way.
Those guys are all already the embodiment of what the title of captain represents, so an argument can be made that we might as well make it official.
The idea of captaincy, though, simply doesn't seem to resonate in baseball the way it once did.
In the NBA, every team has at least one captain, often several. NFL teams name up to six captains, with many of those spots appointed weekly. But as is the case in baseball, the designations are basically ceremonial, and the fact that many of those "captains" are guys new to the club or soon to depart is fairly laughable.
Among the four major American sports, only the NHL (where the "C" is, by rule, required to be displayed conspicuously on the front of the jersey, as is the "A" for alternate captain) gives its captains an official purpose. They are the only ones authorized to speak to game officials regarding rule interpretations while on the ice.
Baseball, of course, has no coin toss for a captain to attend, no official function for him to perform. The duties initially associated with the role in the early days of big league ball -- filling out lineup cards or making strategic decisions -- have long since been handed to members of the manager's coaching staff. The only reference to captains in the rule book is an antiquated one. An explanatory comment within Rule 4.01 calls for errors in the batting order to be brought to the attention of the manager or captain before the game starts.
Pretty sure the umps will just go to the skippers on that one, thanks.
It says something about the state of today's captains that Jeter, Konerko and Wright don't even wear a "C." If anything, in a baseball culture that usually (perhaps too often) demands that its players conform to the norms of whatever clubhouse they inhabit, the idea of a captain calling attention to himself with such a patch would run counter to the ideals that made him a captain in the first place.
"A uniform," Wright said on the day he was named captain, "is a uniform for a reason."
The captain, in theory, stands out in situations inaccessible by the average fan. Ideally, he's the one who would go to the manager in the event of clubhouse turmoil. Or he'd be the one always available to lend an ear or offer an opinion to a teammate, young or old, in need of guidance. Mostly, he just leads by example, as former Yankees captain Don Mattingly did when Jeter was but a young pup.
"Once in Spring Training, back in the old Fort Lauderdale Stadium, we were working on a back field when the team was on a trip, and there was nobody in the stadium," Jeter said the day he became captain. "We finished up at about the same time and I was about to walk across the main field, and [Mattingly] said, 'You'd better run. You never know who's watching.' Here he was, the captain of the Yankees, with no one in the stadium, and he's running. That always stayed with me."
That's a great story and all, but it is the intent of every Major League club to have multiple players who engender such respect with their work habits. And the vocal leaders -- the guys who would call a players-only meeting in the midst of a long losing streak to air concerns -- don't need a "captain" designation to be identifiable as a clubhouse asset.
If anything, in this day and age, the title within a team that has more actual function and, therefore more meaning, is that of Players' Association representative, as that player usually speaks on his teammates' behalf in union discussions or the resolution of issues at the club level.
So, no, we didn't need the idea of captaincy to appreciate everything Jeter and Konerko have meant to their teams and to this game lo these many years. We don't need to see a "C" to know they're worthy of all the attention and applause they'll be receiving this weekend.
As for the captaincy itself, who knows? But when we eventually bid Wright goodbye one day down the road, it might also be "C ya later" to that particular role.
Anthony Castrovince is a reporter for MLB.com. Read his columns and follow him on Twitter at @Castrovince. This story was not subject to the approval of Major League Baseball or its clubs.