Jeter starts flashy DP as Yanks win challenge
Yankees shortstop overcomes jitters to make lunging grab, toss vs. O's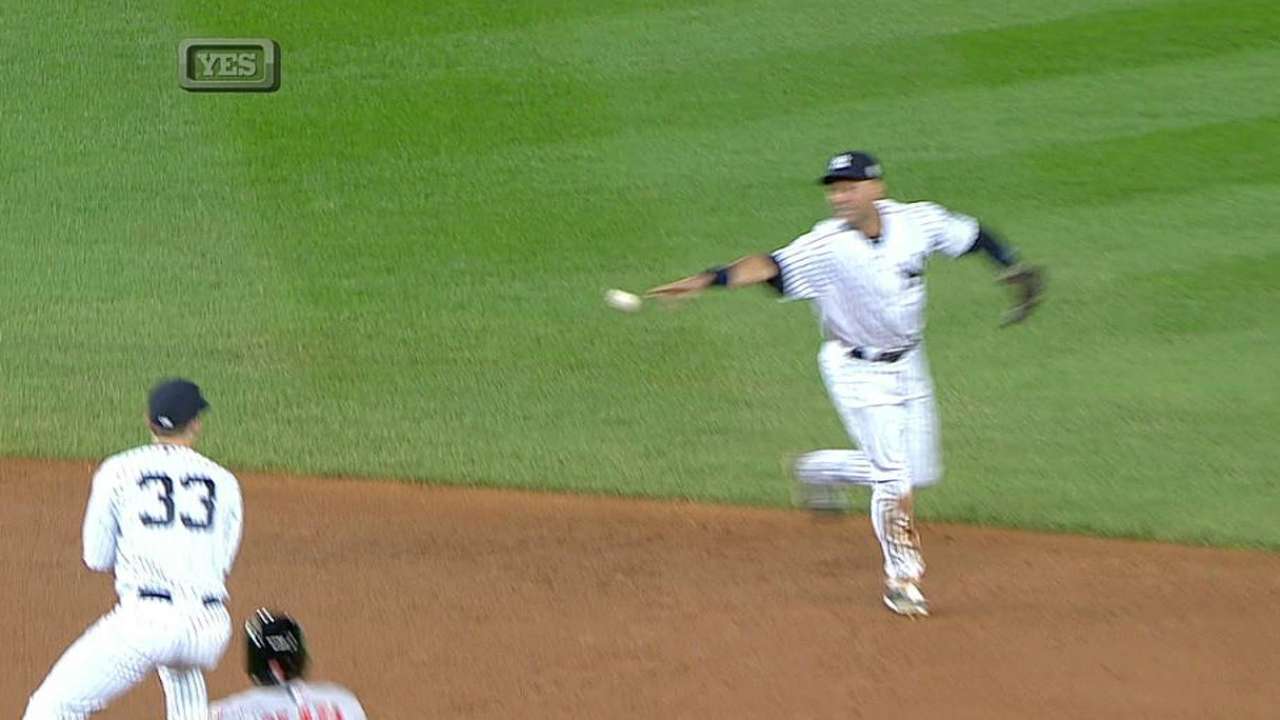 NEW YORK -- In Derek Jeter's final career game playing shortstop, and final game at Yankee Stadium, the Yankees captain admitted he almost lost it on the field. For someone playing a position requiring total focus and communication for the last 20 years, he had trouble summoning it in Thursday night's 6-5 win over the Orioles.
"I was out there in the first inning saying, 'Please don't hit it to me,' because I don't know what's going to happen," said Jeter, whose walk-off RBI single won it. "I know I've made mistakes before, but ... I don't know how many times in my career I've said, 'Please don't hit it to me,' but that's what was going on in my mind. I really thought I was going to break down."
"Earlier in the game, I was trying to joke around with him, just keep it light, because that's what we usually do," third baseman Chase Headley said. "He's always having fun, laughing, making fun of me about something, so I was trying to do the same earlier in the game, and I could tell he wasn't even hearing what I was saying. So I just kind of let it go. And that's understandable. For him, I can't imagine the emotions he was going through."
But the ball was hit to him a few times. In the top of the third inning, after already committing an error, Jeter found it in him for one more stellar play and got some help from replay, too.
With the Yankees and Orioles tied at 2, New York manager Joe Girardi issued a challenge after umpires called
Adam Jones
safe on the back end of what appeared to be a double play started by Jeter.
Sprinting to his left, Jeter gloved Jones' difficult chopper up the middle and shoveled a tough toss behind the second-base bag to Stephen Drew to force out Alejandro De Aza. Mark Teixeira scooped up Drew's throw on a bang-bang play at first, forcing bench coach Tony Pena to get on the phone to receive the go-ahead for a challenge.
After a review of 1 minute and 27 seconds, the call was overturned, and Jones was called out to end the inning.
"I don't think he would have told you before tonight. But I think that he soaked it in," said Girardi. "The last thing I said to him today was to enjoy it. 'Soak it up. Because it's going to happen fast, and there's going to be times in your life you wish you could go back to certain moments, and this is probably going to be one of them. Enjoy it.' "
Jake Kring-Schreifels is an associate reporter for MLB.com. This story was not subject to the approval of Major League Baseball or its clubs.