Verlander peaking at right time for Tigers
Two-start stretch sends veteran right-hander into postseason on high note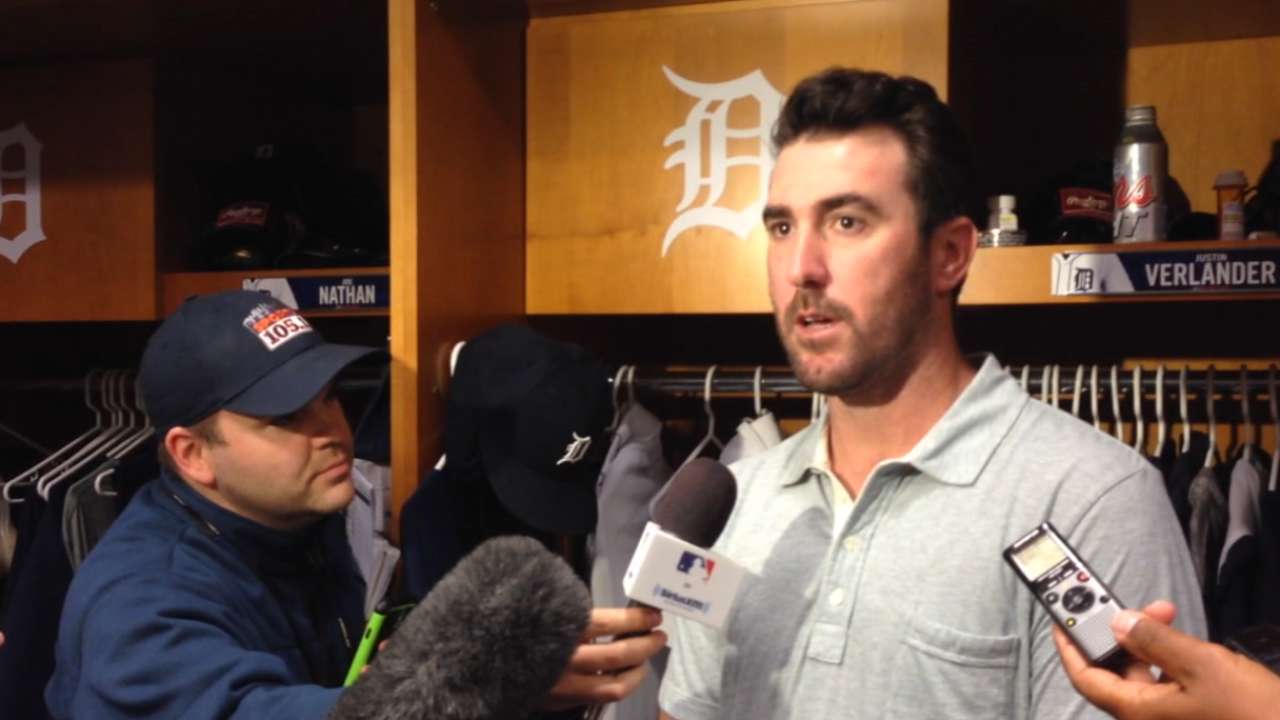 DETROIT -- Justin Verlander isn't where he wants to be with his pitching. He's doing what he can with what he's got, because the time for tinkering is over.
The last couple of games have suggested he has enough to get big wins.
"I think it's just more the result of me working with what I have," Verlander said after eight innings of one-run ball against the White Sox on Wednesday afternoon, outlasting Chris Sale for a win that helped the Tigers clinch their fourth straight postseason berth.
Add Wednesday's results to Verlander's win over the Royals last weekend, and he has allowed two runs on 14 hits over 15 1/3 innings in his last two starts, striking out 10. He hasn't walked a batter in his last 16 1/3 innings.
Statistically, it's the strongest two-start stretch of his season, even if not with his strongest velocity. His fastball Wednesday started out in the low 90s, sat at 94 mph from the third inning on, and peaked at 96 mph, according to data from MLB.com Gameday and brooksbaseball.net. He threw it 69 times, drew 35 swings and seven misses, and gave up three hits.
Just as important, his breaking ball was getting him outs. He threw 11 of his 20 curveballs for strikes, though he induced only one whiff out of seven swings against it. It was a much better curveball, he said, than what he had been throwing, because the hard break was back.
Add it together, and the overall improvement is similar to last year, when he seemed to get his game together just in time for October. He isn't saying he told people so. He's just glad he has it.
"I don't want to stress on myself," he said, "but this is the way I expect to pitch. It hasn't been that way this year, but this is how I expected to throw all year long, and it just hasn't been the case. When I've needed to, the last couple games, I've been able to reach down and throw the way I like."
Considering Verlander would be in line to pitch a divisional tiebreaker game Monday if the Tigers need it, the timing couldn't be better.
Jason Beck is a reporter for MLB.com. Read Beck's Blog and follow him on Twitter @beckjason. This story was not subject to the approval of Major League Baseball or its clubs.