Konerko ready to put family over baseball
Retiring first baseman says coaching not in immediate future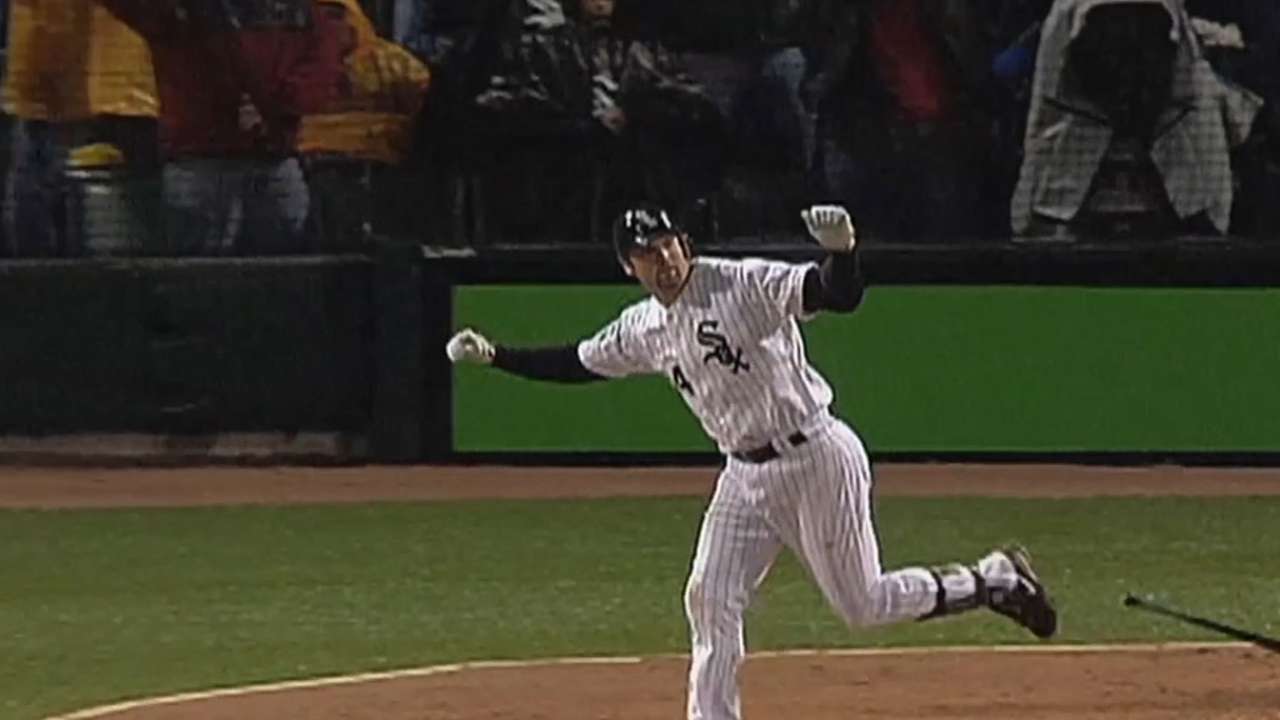 CHICAGO -- Paul Konerko's retirement apparently is going to last one season, or at least that's the recommendation presented by one of his three children.
"My kid said the other day that he's going to allow me to be out for a year, then I have to get back in," said a smiling Konerko during his 28-minute pregame session with the media on Thursday. "But the reasons are that he's great friends with the kid that lives next door to us and he loves the chicken fingers at the ballpark. So that's what I'm working with.
"They understand it's coming. I don't think they understand what they're going to get out of the deal, and that's me being around, being able to do stuff with them that I haven't been. I think they'll be fine, we'll move on and do other things. They don't understand what's coming because I'm not playing. They only look at what they're not getting."
Many White Sox people have talked about Konerko having the right temperament and disposition to serve as a manager or coach at some point. He certainly possesses the baseball acumen from the close to two decades he has spent studying the game. Before Robin Ventura was hired as manager for the 2012 season, then general manager Ken Williams even considered Konerko for player/manager.
But as Konerko has stated numerous times, when he retires following Sunday's contest against the Royals, he will be gone from baseball for quite some time and focused on family life. The only coaching to be done is of his middle son's Little League team.
"If something calls me back to it and I feel passionate about coming back to do something within the game, you can be sure it has everything to do with what I'm doing," Konerko said. "It's going to have nothing to do, connected to what this all is.
"It'll probably be later than sooner because I just feel that's the healthy thing to do and again, going to back to my kids and all, if a couple of years from now I felt like I want to get back in the game, it's probably not the right answer for my family and my kids. There's just no way to get around that without my time allotment and me being around for a long time, which is nothing --- there's no way I can prove that would be the right thing to do. I just can't see that happening."
Konerko received his first of what figures to be numerous standing ovations this weekend, along with the requisite "Paul-ie" chant, prior to Thursday's series opener with the Royals. It came after Konerko's thank you video to the fans was played on the U.S. Cellular Field scoreboard. It was a tribute hashed out and conceived by Konerko and put together by Tad Hathaway of 312 Media.
"I'm not sure how it exactly came about. It was some of my thoughts. It was some of [vice president of communications] Scott Reifert's thoughts. Tad, who filmed it and produced it," said Konerko. "I thought it came out well. It's everything I kind of wanted to get across."
Scott Merkin is a reporter for MLB.com. Read his blog, Merk's Works, and follow him on Twitter @scottmerkin. This story was not subject to the approval of Major League Baseball or its clubs.