Plouffe may avoid surgery for forearm fracture
Twins third baseman expected to be ready for Spring Training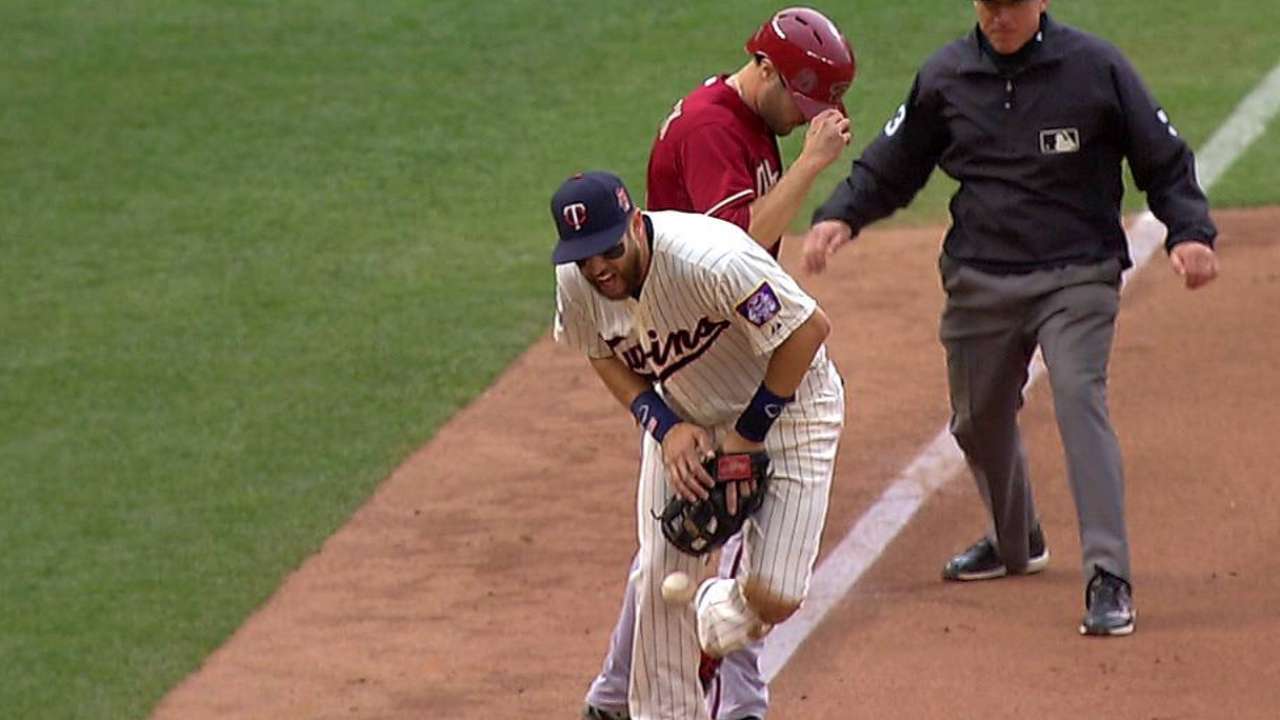 DETROIT -- Twins third baseman Trevor Plouffe saw a specialist in the Twin Cities on Thursday who recommended no surgery would be needed for his fractured left forearm, but general manager Terry Ryan said Plouffe will get a second opinion.
Plouffe suffered the injury in the sixth inning of Wednesday's game, when Plouffe attempted to tag Arizona's A.J. Pollock as he slid into third base as part of a double steal with nobody out. Pollock's knee collided with Plouffe's forearm to cause the fracture.
Plouffe saw Dr. Thomas Varecka on Thursday, and Plouffe tweeted that he won't need surgery and will just need to wear a cast for six to eight weeks. But Ryan said Plouffe will get a second opinion to make sure he doesn't need surgery. Either way, Ryan said Plouffe will be ready for the start of Spring Training.
"We're going to get a second opinion," Ryan said. "It's just a decision on surgery or not. We'll do that in the very near future. But the break was clean, which is good. Now, it's just a matter of whether he needs surgery."
Plouffe, 28, was one of the club's best hitters this year. He ended the season with a .258/.328/.423 slash line with 14 homers, 40 doubles and 80 RBIs in 136 games. He became the first Twins third baseman in franchise history to record 40 doubles in a season.
Rhett Bollinger is a reporter for MLB.com. Read his blog, Bollinger Beat, and follow him on Twitter @RhettBollinger. This story was not subject to the approval of Major League Baseball or its clubs.