Burkhardt signs off for last time on Mets coverage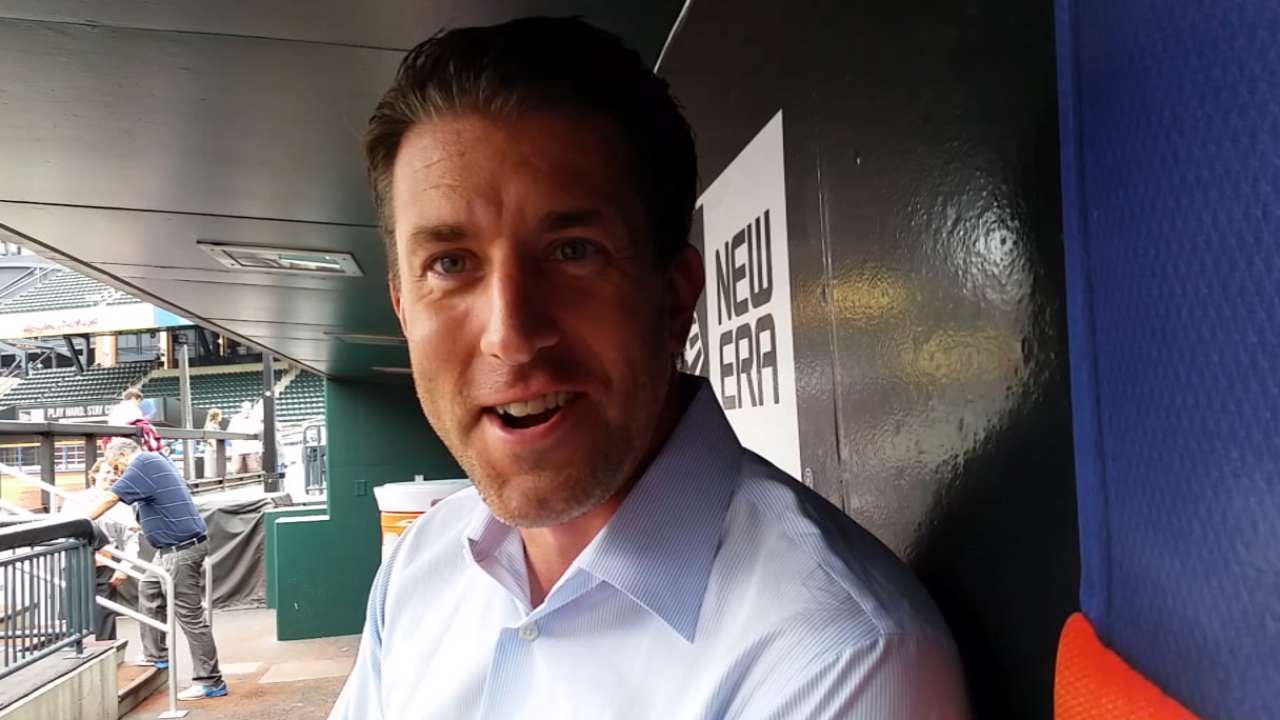 WASHINGTON -- The accolades have always belonged to Gary Cohen, Keith Hernandez and Ron Darling, who have highlighted SNY's Mets coverage since 2006. But ask any of them about that success and they will inevitably mention Kevin Burkhardt, the broadcast's field reporter since 2007.
For the final time on Thursday, Burkhardt wrapped up his reporting and tossed things back up to Cohen in the booth. After eight seasons at SNY, Burkhardt is shifting his focus to a full-time national role covering football and baseball for FOX.
"It's like dating somebody for eight years," Burkhardt said. "You're still into them, but then you break up. There may be good reasons for it, but you still miss it."
When SNY first hired Burkhardt for the 2007 season, he did not realize the full scope of how many people would see his broadcasts on a nightly basis. A former car salesman, Burkhardt possessed extremely limited television experience, never even landing a large-market radio job until he was in his 30s. Then along came SNY, whose faith in Burkhardt launched a career that is still ascending.
If it hadn't already, that all hit home for Burkhardt last Wednesday, when hundreds of fans crowded Citi Field's Shea Bridge to receive autographs and pictures during his final home broadcast. Burkhardt stayed planted on the bridge until he had satisfied every request.
"I never really fully realized when I was hired the exposure, the opportunity that it was," Burkhardt said. "I knew it was a great job and I was excited for it. But when I got hired, I really didn't understand the scope of what I was getting into until I started doing it and realizing how many people watch and how many people pay attention to what you say and how your words can have an impact.
"Not many people are lucky enough to do this. I've tried to enjoy it, and I think that's come across on the air. I've hopefully showed an ability to be multitalented in different things, and not take myself too seriously. And also, I've gotten better. When I look at tapes when I first started until now, it's really gotten me better as a broadcaster."
Working with Cohen, Hernandez and Darling was a highlight for Burkhardt, who is now teamed with former NFL safety John Lynch and sideline reporter Pam Oliver in his play-by-play role with FOX. Burkhardt will also do baseball coverage in the summer for FOX, though his days of covering 150-plus games per year are long gone.
"I think it's really going to hit me next year when it's February and I'm not roaming around Spring Training in shorts and sunglasses," Burkhardt said. "That's going to be like, 'Wait a minute, I feel out of place.'"
Anthony DiComo is a reporter for MLB.com. Follow him on Twitter @AnthonyDicomo. This story was not subject to the approval of Major League Baseball or its clubs.