MLB.TV is free all Sunday long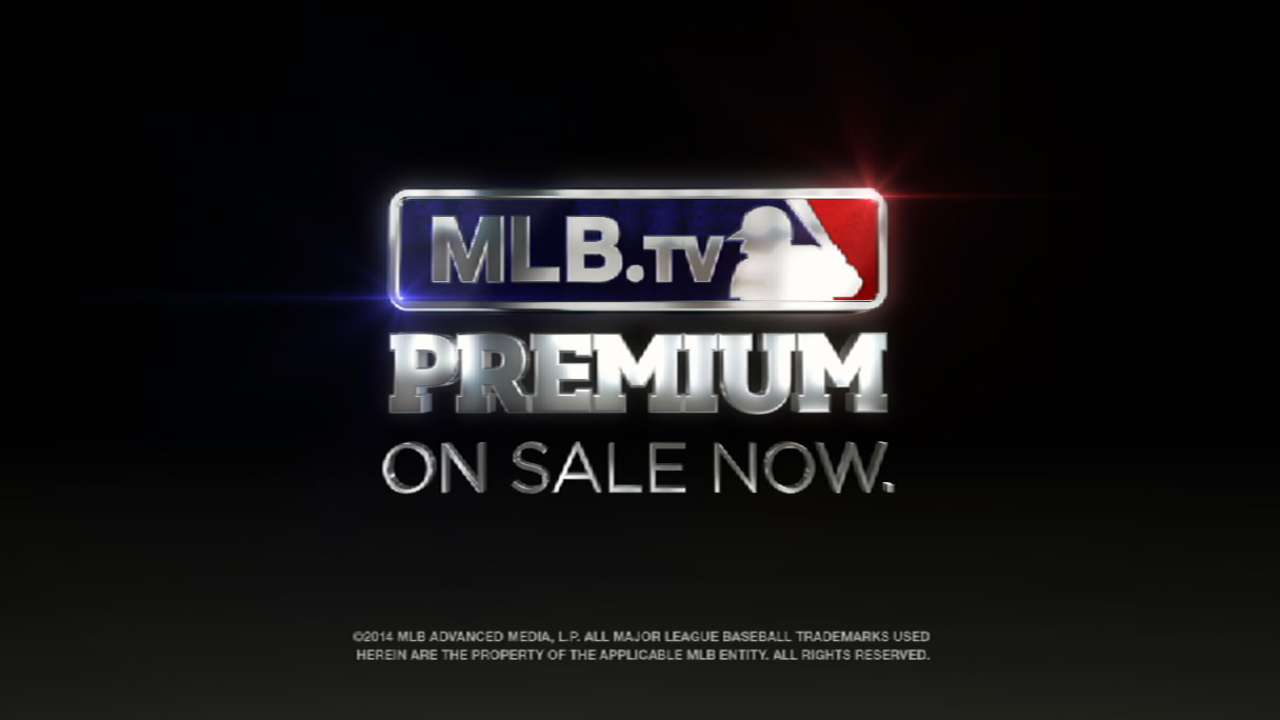 It's time for those traditional Fan Appreciation Weekend salutes at home games around Major League Baseball, and that same spirit extends to MLB.TV Premium as MLB.com announced today that fans can watch all remaining live out-of-market games through Sunday for free.
All you have to do is log into your MLB.com account or register for a new one. Then be part of this thrill ride through the end of the regular-season schedule. It's a chance for everyone to witness those final clinchers and seed battles as postseason matchups emerge, say farewells to retiring legends Derek Jeter and Paul Konerko and soak up every last ounce of a 162-game season that you've been invested in since they broke camp at Spring Training.
Can Johnny Cueto make it three 20-game winners in the National League when he starts in the Reds' finale on Sunday against Pittsburgh? Clayton Kershaw (21) and Adam Wainwright (20) are already there. It would be the first time the NL has three at that level since 2005, when Dontrelle Willis (22), Chris Carpenter (21) and Roy Oswalt (20) each won at least 20.
MLB.TV is the Internet's longest-running and No. 1 sports streaming product, and Jeter was there at the outset, leading the Yankees past the Rangers in the first live game shown this way back in August 2002. He'll go out on MLB.TV, having announced he will see some action as designated hitter or pinch-hitter in this last installment of the Yankees-Red Sox rivalry at Fenway Park.
"Sure, you have access now," Jeter said recently, when asked about MLB.TV. "Before, I remember growing up and we had the Cubs because they were on WGN, we had the Braves on TBS and then you had to wait for that Game of the Week that came on. Now, I mean, you have access to every team every day if you want. I think it's a great thing for the fans."
No matter who shows up for that 110th Fall Classic in late October, you could be among the first ever to watch it streamed live in the U.S. MLB.TV Premium subscribers got to watch the live FOX stream of the All-Star Game for the first time, and the World Series will follow suit. First-time subscribers in the U.S. and Canada can watch, and you will be asked at that time to complete a one-time authentication with your participating cable TV provider.
MLB.TV Premium subscribers have access to live out-of-market games across more than 400 supported mobile and connected devices, and this season it added Xbox One and PlayStation 4 to the list.
MLB.TV Premium subscribers also get home and away broadcast feeds, plus a free 2014 subscription to the highest-grossing sports app of all time, MLB.com At Bat -- on iPhone, iPod Touch, iPad, supported Android smartphones and tablets, Amazon Kindle Fire and Windows Phone 8. So take advantage of this free weekend to see why millions have watched live games this way.
With MLB.TV, MLB was the first sport league to stream its entire season (2003); first to wire its venues for TV-quality streaming (2005); first to use adaptive bit-rate streaming (2008); first to stream live 720p HD video (2009); first to stream live games/subscription product to iPhone (2009); first live video on connected devices (2009); first to stream live video to a gaming console (2010); first live games embedded on Facebook and Twitter (2011); and first to make a live video stream embeddable to any site on the Internet (2013).
"Having MLB.TV is a great thing for me being the passion I have for baseball and the love I have for the game," Mets legend and MLB.TV subscriber Dwight Gooden said. "Obviously I'm a Met at heart, but there are a lot of teams I like to follow. I like to follow a lot of the young pitchers so if I'm traveling or doing anything and can't get to my TV, I have my laptop right there where I can keep up with the game instead of waiting for it to come on with the postgame stuff. I get the live action right there."
Mark Newman is enterprise editor of MLB.com. Read and join other baseball fans on his MLB.com community blog. This story was not subject to the approval of Major League Baseball or its clubs.