October Confidential: Dodgers
Rival players offer inside look at facing the NL West champions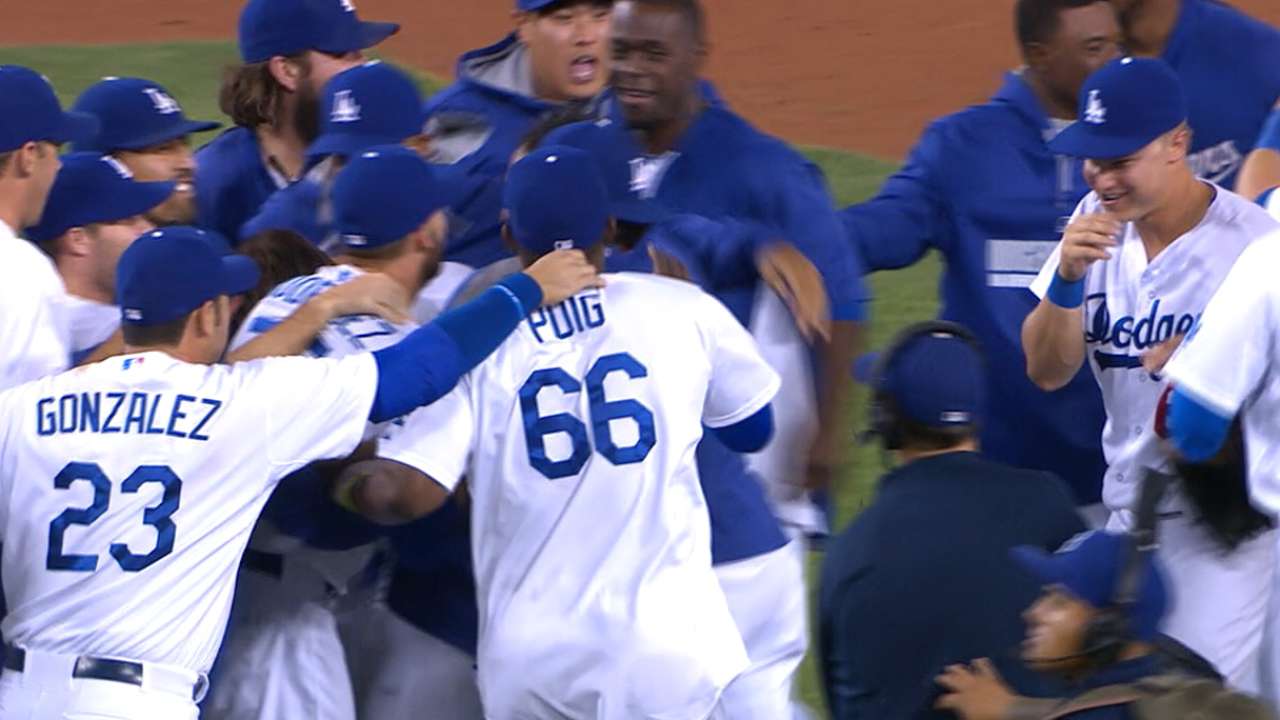 How do you beat the Dodgers? MLB.com asked rival players from around Major League baseball to offer an inside look at how best to face the NL West champions.
Clayton Kershaw
"He's the best in the game. He's got four above-average pitches, if not the best pitches in the game right now. He's very aggressive. That's what stands out most about him. I feel like going in. ... You know what he's going to try and do to get you out, but then it's even that much more frustrating when he still does it and gets you out."
Kenley Jansen
"He's aggressive like a lot of their guys. He's aggressive with his hard cutter, going in and he'll force you to try to get on top of the ball. But I think, at least for me, the more you see him, the easier it gets. I'm having an easier time seeing him now more so than before."
Zack Greinke
"I think a lot of his effectiveness is actually in his delivery. He's methodical in the start of his delivery and then explosive at the end, the second half of the delivery. Timing is the biggest thing with him. He's slow, and then when he's ready to throw it, he's quick. That's disruptive for timing. He comes in hard with the fastball, you're not comfortable in the box against him, he'll move your feet a little bit. But you'll get some good pitches to hit. You just can't miss them."
Dan Haren
"I know he struggled early in the year but for me, I think that his command has gotten a lot better as the year has gone on. He's gotten stronger. He's gotten more comfortable, and his cutter has been better and he's been much more efficient. When he has that pitch working, along with that split, that makes it awfully tough on a hitter."
J.P. Howell
"Honestly, he's as comfortable a lefty for me. You've got to get him up. He has just enough movement and his ball almost dies at the plate instead of being a harder sinker. I think he's probably tougher on righties than lefties. Guys get done with their at-bats, they think they're going to crush the ball, and they've grounded out to the second baseman. As a lefty, I've mainly tried to simplify things against him and just tried to get him up [in the strike zone]. He likes to be in the big situations."
Adrian Gonzalez
"I think the big thing for him is sometimes he's unpredictable. Sometimes he's patient and he'll wait out at-bats and make you make a mistake. At other times, about the time you think that he'll be patient, he will attack you. If you try to groove that first pitch, a get-me-over strike, it's an ambush. He can do a lot of damage that way. But the biggest thing is he doesn't chase a lot of pitches outside the zone. He'll make you make pitches."
Yasiel Puig
"With Puig, this game has a tendency to figure you out. He's got a lot of tools, power and speed. I think once we learned where his weaknesses are, we've been able to attack them. He hasn't been able to make the adjustments. He's still chasing bad pitches, pitches out of the zone. As a pitcher, anytime you can do that, you're at an advantage because you know he's not going to take a walk or he'll get anxious and try to get you early."
Dee Gordon
"You have to keep him off the bases, so when he's up, you have to keep him off-balanced. You try to get him hit a fly ball somewhere so you can take that speed element out of it. He's gotten to be a better hitter than he was in the past, especially in terms of putting the ball in play a lot more. In the past, he struck out more and didn't utilize his speed. He's a tough out."