Robertson wraps up remarkable season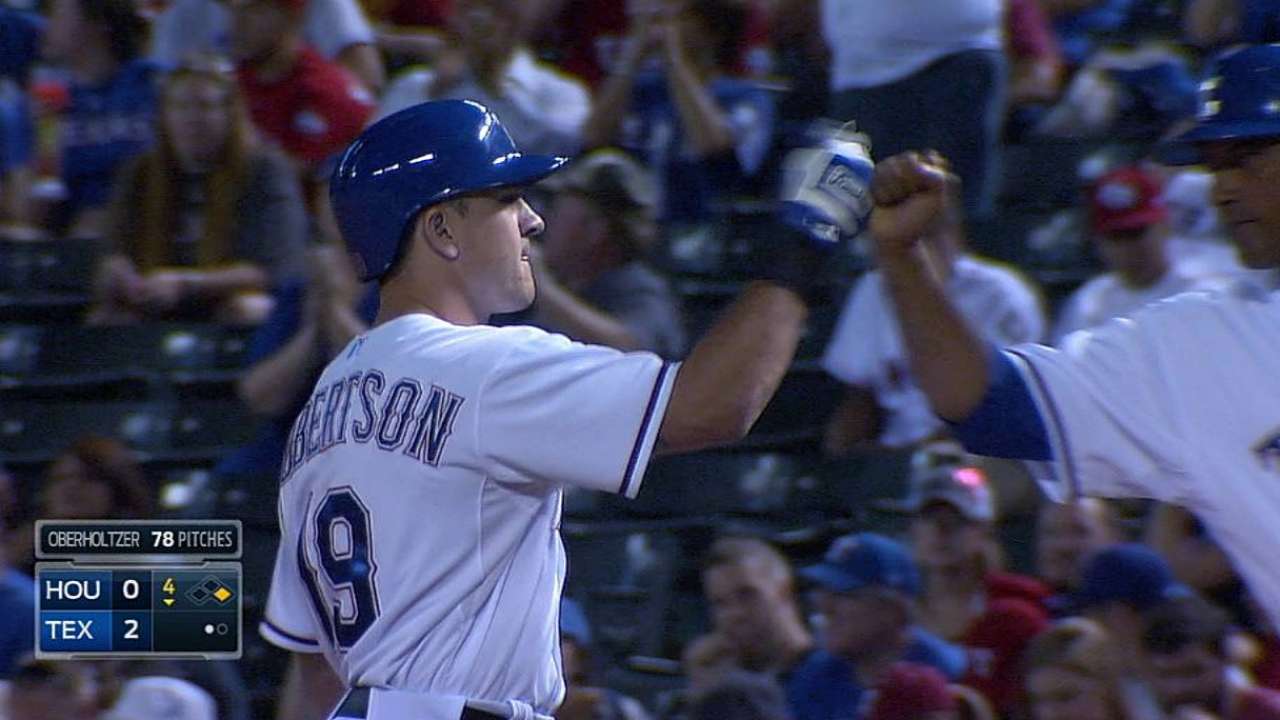 ARLINGTON -- The Athletics are scheduled to pitch left-hander Scott Kazmir on Friday, and that could be the last lefty starter the Rangers face this weekend. If so, it could be the final start for outfielder Daniel Robertson, who has been getting most of his playing time against left-handers.
It has still been a remarkable season for a rookie who turns 29 next week. He started the season in the Padres organization and on the "phantom" disabled list and was bought by the Rangers on April 23. Finally given a chance to play in the big leagues with the Rangers, he suffered multiple small fractures in his left cheek when he crashed into Alex Rios chasing a fly ball on May 22 in Detroit.
Robertson avoided the disabled list and ended up playing in 69 games for the Rangers. He hit .270, including .326 against left-handers.
"I've learned how drastic things can change," Robertson said. "How humbling baseball is and how things can change every day, one day it can humble you, the next day it can get you excited. It makes you appreciate the game more. Even though you are not playing every day, there are still tons of chances to get better, especially with the experience we have on the coaching staff."
The Rangers' plans for Robertson are uncertain on a 40-man roster that will get overwhelmed in the offseason when players come off the 60-man disabled list. But right now he is one of four right-handed-hitting candidates in the outfield next season along with Ryan Rua, Jake Smolinski and Michael Choice.
"I don't worry about what the plan is for next year," Robertson said. "I have two objectives: be the best player I can be and be the best teammate I can be. If I take care of that, my shot will be there.
"It's a good story, but it's just beginning. I'm learning everything I can from the veterans on this team and the coaching staff and trying to get better. Hopefully 10-12 years from now, when I retire, I'll be a better player then than I was as a rookie in 2015."
T.R. Sullivan is a reporter for MLB.com. Read his blog, Postcards from Elysian Fields, and follow him on Twitter @Sullivan_Ranger. This story was not subject to the approval of Major League Baseball or its clubs.