Hughes turns down offer to pitch for bonus
Twins right-hander finishes one out shy of 210 innings for $500,000 incentive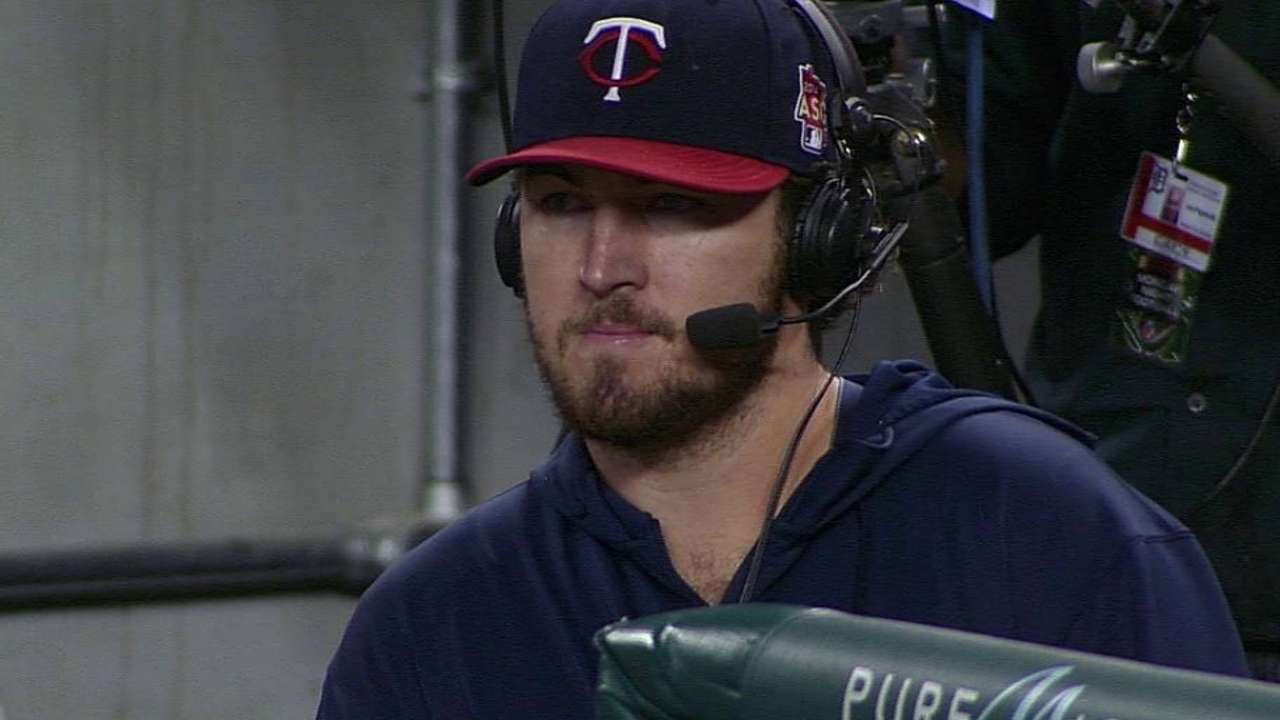 DETROIT -- After Phil Hughes fell just one out short of earning a $500,000 bonus for reaching 210 innings on the season because of a rain delay Wednesday, the Twins offered him an opportunity to pitch in relief this weekend, but he declined, citing the health risks involved.
Hughes was at 96 pitches through eight innings against the D-backs and needed just one out in the ninth to receive a $500,000 bonus in his contract. He would've gone out for the final inning, but a 66-minute rain delay cost him the chance to reach that mark.
So, Twins manager Ron Gardenhire and general manager Terry Ryan called Hughes into the manager's office at Comerica Park before Thursday's game to tell him he could pitch in relief this weekend. But Hughes didn't take long to come to a decision, despite the amount of money involved.
"They extended the offer for me to pitch in the bullpen, but I just didn't think it was right," Hughes said. "If I were fighting for a playoff spot, I'd 100 percent be available. But given the circumstances, I don't think it's the right thing to do."
Hughes, who signed a three-year, $24 million deal before the season, already reached a pair of $250,000 bonuses for reaching 180 and 195 innings. His previous career high was 191 1/3 innings set in 2012 with the Yankees.
It wasn't just rain on Wednesday that cost Hughes a chance at 210 innings. Before a rainout on Sept. 12 pushed his scheduled start back a day, he was lined up for the season finale on Sunday.
"I owe too much to this organization for the next two years to risk getting hurt for an incentive," Hughes said. "My outing [Sept. 12] got rained out and the last inning of my last start got rained out, so for whatever reason it wasn't meant to be. There's a lot bigger problems out there. I'm proud of my season."
Ryan said he believed it was the right thing for the organization to do because the weather played a factor and because of the way Hughes pitched this season. He also added the Twins can't just give him the $500,000 bonus because of the rules of the contract.
"You'd have to restructure things," Ryan said. "So it's a little more complicated than meets the eye there."
Ryan also said the signing couldn't have worked out any better for the Twins and praised Hughes' character for his decision.
"He's a good man," Ryan said. "He's done a wonderful job for us. This guy is a quality guy."
Now that Hughes' season is officially done, he set Major League Baseball's single-season strikeout-to-walk ratio record. Hughes struck out 186 batters and walked just 16 on the season for an 11.63 strikeout-to-walk ratio to break Bret Saberhagen's record of 11.00 strikeouts per walk set in 1994.
If Hughes were to walk one more batter, he would fall below Saberhagen's mark. Instead, Hughes finishes with as many wins as walks (16), becoming just the third pitcher in the modern era to accomplish that feat with at least 15 wins. He also finished with a 3.52 ERA.
Hughes also wanted to thank the fans for their support, as many took to social media to tell him he deserved the $500,000 bonus. He joked that it's not often fans want players to be paid more, but said he's comfortable with the decision he made.
"That was very kind of them to appreciate what I've done this year," Hughes said. "If I would've reached this milestone over the course of my 32 starts, then so be it. But I didn't, so it is what it is."
Rhett Bollinger is a reporter for MLB.com. Read his blog, Bollinger Beat, and follow him on Twitter @RhettBollinger. This story was not subject to the approval of Major League Baseball or its clubs.