Honored by Nats, top prospect Giolito reflects on solid season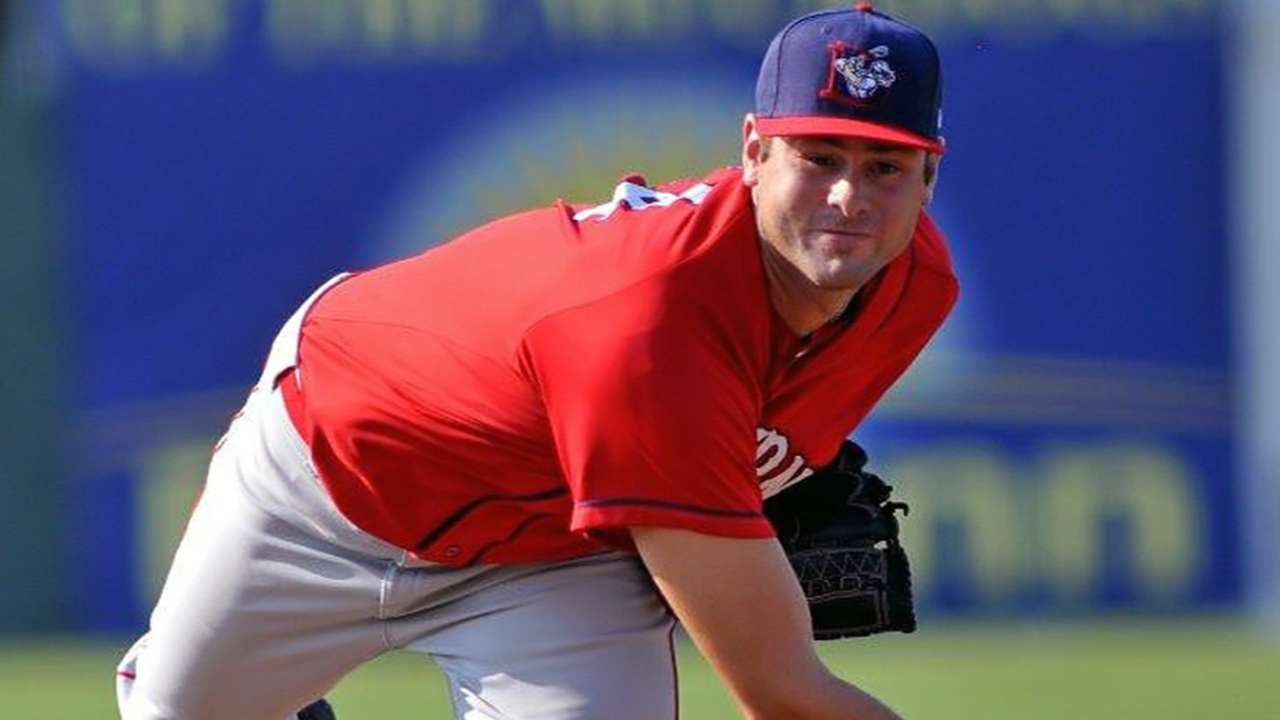 WASHINGTON -- After entering this year with only 38 2/3 professional innings under his belt, Lucas Giolito got the full Minor League experience in 2014. The Nationals' No. 1 prospect -- ranked eighth overall by MLB.com -- spent the season with Class A Hagerstown and racked up 98 innings, a big step in his slow build back from Tommy John surgery.
"It's like nothing you've ever done before in baseball," said Giolito, who was at Nationals Park on Thursday to accept the organization's Minor League Pitcher of the Year award. "It's a really long grind, but it's really fun."
Before the Nats finished their doubleheader with the Mets, they handed out awards to Giolito, current Washington outfielder Steven Souza Jr. (Minor League Player of the Year) and infielder Wilmer Difo (Bob Boone Award), among others.
Giolito began 2014 with plenty of hype but not a lot of experience. The 16th pick in the 2012 First-Year Player Draft, the right-hander pitched one Gulf Coast League game that summer before undergoing Tommy John surgery, returning in time to pitch 11 times at two levels in '13. He responded to his first full-season assignment by going 10-2 with a 2.20 ERA and .197 opponents' average, striking out 110 and walking 28 as a 19-year-old.
"Physically it's on a whole other level," said Giolito, who earned a spot on the U.S. team in the All-Star Futures Game. "You're pitching every fifth day. You're going out there throwing five innings-plus, trying to stay out there as long as you can. There's a certain physical aspect to it that you've got to stay on your program, stay in shape and do all the right things. I felt I stayed strong throughout the year and ended up having a good one."
Giolito is following basically the same Tommy John recovery program that Washington used for Stephen Strasburg and Jordan Zimmermann, and he's met and received advice from both. This year, Washington gave Giolito a few weeks off early in the season, then shut him down after his start on Aug. 16, even though he posted a 1.33 ERA and struck out 29 in 27 innings over his last five outings. His innings limit will rise next season, though he's not sure how far.
Of more concern to Giolito is continuing his development as a pitcher. At 6-foot-6, 255 pounds and armed with a fastball that can reach triple digits, he learned this season that, "you don't have to go out there and try to blow it out as hard as you can every single time." Instead, Giolito found his "comfort zone" at a lower velocity, then reached back for more when needed.
He also worked hard to improve his offspeed stuff, increasing his command of both the curveball and changeup, as well as his comfort throwing them in any count. Toward the end of the year he focused more on the change, which scouts currently rank as his third-best pitch.
"It's definitely a really crucial pitch because it comes out of your hand and it looks like a fastball, has the same spin, and guys swing through it all the time because you're just taking that velocity off," he said. "It's definitely good, especially if you fall behind in the count."
As for Difo, he was teammates with Giolito on a Hagerstown squad that went 87-53 and finished one win away from a South Atlantic League championship. The Dominican Republic native was a big reason why, taking league Most Valuable Player honors after batting .315/.360/.470 with 14 home runs, 90 RBIs, 49 steals and a league-best 176 hits.
But the stats aren't the only reason Difo is the organization's second recipient of the Bob Boone Award, which goes to the Minor Leaguer who best demonstrates the many qualities required to play the "Nationals Way."
"Wilmer's a thrill to watch," Giolito said. "He's one of the most exciting players out there on the field. He gives it his all every single time. I think he's completely deserving of the Bob Boone Award. He completely embodies everything that represents. I'm really proud of him."
The 22-year-old switch-hitter showed off his versatility this season, splitting time almost evenly between second base and shortstop, while hitting better than .300 from both sides of the plate. Difo, MLB.com's No. 20 Nats prospect, was able to play 136 games -- a career high by 72 -- and rebounded from a rough 2013 campaign in which he batted .217.
"First of all, I have to thank God for giving me the opportunity to stay healthy the entire year," Difo said through a translator. "The key to my success this year was working as a team and playing as a team. That's something that I learned this year, and that's the reason why I was successful and the team was successful."
Andrew Simon is a reporter for MLB.com. Follow him on Twitter @AndrewSimonMLB. This story was not subject to the approval of Major League Baseball or its clubs.