Jeter keeps routine, focus before final home game
Yankees star saving thoughts on finale, Boston series until after contest is over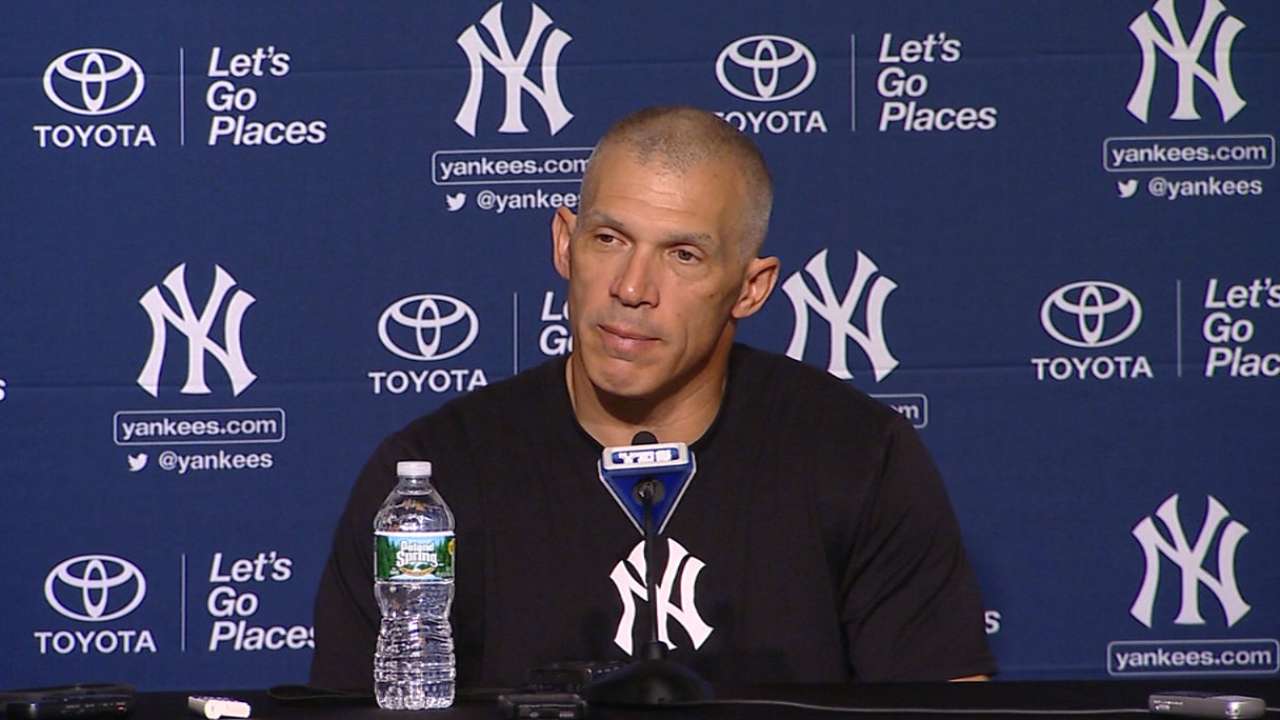 NEW YORK -- Derek Jeter describes himself as a "creature of habit," something that has helped him navigate two decades in the big leagues, and so he stayed true to that philosophy on Thursday while commuting to his final game at Yankee Stadium.
Yes, as Jeter said, he drives his own vehicle from his current West Village apartment -- don't believe everything you see in television commercials -- and yes, even the retiring Yankees captain hits traffic while traveling from Manhattan to the Bronx.
"A little bit," Jeter said. "I took pretty much the same route."
Jeter said that he did not closely follow the weather forecast in advance of Thursday's game against the Orioles, but he is obviously aware of the wet conditions; his need for windshield wipers would have told him that much.
"My feelings are, I hope the rain stops," Jeter said. "That's basically it. Everybody's talking about how much it's supposed to rain, so I hope the weather cooperates and we can play."
Yankees manager Joe Girardi said that he expects the Yankees and Major League Baseball will do everything possible to get the game in as scheduled. Yankee Stadium gates opened on time at 4 p.m. ET, but batting practice was cancelled for both clubs.
"I would suggest you make some plans, because I think we're going to be here a while," Girardi said.
Girardi said that he had not landed upon a concrete decision on how to script a moment for Jeter's Stadium exit. The idea to involve Jeter and Andy Pettitte in last year's memorable Mariano Rivera pitching change struck during that game, and Girardi seemed to be hoping for similar inspiration on Thursday.
"I'm just going to kind of let it go; just let it go through and take its course," Girardi said. "Just see what happens."
Jeter said that he allowed someone else to handle his numerous ticket requests for Thursday's game, trying to keep his focus between the white lines.
"I've got family and friends [coming], but they come a lot anyway," Jeter said. "My mom's got a big family, so I don't know how many tickets. I stayed away from it. It's too much to think about."
Jeter said he would prefer to wait until after the game to attempt describing his feelings about his final evening wearing the pinstripes.
"It's tough for me to start getting emotional and sentimental before I've got to play," Jeter said. "So let me play the game first. I'll let you know how I felt about it afterwards."
Girardi said that he planned to speak with Jeter about his plans for the final three games of the season at Fenway Park in Boston. Jeter said that a quick conversation did take place with Girardi, but he did not reveal specifics about the weekend ahead.
"I'm not thinking about Boston," Jeter said. "Right now I'm thinking about today. Let's just go through today first, then I can give you what our plan is for Boston."
Bryan Hoch is a reporter for MLB.com. Follow him on Twitter @bryanhoch and read his MLBlog, Bombers Beat. This story was not subject to the approval of Major League Baseball or its clubs.