Second-half woes cost Brewers shot at playoffs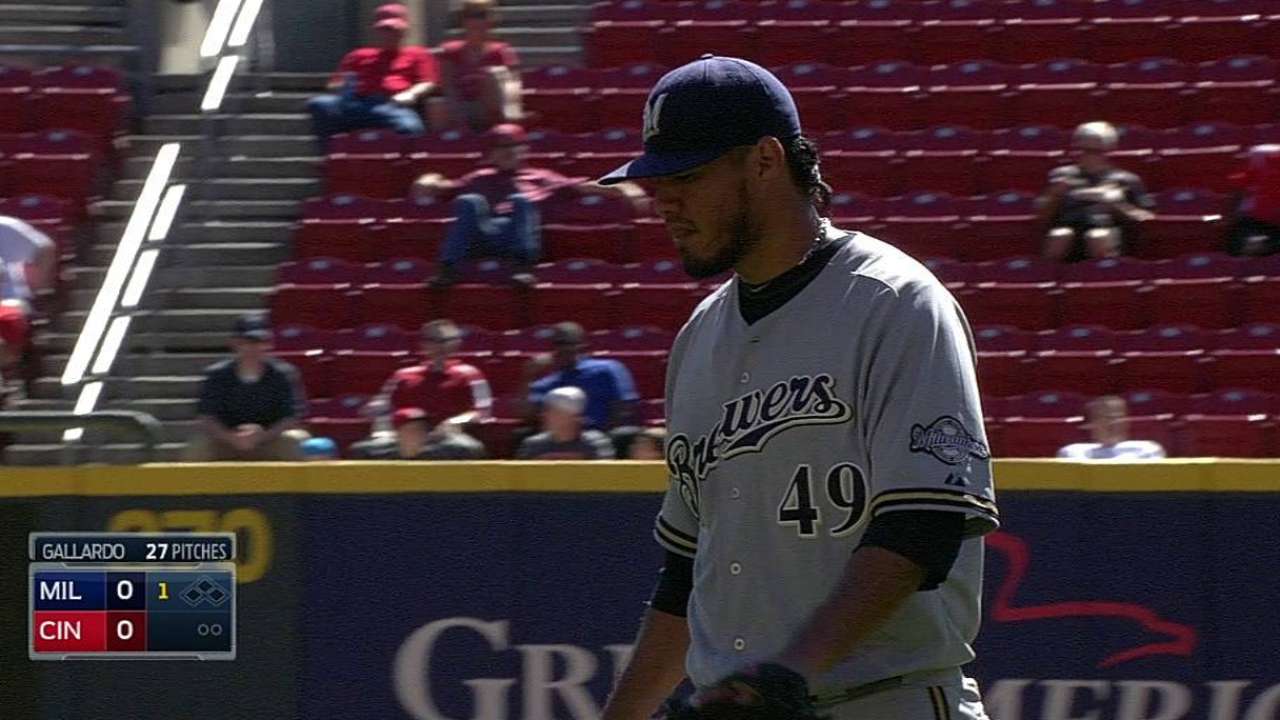 CINCINNATI -- The Brewers' increasingly likely fate became an assured one on Thursday, when a 5-3 loss to the Reds eliminated Milwaukee from postseason contention and completed an historically significant collapse.
According to STATS LLC, the Brewers are only the fifth team since the divisional era began in 1969 to spend at least 150 days in first place, yet miss the playoffs. The others were the '69 Cubs, 2007 Mets, '08 D-backs and '09 Tigers. Those other four teams finished in second place, but the Brewers -- who spent exactly 150 days atop the National League Central, including every day from April 5-Aug. 31 before falling with a Labor Day loss at Wrigley Field -- will finish third behind the postseason-bound Cardinals and Pirates.
"We kind of did it to ourselves," said catcher Jonathan Lucroy. "We were in the driver's seat for a while, and then we got complacent, and now this is where we're at. So, you know, we got what we deserved. We've got to play better."
Asked to explain what he meant by the team getting "complacent," Lucroy shrugged.
"I don't know what happened," he said. "Just, we had a lot of things go wrong at the same time. Guys started slumping all at the same time, and we couldn't quite get it back rolling again. Those prolonged slumps are what beat us."
The Brewers fell to 8-20 since Aug. 26 and saw their faint hopes dashed during a dud of a final road trip, during which the team dropped two of three games in consecutive series at St. Louis, Pittsburgh and Cincinnati. Milwaukee scored three or fewer runs in eight of those nine games, including two or fewer runs in six in a row.
It continued a larger trend. Since the start of July, the Brewers have scored three or fewer runs in 43 of 75 games while playing 15 games under .500, falling from 6 1/2 games ahead of the rest of the division to seven games behind the first-place Cardinals on Thursday.
"You know, we kind of gave it away," said right-hander Mike Fiers, who pitched admirably after joining the Brewers' rotation in early August. "We had a lot of opportunities. I mean, it was in our hands, and just, we couldn't put it all together.
"Sometimes the pitching wasn't there, the defense, or the hitting. It's been all scattered out. We didn't put it all together for a good stretch of time. We were in first place for a while, but the last month and a half has been pretty rough."
Said Kyle Lohse, whose two-hit shutout of the Reds on Wednesday kept the Brewers' hopes alive for one final day: "It's been tough on everybody. It just felt like we were climbing uphill the whole time, and couldn't get anything going."
The Brewers will post their second-best ERA in their 14 seasons at Miller Park, but much of that quality pitching was wasted by an offensive funk that covered the entire second half. After ranking second in the NL in nearly every offensive category through June 30 -- including runs per game -- only the Reds have struggled worse to score since then.
"I mean, things were going our way," second baseman Scooter Gennett said. "We were playing good baseball, but at the same time there, there were some games that we should have lost that we found a way to win. That's the thing now -- we're not finding ways to win games that we haven't played solid in.
"That, and I think guys just making adjustments on us. ... I think in certain situations, they're executing better pitches on us. During the year, you have to play that chess game with guys. They're winning the chess game. We need to be smarter."
The Brewers still have three games remaining against the Cubs at Miller Park. Manager Ron Roenicke said he would discuss with general manager Doug Melvin and some veteran players how to approach those games.
Center fielder Carlos Gomez was among those who indicated he would play through.
"We have to come and continue to finish the season," Gomez said. "It's not time to get frustrated. You can get frustrated after the season, when you're home. Now you have to continue playing and finish the season strong."
Adam McCalvy is a reporter for MLB.com. Read his blog, Brew Beat, and follow him on Twitter at @AdamMcCalvy. This story was not subject to the approval of Major League Baseball or its clubs.