Young Marlins stating their case for 2015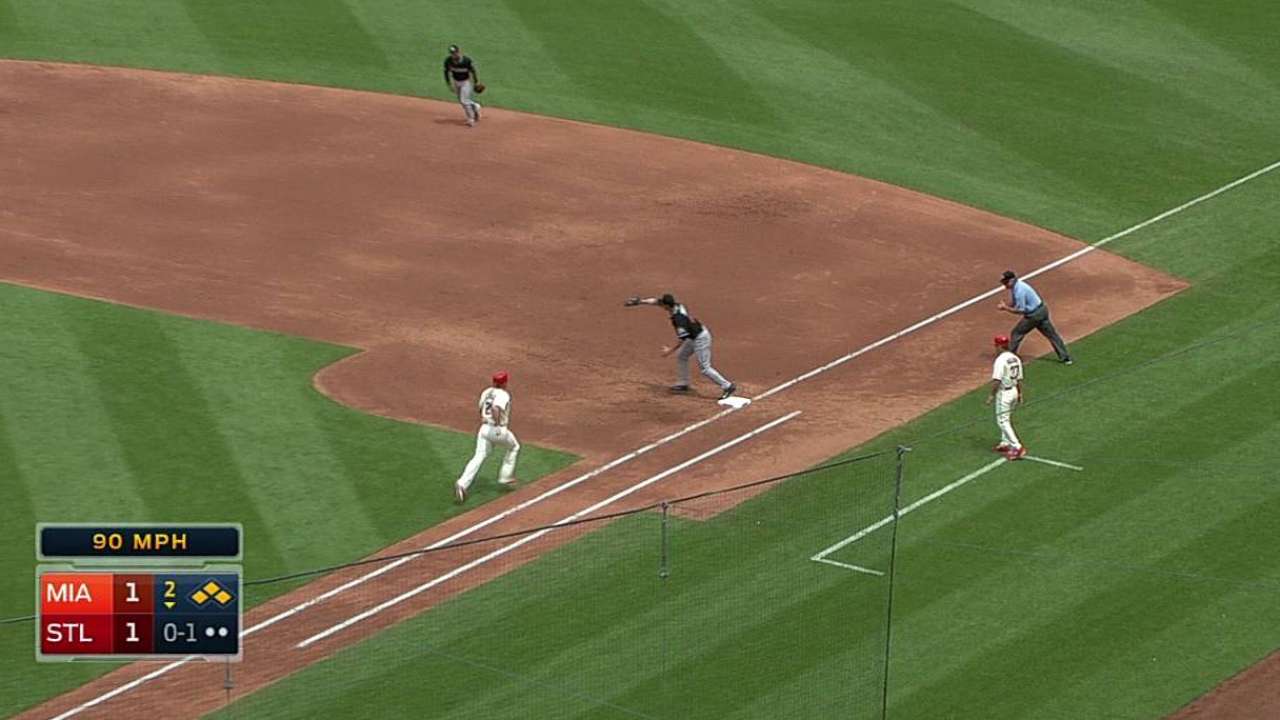 MIAMI -- Throughout the final homestand of the year, the Marlins have gotten a good glimpse of the way their future could shape up. From top prospect Andrew Heaney throwing three scoreless innings of relief, to first baseman Justin Bour and outfielder Enrique Hernandez making a handful of incredible defensive plays, Miami should have plenty to consider when spring rolls in.
People like Hernandez and Bour have had chances to play due to the injuries to Giancarlo Stanton and Marcell Ozuna. Not only have they shown their defensive prowess, but they've also had chances to impress with their bats.
"Part of what September is all about is giving some young guys the opportunity to go out there and play and try to show us what they can do," manager Mike Redmond said. "They're all trying to prove that they're good enough going forward to be part of this team and this organization."
Hitting was slow to come for Hernandez, who wasn't getting a lot of playing time and never got the chance to lock in at the plate. After being traded to the Marlins from the Astros along with Jarred Cosart at the July 31 non-waiver Trade Deadline, he went 0-for-7 in a week that saw him make just one start before he was sent down to Triple-A New Orleans. He was called up when rosters expanded but continued to play off the bench until Ozuna sprained his right ankle on Sunday.
When he made his first start in the field on Sept. 14, he broke out of his slump, driving an opposite-field homer at Citizens Bank Park to tie the game for his first hit as a Marlin. He ended up drawing a walk and scoring another of Miami's five runs that day.
Since then, he's made plenty of strides, hitting 6-for-21 and posting a .400 on-base percentage entering Thursday.
"This is all about taking advantage of the opportunities they give you," Hernandez said. "Sometimes, they're not gonna give you more than one. … Every second I play I'm trying to show them what I can do on the field so they'll include me in next year's plans."
And Bour has made a case for himself too. He's hit .313 in September and has driven in five runs and scored three times entering Thursday. Last weekend against the Nationals, he was actually the one accountable for three of the Marlins' five runs in the last three games of the series.
Even when he's not getting on base, he's made some impressive plays on the field. On Wednesday, he laid out at first to steal a hit from Chase Utley. He also started an inning-ending double play in the second, and in the ninth he charged a bunt fast enough to get Philadelphia's lead runner at third base.
"I'm really proud of myself on both sides of the ball," Bour said. "Like yesterday, I didn't get any hits but I was able to help the team defensively, so that's big for me. …That's the main goal, is to show people that you can play at this level. I'm trying to make the most of this opportunity and show them what I can do."
Once the Marlins' playoff hopes dwindled, Heaney got some time to show what he was capable of as well. The southpaw logged 4 2/3 innings over two games and only allowed two hits. The Nationals knocked in one of those on Sunday, in the midst of Heaney's scoreless three-inning performance that persuaded Redmond to tab Heaney for a start in Friday's doubleheader.
"I think I got fair opportunities," Heaney said. "I didn't feel slighted by any means. I think I threw well enough to get this opportunity, and I want to prove that I can be better."
So even though the Marlins had gone 2-5 in this homestand entering Thursday's home finale, there have been plenty of good moments for them to look back on.
"I'm optimistic," Redmond said about the club's future. "We've talked a lot as an organization about where we're headed and where we want to go. I think we're all on the same page and we're going to work this offseason. We like the group of guys that we have, and we feel like adding a couple of pieces will be huge."
Maria Torres is an associate reporter for MLB.com. This story was not subject to the approval of Major League Baseball or its clubs.