Offseason means minimum wage job for surprising rookie Giles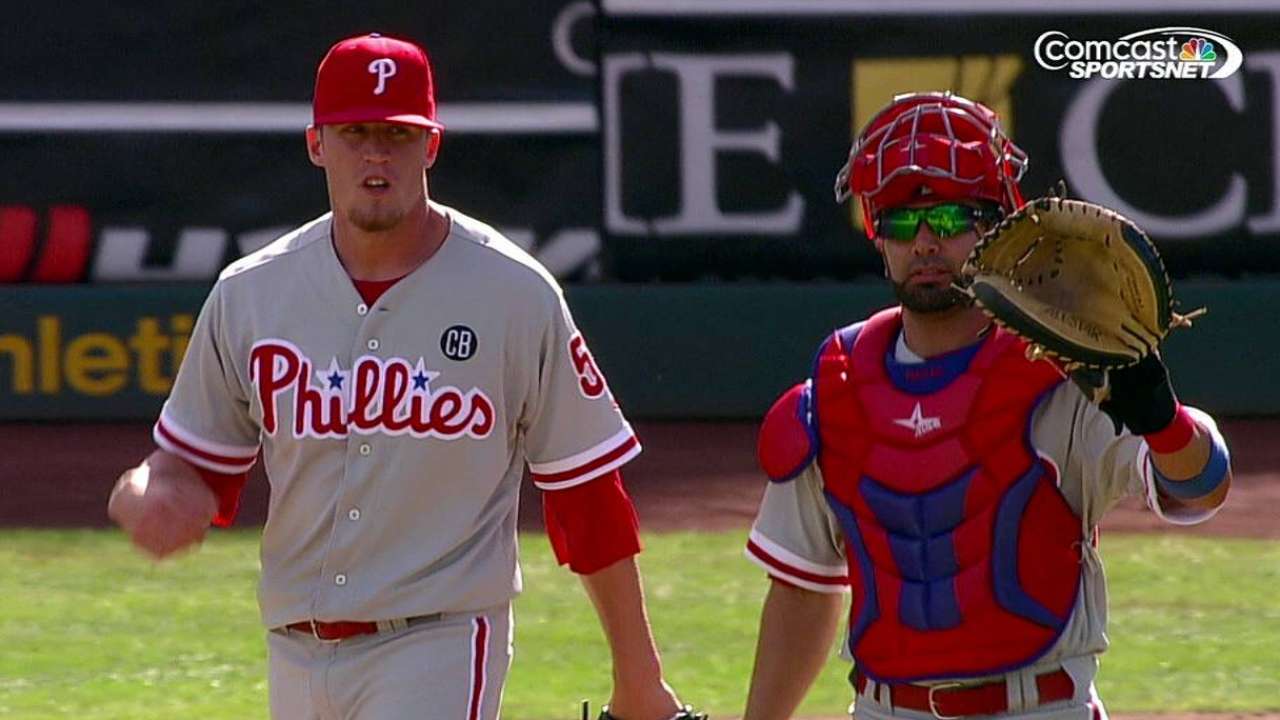 MIAMI -- If Ken Giles receives votes for National League Rookie of the Year, he might learn about it during an eight-hour shift at his 40-hour-a-week, minimum wage job at an indoor baseball facility just outside Phoenix.
Giles has spent the past few months throwing 100-mph fastballs and nasty sliders past big league hitters, but he will spend his third offseason picking up baseballs in batting cages and giving pitching lessons.
"It gets me out of the house," Giles said.
Giles, 24, entered Thursday's series finale against the Marlins at Marlins Park with eye-popping numbers. He is 3-1 with a 1.21 ERA and one save in 43 appearances since his promotion from Triple-A Lehigh Valley in June. He has allowed 24 hits, 11 walks and has struck out 63 in 44 2/3 innings. His 0.78 WHIP is fifth among all rookie relievers since 1914. His 5.73 strikeout-to-walk ratio is seventh and his 12.69 strikeouts-per-nine innings average is 10th.
He would be closing right now, if the Phillies could have traded Jonathan Papelbon.
Giles will not be NL Rookie of the Year. Mets right-hander Jacob deGrom (9-6, 2.63 ERA in 22 starts) is probably the favorite, with others like Reds outfielder Billy Hamilton receiving more hype and attention. But voters looking closely at the numbers cannot miss Giles' statistics.
"That stuff doesn't really matter to me," Giles said. "Awards are awards, numbers are numbers. It's nice to be recognized, but other than that, who cares? Staying up here was my main concern. Do my job and perform. I've been waiting to do this since I was four years old. That's all that matters to me."
It is hard to believe, but when the Phillies sent Giles to Minor League camp in March he really needed to work on his command, particularly with his slider. It has not been an issue since his promotion.
"I'm sure I shocked a lot of people with how fast I came along," Giles said. "I just busted my tail in the offseason to make sure I met those requirements. They were right to send me to the Minors. I had no problem going to Double-A, then Triple-A. It was just a matter of me getting that rhythm and that groove and getting those innings in."
Giles will enter next Spring Training as a lock to make the bullpen, either as the setup man behind Papelbon or as the presumed closer, if Papelbon is dealt. Giles said he is fine either way.
"Pap is our leader," Giles said. "I think right now he's the glue of our bullpen. If he comes back next year, I think he'll be the biggest key to our success."
Giles will head home to Phoenix following Sunday's season finale against the Braves at Citizens Bank Park. He said he will spend his mornings working out and the afternoons and evenings working at It's All in the Game Sports Center in Peoria, Ariz., which is located just behind the Spring Training facilities of the Mariners and Padres.
He gets weekends off.
Giles is pretty sure he's the only Phillies player to work a job in the offseason.
"I just can't sit in my house all day," he said. "A lot of my friends go there. My brother [Josh] works there. He's my boss, actually. I got him the job and he ended up being my boss. But it doesn't feel like work. It's just hanging out with a bunch of my friends."
Todd Zolecki is a reporter for MLB.com. This story was not subject to the approval of Major League Baseball or its clubs.