Marlins rally to cap winning season at Marlins Park
McGehee's go-ahead double nets Koehler's 10th win of 2014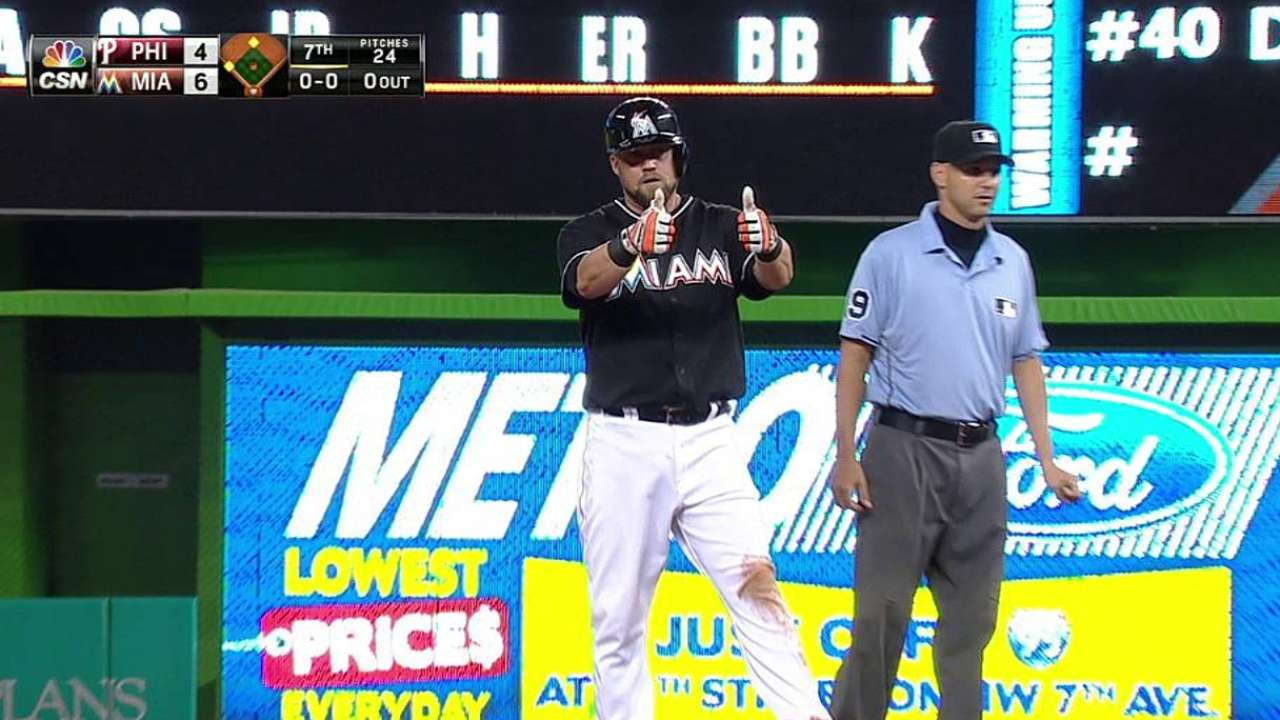 MIAMI -- The Marlins have been lacking big innings ever since Giancarlo Stanton was struck in the face by an errant pitch on Sept. 11. Since their primary run producer went down, they'd won just four games entering Thursday's home finale against the Phillies.
But there's something about Marlins Park that has lent itself to exciting games this year, and Miami was able to cap off its first winning season at its home stadium with a come-from-behind 6-4 victory. It was Miami's 14th such victory at home this season. In all, the Marlins have recorded 29 come-from-behind victories and 11 walk-off wins.
"That's exactly what we were waiting on, and it hadn't come," manager Mike Redmond said. "We all knew it was bound to come if we just stayed with it. These guys played hard for nine innings-plus all year long. … It was a fun way to finish the year at home. Like I said, a come-from-behind win -- that's what this team's all about."
The Marlins broke through in the seventh inning when the first six batters reached base against Phillies reliever Jake Diekman. Adeiny Hechavarria and pinch-hitter Reed Johnson led off with back-to-back singles, then Christian Yelich laced a ball through the legs of third baseman Cody Asche, who was given an error on the play as Yelich made it all the way to second. Hechavarria was able to score.
Donovan Solano brought home Johnson six pitches later on a single to right field, and Casey McGehee drove in Yelich and Solano with a go-ahead double. McGehee was caught trying to steal third, so when Garrett Jones got to Diekman for a single, the Marlins couldn't add more insurance.
"He just said, 'That's the first time I got thrown out all year.' And I said, 'Man, if we lose that game you're in my office," said Redmond, who teasingly referred to McGehee as Rickey Henderson. "Casey, he's trying to make a play and I don't even know what to say. He'll probably say, 'I thought I was safe.'"
Added McGehee: "Hey, I've only been caught once this year and it was close. So, it wasn't like I was out by 40 feet or anything. He was shocked I was thrown out because I've been showing so much speed this year. He wanted to come out and challenge it. I told him I was out."
But Redmond didn't need to call McGehee into his office after all, as the two runs held to give starter Tom Koehler his first win since Aug. 17. Koehler lasted seven innings, struck out seven and gave up four earned runs on eight hits. He was able to even out his record and get his 10th win in his 32nd start of the season, joining fellow starter Henderson Alvarez (12) and reliever Mike Dunn (10) to give Miami three 10-game winners for the first time since 2004.
"Going into this year my goal was to make every start. I take a lot of pride in that, to be able to take the ball every five days," Koehler said. "Sometimes it's not going to be a good one. Sometimes it's going to be really good. … I think the biggest thing for me was that out of the 32 games I think there were only two starts that were less than five innings. To keep the team in the position to win the ballgame, that's my ultimate goal every time. I think I did a good job of doing that."
The Marlins had jumped on an early 2-1 lead in the first inning. With Yelich already on base via a leadoff single, Solano laced a liner to deep left field. Yelich raced around second and slid into third just before Domonic Brown got the ball in from the outfield. Solano reached second on the throw.
That set up perfectly for McGehee to lift a ball to deep center field for a sacrifice fly. And Jones, who was hitting cleanup for only the second time since April, drove Solano in on a single. Jones finished 3-for-4 with one RBI.
But for the second game in a row, hits by the pitcher played a huge role for Philadelphia. Up by one run in the sixth inning, Koehler should have gotten a quick first out with the pitcher leading off. But starter David Buchanan got the best of a 3-2 fastball and looped it into left field for a double. He came around to put the Phillies up by one run when Yelich overran a Chase Utley double that dropped a few feet fair of the third-base line.
A few batters later, Brown added some insurance with a single that scored Ben Revere and Utley, whose damage against the Marlins had been limited to one hit in the previous two games before Thursday.
"For whatever reason, we've had some tough times with these pitchers," Redmond said. "I don't know what it is but we seem, well, probably throughout the season, we've given up some big hits to some pitchers. We're gonna have to go back to the drawing board on that one for Spring Training next year. That started that rally, but he's still able to make pitches and get himself through and he got out of it, giving us a chance to win that ballgame. Ten wins for Tommy, I'm proud of him."
Maria Torres is an associate reporter for MLB.com. This story was not subject to the approval of Major League Baseball or its clubs.