'Pen spoils Buchanan's final start of '14 in Miami
Brown, Utley each drive in two in finale vs. Marlins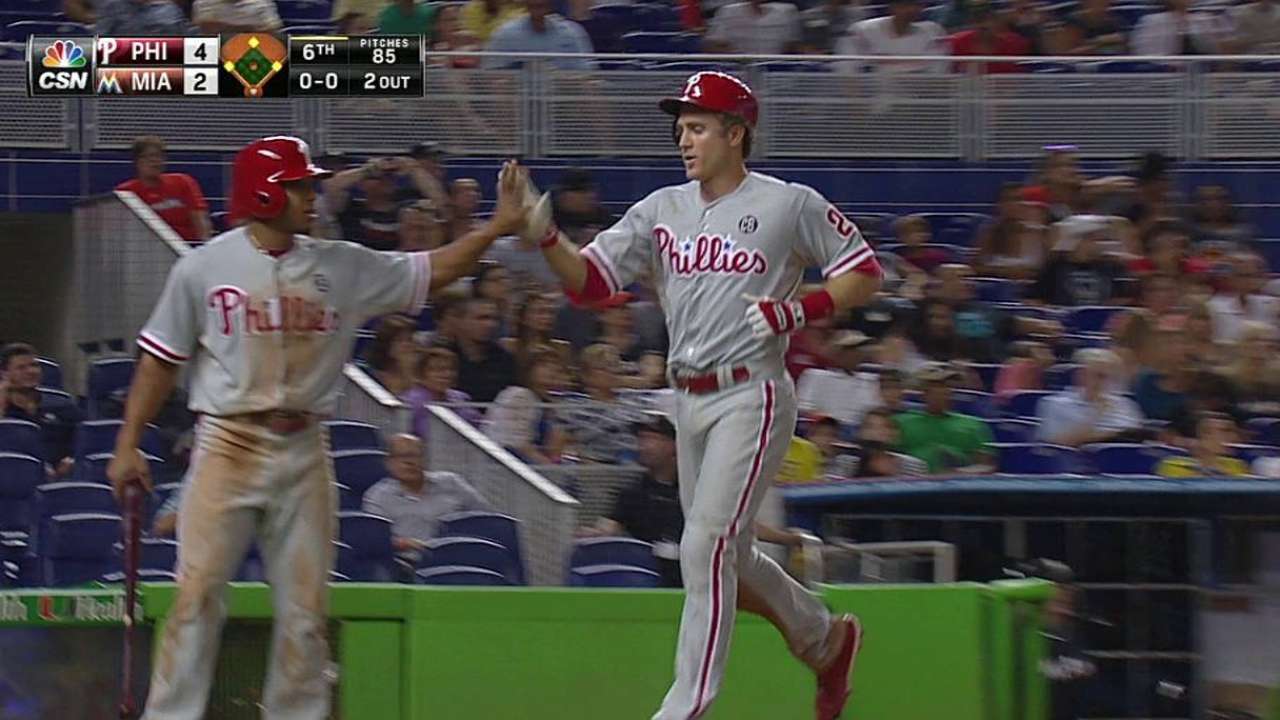 MIAMI -- The Phillies opened the season in March with a franchise-record $180 million payroll and expectations of improvement.
The victories never came. The Phillies lost Thursday to the Marlins at Marlins Park, 6-4, to clinch their first last-place finish in the National League East since 2000, when Terry Francona managed his final season in Philadelphia and 21-year-old shortstop Jimmy Rollins made his big league debut in September.
The Phillies looked at Rollins as a silver lining in that forgettable season.
The Phillies look at David Buchanan as one in 2014. He was unprotected in the Rule 5 Draft in December and received a very late invitation to Spring Training. But after allowing two runs in 5 1/3 innings Thursday, he finished 6-8 with a 3.75 ERA in 20 starts to give himself an inside track on a spot in next season's rotation.
"The main thing is, I'm very grateful," Buchanan said. "I feel blessed to be here. Tonight I can lay my head down and say I finished my year as big leaguer. I'm healthy and I got better every outing. I learned more than I could have hoped for."
Buchanan allowed three or fewer earned runs in his final 16 starts, the longest streak by a Phillies rookie since Bruce Ruffin's 16-start streak in 1986. He actually had a shot at his seventh win, but Phillies left-hander Jake Diekman allowed four runs in the seventh inning to cost his team a two-run lead.
"Pleasant surprise," Phillies manager Ryne Sandberg said of Buchanan. "I'm anxious to see him in Spring Training with this year under his belt. He was one of the first guys who stood out in Spring Training this year because I noticed him as the first one to the ballpark every day. Before the coaches were even there, and that was 6 o'clock. His work ethic is good. He's a student of the game. He asks a lot of questions, still. He continues to want to get better."
Cole Hamels will lead the 2015 rotation, unless the Phillies trade him in the offseason. Cliff Lee should be the No. 2, if his left elbow is healthy. A.J. Burnett could be the No. 3, but only if he picks up his player option. If not, he will not return.
Kyle Kendrick and Jerome Williams are free agents.
But Buchanan should be there.
Like he has in every start since June, Buchanan kept the Phillies in the game. It started rough, however. The Phillies took a 1-0 lead in the first, but Buchanan allowed two in the bottom of the inning to make it 2-1.
He kept the score there. Buchanan got inning-ending double plays in the second and fourth innings and got a lineout double play to end the fifth.
The Phillies finally broke through against Marlins right-hander Tom Koehler in the sixth, and it started with Buchanan. He ripped a double to left field, reached third on Ben Revere's single to right and scored on Chase Utley's bloop single to left to tie the game. Domonic Brown's two-out single to left scored Revere and Utley to give the Phillies a 4-2 lead.
Buchanan got into trouble in the sixth, putting runners at the corners with one out. Left-hander Antonio Bastardo took over and finished the inning, but Diekman allowed four runs in the seventh to lose it.
The Phillies packed up their things and headed to the airport to return to Philadelphia. They will play their final three games of the season this weekend against the Braves at Citizens Bank Park. They are 72-87. They finished 73-89 last season.
They expected better this season. They didn't get it. But they hope Buchanan is a bridge toward better days.
"Six months ago I never would have imagined this was possible," Buchanan said. "It was my dream to be here. I was shooting to be a September callup. And then two months in I was making my debut. I'm thrilled."
Todd Zolecki is a reporter for MLB.com. This story was not subject to the approval of Major League Baseball or its clubs.