LoMo's two blasts keep Mariners' playoff hopes alive
Seattle pulls within two games of Oakland for second AL Wild Card spot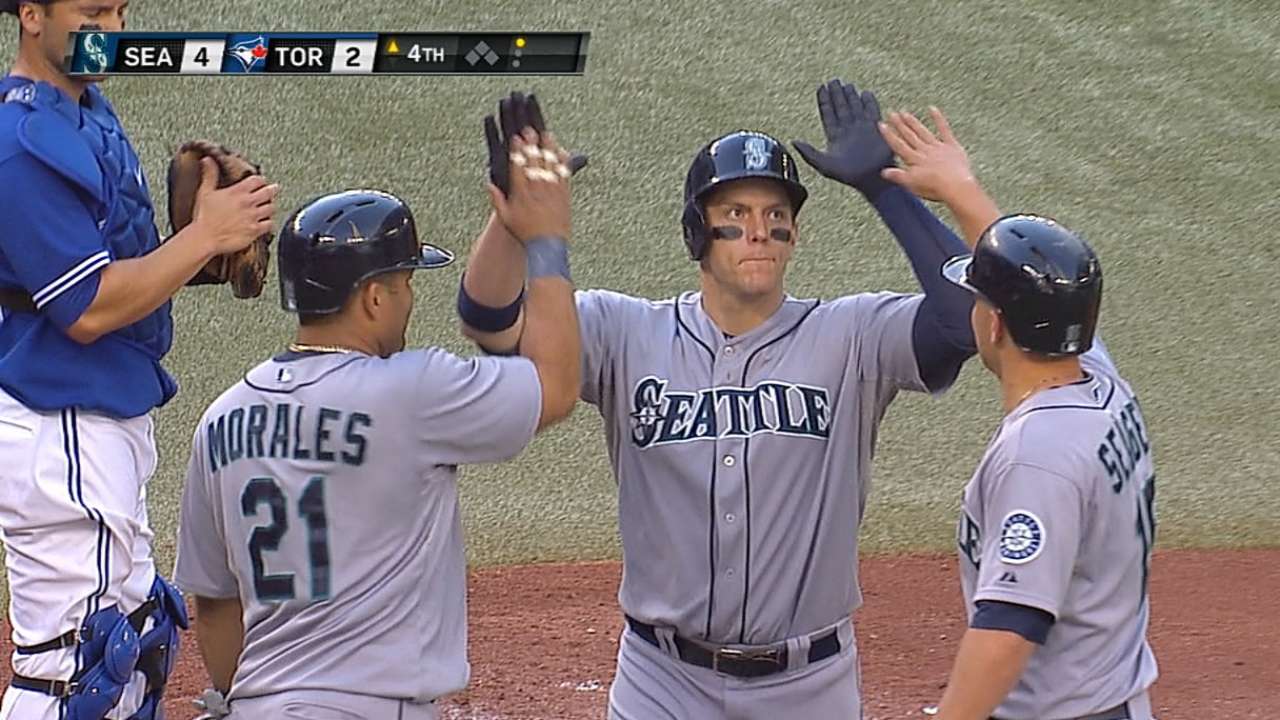 TORONTO -- There hasn't been a lot to celebrate for the Mariners in the past week, but they flew home Thursday night with some long-lost smiles on their faces -- and slim playoff hopes still afloat -- following a 7-5 victory over the Blue Jays at Rogers Centre.
Logan Morrison helped Seattle snap a five-game losing skid and end a rugged road trip on a positive note as he smacked two home runs to continue his strong stretch run for a club still clinging to an outside shot at its first postseason berth since 2001.
"We're still in the ring, still fighting," Mariners manager Lloyd McClendon said. "It's a good feeling. A lot of teams wish they were in our position. As dire as it may look, there are a lot of teams that wish they were in the Seattle Mariners' shoes right now. We're still in it and we're going to play hard and see what happens."
The Mariners finished 4-7 on their cross-country trek as Morrison's four-RBI day helped them improve to 84-75, two games back of the A's (86-73) for the second American League Wild Card spot with three games remaining at home against the Angels.
Any combination of two Seattle losses or two A's victories would eliminate the Mariners.
Thus if the Mariners sweep they Angels, they'd need the A's to finish 1-2 to force a one-game playoff at Safeco Field on Monday or 0-3 to get a Wild Card berth outright. The Mariners can also force a one-game playoff if they take two of three from the Angels and the A's lose their final three games. That's a long-shot scenario for a Mariners club that has won only six of its last 18 games and was outscored 69-44 on the just-completed road trip, but any chance is better than no chance at this point.
"Obviously, that's not how we wanted to play baseball this last stretch," said catcher Mike Zunino, who chipped in with a home run of his own Thursday. "But with a win, we know we still have hope and we can only take care of what we can take care of now. It'll be a tough series against the Angels, but I think we're ready for it and looking forward to playing them."
The Mariners salvaged the finale of the four-game series with Toronto as their bats came alive after a 1-0 loss on Wednesday. Both of Morrison's blasts gave Seattle a lead -- the second one for good -- and Zunino added a solo shot to keep hope alive.
"It's very nice to turn that page and get things moving in the right direction hopefully for these last three," said Tom Wilhelmsen, who opened the game for the Mariners with his second spot start of the season.
Despite the late-season stumble, Seattle finished the year with a 46-35 road record, the second-most road wins for a season in franchise history.
Kyle Seager had a pair of run-scoring singles to raise his team-leading RBI total to 96. Seager's first base hit ended Seattle's 18-inning scoreless streak in the fourth and Morrison followed moments later with a three-run shot to center on the first pitch he saw from Blue Jays reliever Todd Redmond.
It was Morrison's second three-run blast on the road trip, having ended a scoreless duel in Anaheim with a ninth-inning homer in a 3-1 win seven days earlier. After Toronto tied the game back up at 4, Morrison came through again with a solo shot leading off the sixth.
"He came up real big for us today when we needed it the most," said McClendon.
"It's a good feeling to know your team is looking at you when you've got guys like Robinson Cano and Kendrys Morales and they're looking at you to get the job done," said Morrison. "That's what you want. You want to be that guy. So now get those guys going and then it'll be everybody."
Five of Morrison's 11 home runs have come in September, when he's hit .328 (21-for-64) with seven doubles and 10 RBIs to raise his season average to .256 with 37 RBIs overall.
Zunino, 23, extended his club record for home runs by a catcher to 22 by smoking a 3-0 pitch over the left-field wall in the sixth.
Both teams went with bullpen days as 15 pitchers saw action. Wilhelmsen lasted just 1 1/3 innings while giving up a pair of runs on two hits and two walks as McClendon looked to keep him available for the Angels series as well.
"You're still managing with a hand on today and a hand on tomorrow, depending on what happens," said McClendon. "I need him ready to go the next three days and I didn't want to extend anybody too much."
Wilhelmsen was kicking himself over his early exit, but said the final outcome soothed that situation.
"I felt wonderful. I was really excited," he said. "Then I just started getting ahead of myself. I was more concerned about trying to go as deep as I could as opposed to what's really going on right now. And that ended up biting me in the butt. Walking [two] people in four outs is just unacceptable, no matter if you're the starter or just a fill-in guy. I felt really good and it was mighty frustrating. But that all faded away as soon as we got the lead."
Yoervis Medina, the fifth of nine Mariners pitchers on the day, was credited with the win.
Fernando Rodney, making just his second appearance in the last 12 days, gave up a leadoff homer in the ninth to Kevin Pillar before finishing off his AL-leading 47th save, extending his club record.
Greg Johns is a reporter for MLB.com. Follow him on Twitter @GregJohnsMLB as well as his Mariners Musings blog. This story was not subject to the approval of Major League Baseball or its clubs.