Brewers' playoff hopes end with loss in Cincinnati
Gallardo struggles; miscues, continued offensive woes front and center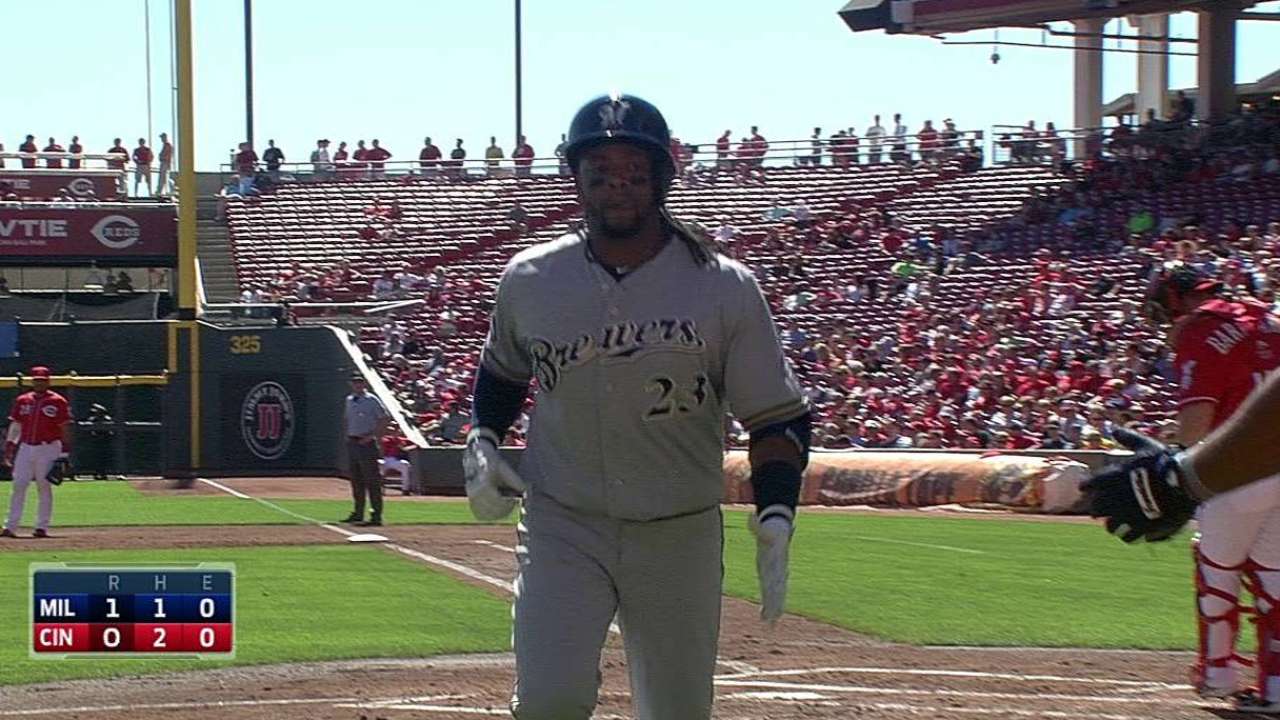 CINCINNATI -- It was with all of their warts on public display Thursday that the Brewers completed a six-week collapse and bowed out of the postseason picture with a 5-3 loss to the Reds at Great American Ball Park.
In the field, a pair of Brewers errors helped the Reds mount the go-ahead rally in the fifth inning. On the mound, Yovani Gallardo surrendered 10 hits in five-plus innings. And compounding the problem which most scuttled Milwaukee's chances in the second half, Brewers hitters again were held to three or fewer runs. The outcome sealed a National League Wild Card berth for the San Francisco Giants and ensured the Brewers would miss the postseason for a third consecutive season.
The Brewers will scatter following Sunday's season finale against the Cubs, despite spending 150 days atop the NL Central -- including 149 consecutive days from April 5-Aug. 31.
"These games are the killers," manager Ron Roenicke said of Thursday's sloppy affair. "They're just hard to watch when you know you can win a game and you give it away."
Rickie Weeks hit a second-inning home run and had two hits, but committed two of the Brewers' three errors -- including one of two during Cincinnati's decisive rally in the fifth. The other was committed by rookie first baseman Jason Rogers, who, in his first Major League start, dropped an on-target throw from Weeks to thwart a would-be double play. After Jay Bruce doubled past Rogers down the right-field line, Weeks dropped a playable popup in shallow right field for a run-scoring error that tied the game at 2. Yorman Rodriguez followed with an RBI single to make it 3-2.
The Reds tacked on two sixth-inning runs on Brandon Phillips' homer off Gallardo, who did not distinguish himself in his final 2014 start. In five-plus innings, Gallardo surrendered 10 hits and five runs (three earned), with one walk, a wild pitch and four strikeouts.
"The only thing I would change is that one pitch [to Phillips]," said Gallardo, referring to an inside fastball he wished he'd thrown higher.
Brewers hitters couldn't bail Gallardo out. Against Reds left-hander David Holmberg and three relievers, the Brewers mustered six hits and went 1-for-5 with runners in scoring position, the biggest of those at-bats being pinch-hitter Scooter Gennett's double-play grounder with the bases loaded and nobody out in the seventh inning against Sam LeCure. It scored a run, but short-circuited a budding Brewers rally.
Gallardo finished the final guaranteed season of his contract 8-11 with a career-best (for a full season) 3.51 ERA. With 146 strikeouts in 192 1/3 innings, he became the Brewers' all-time strikeout leader, and his WHIP and strikeout-to-walk ratio were Gallardo's best since 2011, when he finished seventh in NL Cy Young Award balloting. But he finished with a losing record for the first time in his career.
The Brewers won't have to make an official decision until after the World Series, but they are likely to exercise a $13 million option to bring back Gallardo for another season. He will turn 29 during Spring Training.
How long will the Brewers' late-season collapse stick with him into the offseason?
"It better not stick very long, I'll tell you that," Gallardo said. "It's obviously -- I mean, I hate to say it, but there's nothing you can do now. Coming into this road trip, we knew it wasn't going to be easy, that's for sure, starting off in St. Louis and then going to Pittsburgh and here. We had that chance. We just didn't play the way we wanted to. We have to finish off strong and prepare for next year."
The 81-78 Brewers must win one of their three games against the Cubs this weekend at Miller Park to secure a winning season.
"I think it's important to do that," Roenicke said. "I'm sure most of the guys will want to play, the pitchers will want to pitch, so I'll have a discussion with [general manager] Doug [Melvin] to see if there's anything he wants to do differently."
The Brewers announced one change while they were on the way to the airport Thursday afternoon, saying Friday's scheduled starter, Matt Garza, had come down with a stiff shoulder. Rookie right-hander Jimmy Nelson will start in Garza's place against the Cubs.
Adam McCalvy is a reporter for MLB.com. Read his blog, Brew Beat, and follow him on Twitter at @AdamMcCalvy. This story was not subject to the approval of Major League Baseball or its clubs.