Holmberg helps Reds end Brewers' playoff hopes
Southpaw caps strong stretch run; Phillips hits decisive homer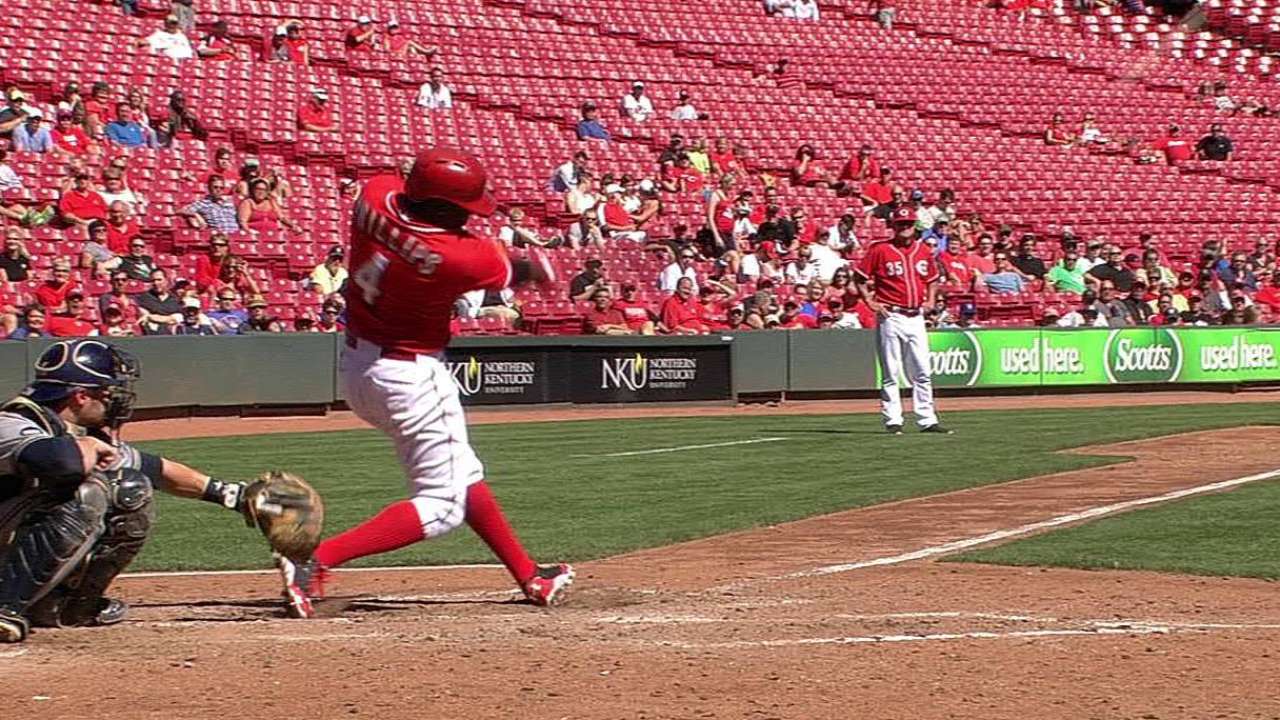 CINCINNATI -- The Reds got to play spoiler on Thursday afternoon.
Brandon Phillips hit his first home run since June 28 and David Holmberg tossed six strong innings as Cincinnati knocked the Brewers out of playoff contention with a 5-3 victory at Great American Ball Park.
With the Reds trailing, 2-1, in the fifth, Brayan Pena led off with a single against Brewers starter Yovani Gallardo. The next batter, Todd Frazier, hit a ground ball to third. Aramis Ramirez began what should have been a 5-4-3 double play, but the relay from second baseman Rickie Weeks was dropped by first baseman Jason Rogers.
With Frazier at first, Jay Bruce doubled him to third; it was Bruce's first double since Aug. 18 at St. Louis. Ryan Ludwick followed with a popup into shallow right that Weeks dropped, enabling Frazier to score the tying run.
Yorman Rodriguez, a September callup who got the start in center field for the injured Billy Hamilton (mild concussion), followed with a single to right that brought Bruce in for a 3-2 lead.
Phillips' two-run shot to left in the sixth, his eighth homer of the season, provided Cincinnati with some insurance.
Holmberg turned in another solid start. Since entering the starting rotation in place of the injured Dylan Axelrod (oblique strain) on Sept. 13, the 23-year-old is 2-1 with a 2.50 ERA. His first big league victory also came against the Brewers in Milwaukee.
"I think I'm getting more comfortable," Holmberg said. "For me, it's just about going out there and making pitches and executing. That's what I did today. I just wanted to attack those guys like I did last week in Milwaukee, and it worked out."
Holmberg allowed two runs on three hits in the outing, walking one, hitting a batter and striking out two.
"We probably could have run him back out there to start the seventh, but there was little margin for error," Reds manager Bryan Price said. "He was a little bit erratic in the sixth, he was leading off the seventh, and it just made sense to get him out of there."
Holmberg's Reds debut was a rough one, and he had an 18.56 ERA (11 earned runs in 5 1/3 innings) over his first two outings. But since then, the southpaw has posted a 1.82 ERA (five earned runs over 24 2/3 innings).
With the turnaround, Holmberg ended his season on a high note as the Reds consider options for 2015.
"For me personally, it gives me confidence," Holmberg said. "I pitched against teams in the division. We're going to see those guys a lot in the future. It gives me confidence that I can go out there and compete.
"I have no idea [about next season]. I feel good about it. I want to come to Spring Training, make a good impression next year and wherever they put me, I'll pitch."
The Brewers opened the scoring on a Weeks solo homer to center off Holmberg in the second. Milwaukee scored its second run on a Khris Davis sacrifice fly in the fourth, and added another on a run-scoring 4-6-3 double play in the seventh.
The Reds scored their first run on a Bruce RBI single in the third.
Aroldis Chapman came on in the ninth and picked up his 35th save of the season. But his appearance wasn't uneventful, as the hard-throwing closer was in discomfort after a pitch to pinch-hitter Hector Gomez with one out. After Price and a trainer came out to check on him, he remained in the game and closed it out.
"He was a little stiff. He had a hard time getting loose, which isn't unusual," Price said. "I think if you wanted to go through the clubhouse right now and ask anybody if they feel real good when they go out there, if they were honest, they'd probably say, 'No, not real good.'"
As for the Brewers, manager Ron Roenicke seemed to sum up his club's season in his description of the game.
"These games are the killers," Roenicke said. "They're just hard to watch when you know you can win a game and you give it away."
Manny Randhawa is an associate reporter for MLB.com. This story was not subject to the approval of Major League Baseball or its clubs.