Rondon has locked down Cubs' closer job
After struggling through much of rookie season, righty has emerged as stopper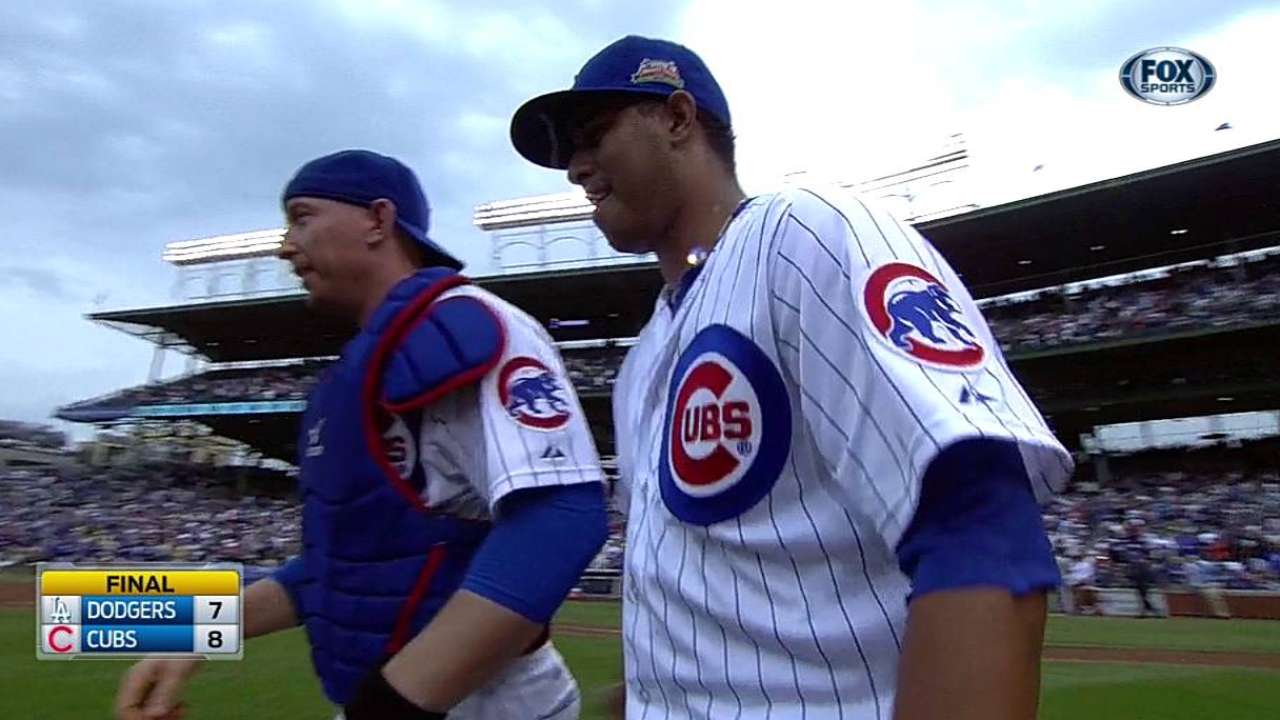 CHICAGO -- Hector Rondon has been the Cubs' closer since June, but the right-hander didn't officially get the job until last Saturday, when he shut down the Dodgers.
"I told him, 'You can announce you're a closer,'" Cubs pitcher Carlos Villanueva said of Rondon. "'You came in there after we came back after a big rally, and you shut the door down with 10 or 12 pitches against one of the best lineups.' And [their] three best [hitters were] coming up, and the wind blowing out. This was it. That was his graduating point."
It wasn't Rondon's first save of the season, but his 26th, and he added No. 27 on Wednesday in the Cubs' 3-1 win over the National League Central-leading Cardinals. But last Saturday, Rondon needed only 13 pitches to retire Yasiel Puig, Adrian Gonzalez and Matt Kemp to secure an 8-7 win. The Cubs had rallied from a 6-1 deficit. It was a key moment.
Entering this offseason, the Cubs have a checklist of needs to fill, but they don't need a closer. That's Rondon's job.
The right-hander is the fourth Cubs pitcher to reach 26 saves at age 26 or younger, joining Lee Smith (1983-84), Bruce Sutter ('77-79) and Mitch Williams ('89).
In his past 28 games since July 11, Rondon has posted a 0.96 ERA (three earned runs over 28 innings), has walked two and struck out 23. Remember, Jose Veras was supposed to be the Cubs' closer, but the veteran struggled, was injured and was eventually released on June 10.
"It was a big surprise for me to be the closer," Rondon said. "I started the season throwing really good. I think all that effort I put in early [and] from last year -- last September, when I was working with [bullpen coach Lester Strode] and started to get my mechanics right -- I think everything started to work together, and that's why I'm having the season I'm having."
Rondon gave up one earned run in his final 18 appearances last season. Heading into the final three games of the regular season this year, he ranks 11th in the NL in saves and 22nd among relievers, with a 2.49 ERA.
"The ability he has right now and the confidence he has to take the ball right now in the ninth to close out a ballgame is pretty impressive," Cubs manager Rick Renteria said of Rondon. "He's got good stuff, and I think he's really taken to it."
Villanueva, 30, developed a relationship with Rondon quickly. A late arrival to Spring Training in 2013 because of visa problems, Rondon found himself with a locker next to Villanueva.
"I hope he doesn't read this, but he came in, and I took a liking to him right away," Villanueva said. "I can't tell you how proud I am of him and how he handled the ups and downs of last year, and how he has handled the role this year.
"The one thing I want to be remembered for in this game is the guys I've helped along the way -- they know who they are," Villanueva said. "It's not showing them how to pitch but more how to act, how to approach the mental side of the game, the experience. Other guys have done that with me. Guys like Trevor Hoffman and Craig Counsell -- those are guys I want to make proud, because they taught me."
Villanueva has passed on the advice to Rondon.
"I had a Hall of Fame closer with me for two years [in Hoffman] and saw how he worked," Villanueva said. "We all saw the potential [in Rondon]. Once he was in there, he showed he could do it, and the poise and the stuff to do it."
The Indians' Minor League Pitcher of the Year in 2009, Rondon's career was slowed after needing Tommy John surgery in '10. The Cubs acquired him in the Rule 5 Draft in December 2012, and last year -- his first in the big leagues -- he had just one save opportunity and compiled a 4.77 ERA.
"Everything we've talked about has helped a lot," Rondon said. "I'm still learning."
Villanueva joked that Rondon is not as quiet as he was during his first season with the Cubs. It could have something to do with confidence.
"We mess around a lot, and he still has a lot to learn and he needs to take care of himself and his body and everything, but I don't think anybody is really surprised [at his success]," Villanueva said. "I'm not. I'm looking forward to seeing what he does. I won't say he'll have a career like Trevor Hoffman, but maybe something in between. I'm proud of him and looking forward to seeing him grow."
The Cubs have gone through their share of closers in recent years, including Ryan Dempster, Kerry Wood, Carlos Marmol and Veras. Rondon isn't sure what the future holds.
"I'm really happy with what I'm doing now," he said. "I hope they stay with me and want me to be the closer."
Carrie Muskat is a reporter for MLB.com. She writes a blog, Muskat Ramblings, and you can follow her on Twitter @CarrieMuskat. This story was not subject to the approval of Major League Baseball or its clubs.