Gee's flinch snaps Mets' admirable balk-less streak
NY was on track to be first NL staff to finish season without one in 15 years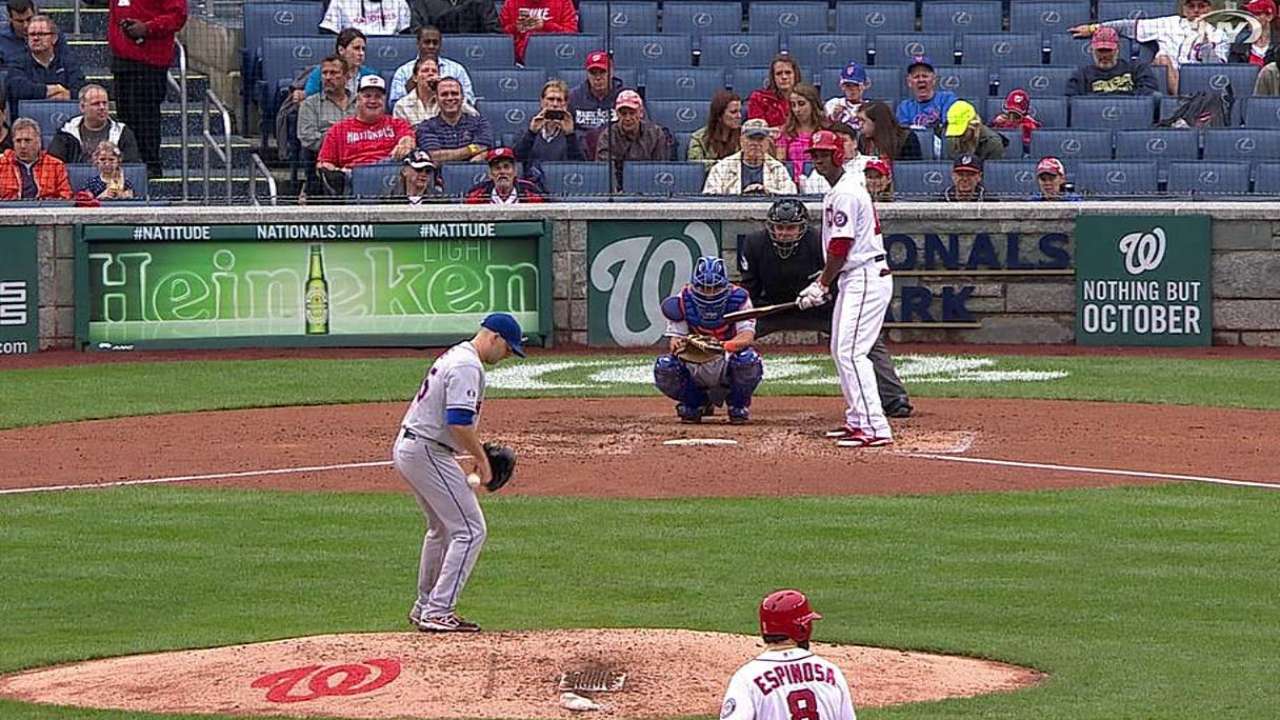 WASHINGTON -- Poring over some statistics earlier this week, Mets pitching coach Dan Warthen realized his team was on the brink of one of baseball's statistical oddities: Mets pitchers had nearly become the first National League team in 15 years to go an entire season without balking.
"That's pretty amazing," Warthen said on Wednesday afternoon. "But I guarantee there will be a balk tonight, now."
Technically, there was not; the Mets and Nationals were rained out that night. But in the fifth inning of Thursday's makeup, sure enough, Dillon Gee balked.
With runners on first and second base and no outs at Nationals Park, Gee did what no Mets pitcher had for 159 consecutive games, breaking Major League Baseball's hallowed Rule 8.01. For nearly an entire season until that point, there had been no twitches amongst Mets pitchers. No confusion. No false moves. The Mets were on the brink of becoming the first big league pitching staff in seven years to complete an entire season without issuing a balk, and the first NL team in 15 years.
Before Gee, Carlos Torres was the most recent Mets pitcher to balk, last Sept. 27. Gee's hiccup ensured that the 1968-69 Mets would continue to hold the franchise record of 182 straight games without a balk, though times were different back then; since 1975, only seven teams have gone the entire season without one.
Meanwhile, the top 100 team balk totals in big league history -- including Oakland's seemingly unbreakable record of 76, which highlighted the league's balk-happy 1988 season -- have all taken place since 1975.
What's more, Torres issued his balk last year during a relief appearance. Before Gee's balk, which helped fuel a three-run Nationals rally, Mets starters had gone more than two full seasons without advancing runners in that fashion.
Anthony DiComo is a reporter for MLB.com. Follow him on Twitter @AnthonyDicomo. This story was not subject to the approval of Major League Baseball or its clubs.