Brewers looking at all options for first base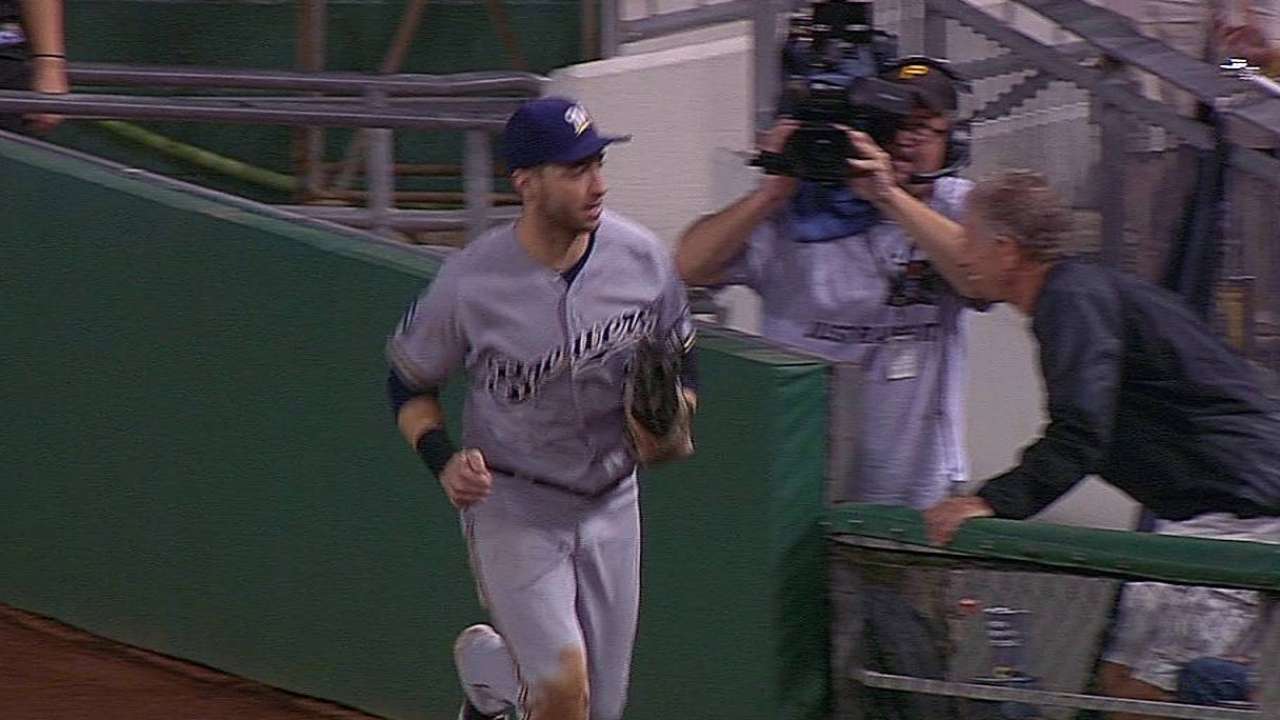 CINCINNATI -- After posting the National League's lowest OPS at first base for a second straight season, the Brewers will consider all options this winter in an effort to find a long-term solution to the problem. Here's a popular suggestion from Brewer Nation: Move Ryan Braun to first.
"Well, we've talked about it," manager Ron Roenicke said Thursday, making clear those talks are purely hypothetical, have not included Braun and probably won't go anywhere.
Braun has already moved from shortstop at the University of Miami to third base, left field and right field during his years with the Brewers.
After moving across the outfield to open left field for Khris Davis, Braun ranked in the bottom half among baseball's everyday right fielders, according to the defensive metrics. But Milwaukee is reluctant to move him because he still runs well and has a superior throwing arm, traits that would be wasted at first base.
On the other hand, if the Brewers plan to return with their three starting outfielders -- Davis in left, Carlos Gomez in center and Braun in right -- then they would face a decision this winter with Gerardo Parra, who was acquired in a July 31 trade with the D-backs, earned $4.85 million this season and has one year of arbitration eligibility remaining. Making him a starter would add a Gold Glover to the outfield mix, and a left-handed bat to a lineup dominated by right-handers.
"I haven't talked enough with Doug [Melvin, Milwaukee's general manager] about it to even know if there would be a reason to [move Braun]," Roenicke said. "I still think he is a good defender in the outfield. Learning the new position, I thought he picked up pretty fast, and I think he'll continue to get better in right.
"So it's just what the needs are. I know we have Parra over here now, and we'll figure out what to do with him next year."
It appears Davis will stay put in left field. He has the good hands and below-average throwing arm that seem theoretically suited for first base, but he tried the position during his Minor League years and was not comfortable there.
With Mark Reynolds and Lyle Overbay headed for free agency after the season, the Brewers will have two regular first basemen on the 40-man roster -- Matt Clark and Hunter Morris -- plus the versatile Jason Rogers, who started at first base against the Reds on Thursday. Rogers played a lot of third base this season and also has manned left field, but he may be best suited for first base, according to Roenicke.
"He feels that's his natural spot, and he feels comfortable there," Roenicke said.
Adam McCalvy is a reporter for MLB.com. Read his blog, Brew Beat, and follow him on Twitter at @AdamMcCalvy. This story was not subject to the approval of Major League Baseball or its clubs.