Bailey hopes to begin throwing in December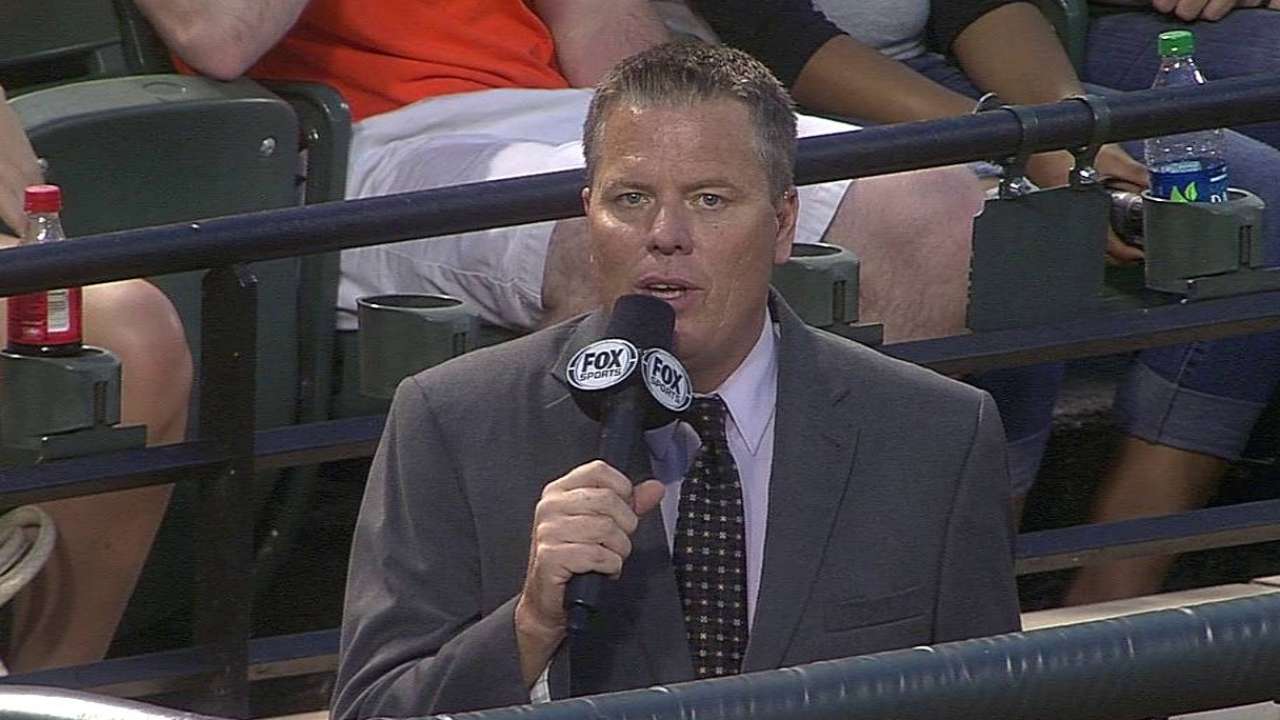 CINCINNATI -- The complicated metal brace over Homer Bailey's arm is locked to keep his elbow bent at a 90-degree angle. The pitcher is still in the early stages of recovery and rehab from Sept. 5 surgery that repaired a tear in the flexor mass tendon near Bailey's right forearm.
"I always try to go about everything the right way," Bailey said on Thursday. "I know I'm going to rehab extremely well and do whatever they tell me. Whenever I can do more, I will do more."
Bailey pitched his last game of the 2014 season on Aug. 7 vs. the Indians, and he was soon diagnosed with a small tear of the tendon. A full recovery is expected, but it remained unclear whether the right-hander -- who signed a six-year, $105 million contract in February -- will be ready to begin the 2015 season right on time.
"I'll start throwing in late December, early January -- it's kind of where we're at right now," Bailey said. "Of course, we're a few months away. It could be sooner. It could be later. That's kind of the tentative plan. As far as games, I'm hopeful we would say I won't have to miss a start. Realistic, I might have to miss one or two. If I have to miss one start, maybe two starts, that's not that big of a deal."
Bailey said he normally resumes throwing just before Christmas during a typical offseason. He plans to return home to Texas next week, and he will work with physical therapists there.
"I'll be coming back [to Cincinnati] probably once a month -- November and December for Redsfest," Bailey said. "[The Reds] will be getting updates."
Worth noting
• In a letter to donors, Reds first baseman Joey Votto revealed that he has decided to close the Joey Votto Foundation. The foundation, which was established in December 2013, had a mission to help military members and their families deal with post-traumatic stress disorder. Funds raised for the foundation will continue to benefit veterans at the University of Cincinnati Health Stress Center.
"I remain committed to giving back to our Cincinnati community. However, I look forward to keeping my future volunteer and philanthropic efforts private," Votto wrote in the letter. "I appreciate your understanding on this matter."
• Following Thursday's game vs. the Brewers, Reds staff and front-office executives -- led by chief operating officer Phil Castellini -- were scheduled to thank fans as they exited Great American Ball Park.
Mark Sheldon is a reporter for MLB.com. Read his blog, Mark My Word, and follow him on Twitter @m_sheldon. This story was not subject to the approval of Major League Baseball or its clubs.