After grind of season, Dodgers let loose in celebration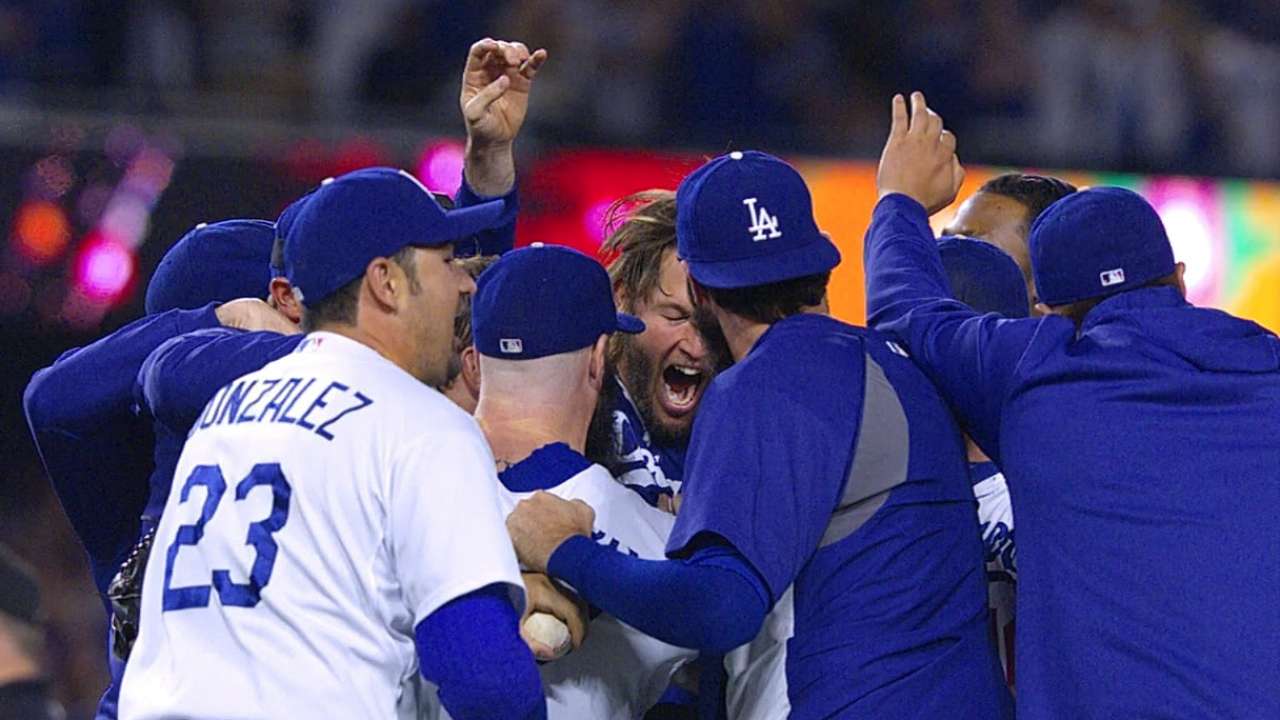 LOS ANGELES -- Ice chips were flying, champagne was spilling, beer bottles were floating in puddles -- and second baseman Dee Gordon was standing in the corner of the clubhouse, away from all of it.
It's not that he wasn't participating in the madness -- the celebration of a second straight National League West title. He certainly had been. He was already soaked through his shirt and undershirt, liquid still slowly dripping from the top of his head. None of it would dry on its own, not any time soon.
Still, Gordon needed to step away for a second. He needed a moment to let it all crystallize, to let the cause for the chaos sink in.
"I'm just trying to get my thoughts together," Gordon said with a wide smile, eyes following the huddled mass flinging ice and cool liquid in the middle of the room.
"God is good," he said, with a slight pause. "Just to be with my teammates celebrating, just to follow these dudes' lead -- it's amazing, man. And I just want to thank God for it, and give my teammates the kudos, because they did it."
Minutes later, Gordon was done reflecting. He was next to Justin Turner, jumping for 30 seconds straight, flapping his NL West championship shirt up and down to showcase his trademark Superman shirt underneath -- like Clark Kent in hyperdrive. The party had resumed, and it was a wild one.
But the raucousness shouldn't be a surprise for this 2014 Dodgers team, a group that travels with a bubble machine that is activated after every Dodger home run, a group with the likes of Yasiel Puig and Juan Uribe eliciting roars of laughter in the clubhouse on a daily basis.
"Let me tell you, this team always has fun -- it's one of those types of teams," said left fielder Carl Crawford, interrupted briefly by Puig throwing ice chips at his face. "You've got to be loose, man. You can't be uptight all the time."
The Dodgers have been having fun for a while, but certainly not over the entire season. There was a point, in June, when they were 9 1/2 games behind the Giants -- the team they beat on Wednesday. At that time, manager Don Mattingly was lamenting the team's lack of cohesion, saying that the Dodgers weren't all pulling on the same end of the rope.
"A lot of guys had individual issues throughout the year, but we got here as a team, and that's what the most important thing is," catcher A.J. Ellis said. "Now we're in the tournament, we're all healthy and we're ready to go."
But before they go, the Dodgers needed Wednesday night to let loose, they needed a reward -- as Crawford said -- for a "long year of grinding."
They needed a chance to all come together.
"I've got great, great teammates," Gordon said, just before he jumped back into the huddle.
He might have been standing in the corner, but he didn't stay there for long.
Michael Lananna is an associate reporter for MLB.com. This story was not subject to the approval of Major League Baseball or its clubs.