Five reasons why Tigers made postseason
Detroit goes from team in flux to contenders thanks to shrewd moves, new talent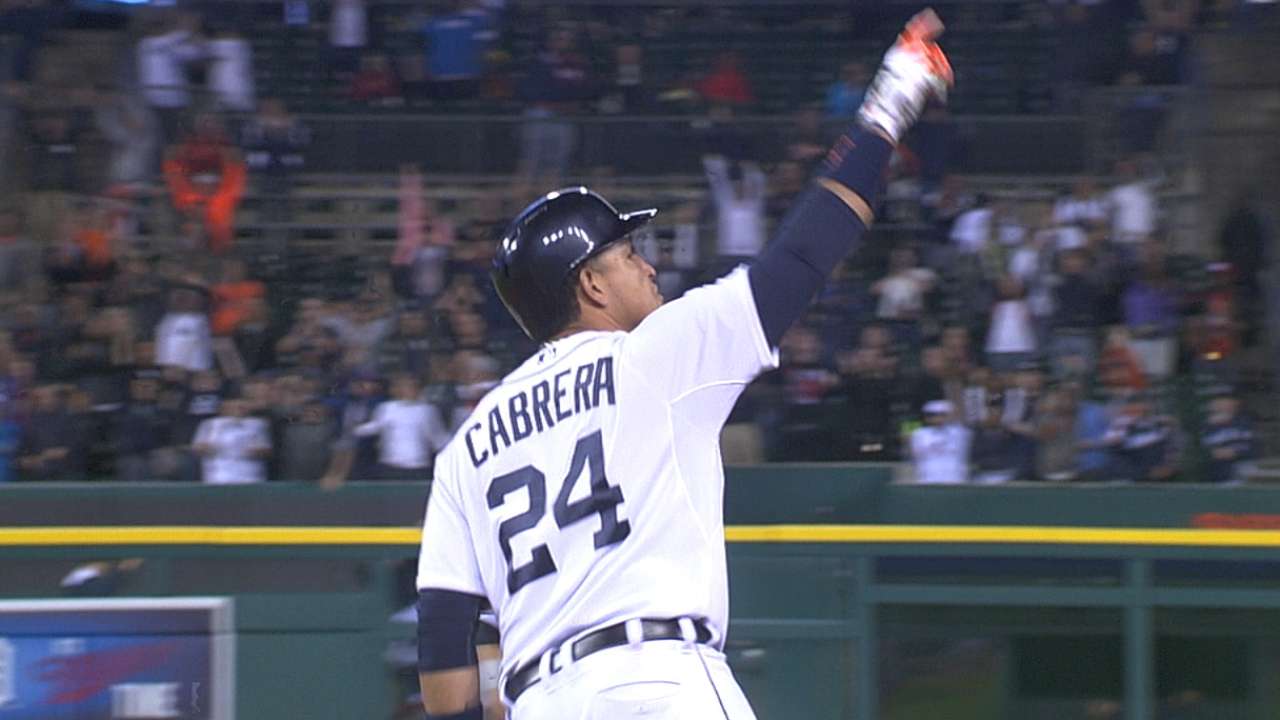 DETROIT -- The Tigers were a team in transition long before they arrived at Spring Training in February. As it turned out, the transition was just starting.
Between injuries, inconsistencies and incoming talent from the Minor Leagues, the Tigers have been a team in flux for much of the season, an odd spot for a three-time reigning division champion. And what some characterized as a turnkey operation for Brad Ausmus in his first season as a manager soon became a situation unlike anything in their recent reign atop the American League Central.
Here's a handful of examples why this season was far from an easy repeat effort in Detroit on its way back to the postseason:
Spring blooms as injury bug looms: For all the offseason moves the Tigers made last winter, they went about their business with Jose Iglesias as their defensively gifted young shortstop and Bruce Rondon as their hard-throwing setup man. Detroit ended up losing both of them for the year before they broke camp -- Iglesias to stress fractures in both shins; Rondon to Tommy John surgery.
While Joba Chamberlain's incredible bounce-back season filled the eighth-inning void left by Rondon's injury, the ripple effect left the Tigers bullpen one arm short in a lot of circumstances and searching for a consistent seventh-inning arm. The void at shortstop resulted in a parade of replacements, from 37-year-old Alex Gonzalez's three-week stint in April to Andrew Romine to surprising prospect Eugenio Suarez's midseason callup and growing pains. Five different Tigers have started at shortstop.
'Just discovered' Martinez: Nobody in the Tigers front office would tell you they saw this coming when they jumped at the chance to sign J.D. Martinez in the final days of Spring Training. But then, nobody on the Tigers likely expected Martinez, a player the Tigers had previously talked about acquiring from the Astros, to be available for nothing when Houston released him late in camp.
Detroit saw a right-handed hitter with power who had a chance to fit in with a Tigers organization starved for power after trading Prince Fielder last fall. Once he got his shot in mid-April, having hit 10 home runs in 17 Triple-A games, Martinez eventually filled Fielder's role as a power threat. Sound crazy? Martinez would rank among the AL leaders in batting average, slugging percentage and OPS if he had enough plate appearances to qualify, and has surpassed Fielder's 2012 numbers in the first two.
On-the-job training: Nothing about the position has really surprised Ausmus this season, he said, in his first year as a Major League manager. However, with no track record in the role, everything Ausmus did was going to be new for Detroiters, who went from one of the most experienced managers in the game (Jim Leyland) to one of the newest. It also was going to be new for a clubhouse that had been shaped by Leyland for the previous eight years, entire careers for some players.
Though Ausmus' age (he turned 45 in April) folded him into the stereotype of advanced metrics managers, he showed some decidedly old-school tendencies in such preferences as set roles for relievers and lefty-righty platoons. He wasn't quite as aggressive on the basepaths as some might have expected, he showed more patience in relievers like Joe Nathan and Phil Coke than some fans would've liked, and he made some first-year miscues such as bringing in relievers ahead of an intentional walk. But he also guided the Tigers through a roller-coaster season without a regular shortstop, without a true center fielder for the home run, and with a hobbled reigning MVP.
Miggy reminded that he's mortal: Miguel Cabrera went into the season with a new megacontract and newfound health that was expected to allow his power to return after playing through a groin tear down the stretch last year. However, while he returned to action in quick time after core muscle surgery, returning to form was another challenge.
Cabrera spent early stretches trying to find his power, then trying to find his timing when pitchers caught on to challenging him with fastballs. Just when he seemed to find it, a bone spur in his ankle not only limited him on the basepaths, but also at the plate. He still posted offensive numbers that anyone short of superstar status would take, but for him it was a drop, leaving the Tigers to diversify their offensive production a tad from the past few years.
Delivering David Price: No right-minded Tigers fan would've expected going into the season that a team with two AL Cy Young winners and the reigning AL ERA champion would end up trading its everyday center fielder and promising young starter for another ace. For that matter, nobody outside of Rays and Tigers front office would've expected it on July 20, which is what made the Deadline deal such a shocker.
Turns out the Price trade had ripple effects all over the roster. Price became more than a surplus when a right pectoral muscle strain knocked Anibal Sanchez out of the rotation in early August. However, the Tigers spent most of August struggling to fill Austin Jackson's void until Rajai Davis got used to center field. Drew Smyly's late-season run for the Rays before his innings limit, meanwhile, reminded Detroiters of what was given up, especially as Price struggled with big innings for a stretch. Eventually, Price grew comfortable in his new surroundings and pitched as such.
Jason Beck is a reporter for MLB.com. Read Beck's Blog and follow him on Twitter @beckjason. This story was not subject to the approval of Major League Baseball or its clubs.