MLB.com Columnist
Richard Justice
Stoic Jeter starting to feel weight of moment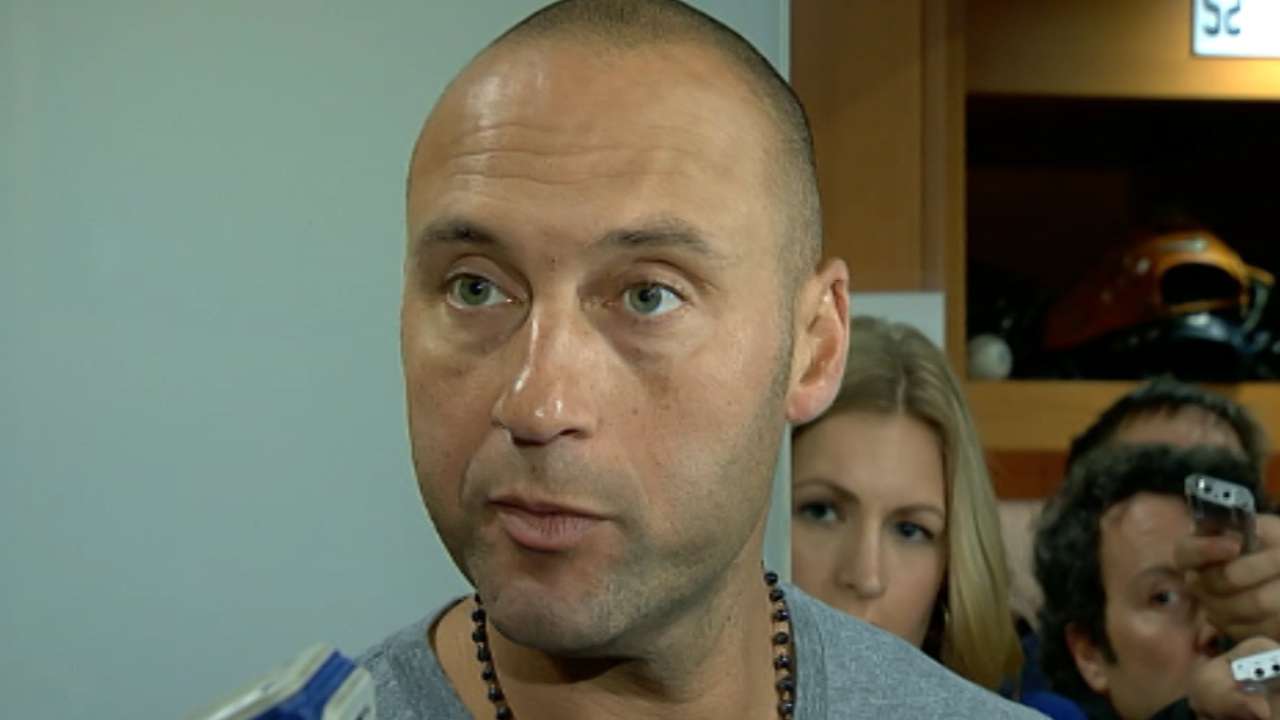 NEW YORK -- Part of Derek Jeter's genius has always been his ability to push everything else out of his mind and focus strictly on the here and now. That gift, he admitted, is being tested in these final days of his baseball career.
"It's getting more and more difficult," Jeter said Wednesday after a 9-5 loss to the Orioles at Yankee Stadium. "I try to put it out of my mind, but it's getting more and more difficult to do that."
Now every at-bat comes with a standing ovation. A routine groundout on Wednesday was followed by a sellout crowd chanting Jeter's name and demanding a curtain call.
Normalcy? Forget about it.
"I'm aware of it," Jeter said. "You can't help but notice. I catch myself looking around sometimes. I've always tried not to do that, but I've caught myself a couple of times doing it, so I'm well aware of it."
Wednesday's loss eliminated the Yankees from postseason contention, and while Jeter attempted to answer the usual questions about himself, he kept returning to the fact that he's not going to the postseason for only the second time in his 20-season career.
Jeter was injured last season when the Yankees missed the playoffs. When he was healthy, they'd missed only in 2008. But they rebounded to win the World Series in 2009.
"It's tough," Jeter said. "It's what you play for. It's a rough feeling. It should be a rough feeling for everyone in here. We didn't play well enough. Put a lot of work into an offseason and see it as a good opportunity to go to the playoffs, and unfortunately we're not going. It's something that, for the guys that are coming back and will continue to play, it's a feeling that you shouldn't like, and you shouldn't want to get used to it."
Now the focus will be strictly on Jeter. He'll play his final home game on Thursday night against the Orioles and then decide how much he'll play this weekend at Fenway Park.
Jeter declined to even speculate on the weekend, saying he simply wanted to get through his final home game. Yankees manager Joe Girardi said he'll try to figure an appropriate way to finish Jeter's career at Yankee Stadium.
For Mariano Rivera's last game, Girardi had Andy Pettitte and Jeter go to the mound and remove him. Girardi said that was a spur-of-the-moment idea and had mulled some ideas for Jeter.
"I've talked about how special it is to put a uniform on, how special it is to put on a Yankee uniform," Girardi said. "It's very difficult to take it off. I think tomorrow will be kind of a culmination of all the love he's been shown and all the appreciation he's been shown during the course of this year and in his career and I think it'll be something we'll remember for a long time."
Asked about going through his routine for home games one last time, Jeter said, "I don't know. That's a better question for tomorrow, I guess. I don't know."
And when reporters pressed on how much, if at all, Jeter intended to play this weekend, he said, "Buddy, we just lost. Respect the fact that we just lost, and we're not going to the playoffs. I can't think about Boston. Right now I'm disappointed. We've got a game to play here tomorrow. I can't think about Boston."
Jeter's teammates and especially his manager, were more willing to see the larger picture. They understand why Jeter has been special, and they also understand the reaction to him.
"I think about what New York fans want," Girardi said. "It just makes me think about what they're asking of their team. They're asking for players to give them everything they've got, they're asking them to do it the right way and be tough. And I think Derek has all three of those qualities. They don't want to hear any excuses. You never hear Derek make any excuses. You watch the way he's done it 20 years. He's done it the way fans appreciate it. Obviously, he's been a very good player, but he's also done it the way the fans want from their New York Yankees."
As Yankees first baseman Mark Teixeira said, "One of the great blessings of my baseball career has been being able to play with Derek Jeter. I tell everybody, he deserves it all -- the accolades, the recognition, the farewell tour. Because he's a great player, on and off the field. He's been such a great ambassador for the game of baseball. You can see what baseball's done the last 20 years, and the growth -- Derek Jeter's a big reason for that."
Richard Justice is a columnist for MLB.com. Read his blog, Justice4U. This story was not subject to the approval of Major League Baseball or its clubs.