Teheran pitches in at plate, J-Up homers in win
Braves match five games' worth of runs in three frames to reward ace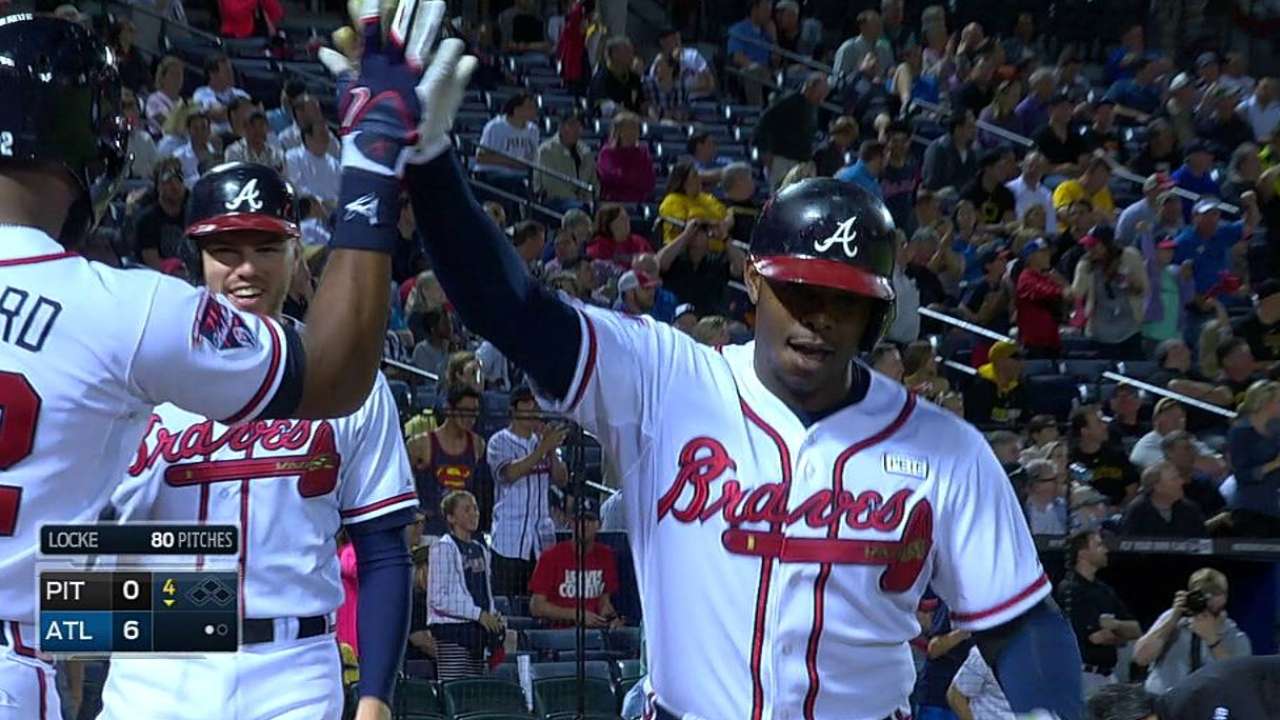 ATLANTA -- As the Braves have spent the past few weeks enduring an ugly stretch that destroyed their playoff hopes, fans have questioned the effort level and wondered if the team had quit on manager Fredi Gonzalez, who maintained that the lack of energy was simply the product of meager offensive production.
While some might continue to question the effort the Braves have shown of late, there was no disputing the enhanced energy that was felt as they enjoyed what could be considered an offensive outburst in Wednesday night's 6-2 win over the Pirates. Justin Upton halted his September miseries with a two-run homer and Julio Teheran managed to help himself in what was his final start of the year.
"Today you come out and say, 'Well, these guys look upbeat,'" Gonzalez said. "The only difference is not that we had more effort. We had baserunners, guys sliding everywhere, running the bases and scoring runs. That's the difference."
On the way to improving their September record to 5-16, the Braves scored more than three runs for the first time since they also tallied six during a Sept. 10 win over the Nationals. They had scored two runs or fewer in 15 of their previous 23 games. Thus there was certainly a different feeling in the air as the Braves provided Teheran two runs of support in three consecutive innings against Pirates starter Jeff Locke.
"This is a competitive team and we wanted to be in the playoffs," Upton said. "But that opportunity has come and gone. Obviously guys have personal goals they want to get to, and that's all going to come with a team effort. So we just have to continue to play baseball for the next four games."
Locke, a former prospect in Atlanta's farm system, allowed the Braves to tally a pair of runs in the second, third and fourth innings. This proved to be more than enough for Teheran, who was not necessarily efficient, as he needed 96 pitches to complete five innings that were marred only by Andrew McCutchen's two-run homer in the fifth.
"I just wanted to do my job today," Teheran said. "I was excited that everything was working. They got some really good at-bats against me. I was just really focusing on getting a win and finishing strong tonight."
Like with last week's win over the Nationals, the Braves might have benefited from the fact that the Pirates had celebrated a playoff berth the previous night. Or they might have simply wanted to make sure Teheran did not enter the offseason before gaining some much-deserved support. The Braves had been shut out in three of the previous four starts made by Teheran, who finished the season with a 2.89 ERA -- the sixth-best mark among Braves starters dating back to 2000.
Chris Johnson delivered a pair of doubles, including one that put him in position to score on Emilio Bonifacio's two-run single in the second inning. Bonifacio's single came after Teheran produced a two-out grounder that drew a late flip to first base from Ike Davis.
When Christian Bethancourt doubled with two outs in the third inning, the Pirates intentionally walked B.J. Upton and then paid the price when Teheran followed with a two-run single, giving the pitcher the first multi-RBI game of his young career.
"I was trying to put a ball in play," Teheran said. "I really wanted to get this win and I was trying to do my best with my hitting and my pitching."
Though he stands just one RBI short of totaling 100 for the first time in his career, Justin Upton was hitting just .134 (9-for-67) in September before highlighting his two-hit game with the two-run shot he hit off Locke in the fourth. Upton needs two more homers to reach the 30-mark for the second time in his career.
"If I get there, I get there," Upton said. "If not, it's baseball. I'm just going to continue to go out and play and do whatever I can to help the team win. If that comes, it comes."
Mark Bowman is a reporter for MLB.com. This story was not subject to the approval of Major League Baseball or its clubs.