Walker's excellent effort not enough to halt skid
Rookie turns in career-high eight innings; Wild Card hopes dwindling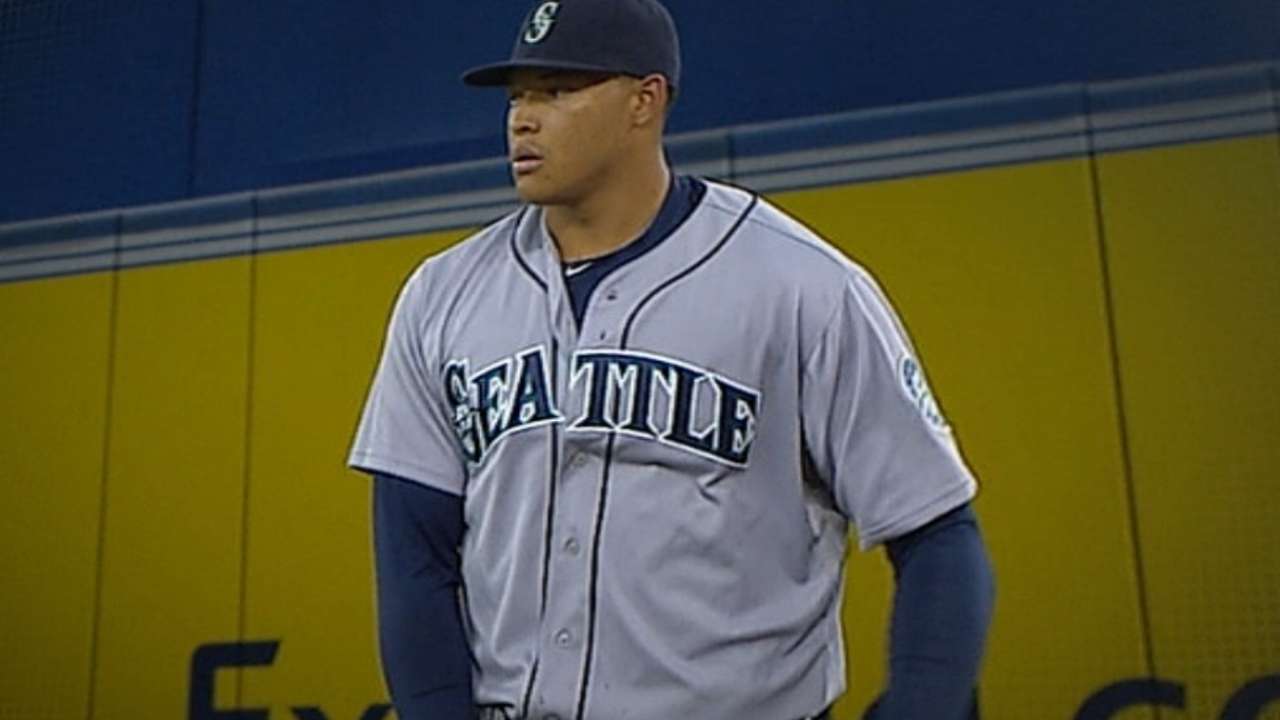 TORONTO -- Taijuan Walker halted Seattle's run of poor pitching on Wednesday, but not even the rookie's gem could put a stop to the Mariners' untimely five-game slide, as they lost a 1-0 decision that reduces their playoff chances to the miracle-needed stage.
Walker threw eight innings of one-run ball against the Blue Jays, but the one run was another devastating blow for a struggling Seattle club that now has lost 12 of its last 17 games.
Toronto broke the scoreless tie when Ryan Goins lofted a two-out single that fell between center fielder Austin Jackson and second baseman Robinson Cano as former Mariner Munenori Kawasaki raced around to score from first with the ball taking a high bounce off the Rogers Centre artificial turf.
With the A's losing to the Angels and the Royals falling to the Indians, Seattle remains three games back of Oakland and Kansas City for the American League's two Wild Card berths with four games remaining.
Thus, the Mariners remain mathematically alive, though the math grows more difficult by the day. At 83-75, Seattle can still get to 87 wins by sweeping its final four games. The A's and Royals are at 86 wins and thus can eliminate the Mariners with any combination of two wins of their own or losses by Seattle.
But in the quiet of the Mariners clubhouse, manager Lloyd McClendon found a positive to grasp in Walker's outstanding performance.
"In all of this, that's one thing I certainly don't want to get lost," McClendon said. "That young man threw a tremendous ballgame, really stepped up and did everything we asked him to do. He was outstanding.
"I think his last two outings have really given us a glimpse of the future. We have a lot to be proud of and this young man is going to be part of that future. We have a lot to be excited about. Was this important? Yeah. I think it was. I think he's turned a corner and is starting to move in the right direction."
The 22-year-old Walker did his part to stop the bleeding for a club whose starters had posted a 9.15 ERA in the first nine games of this 11-game road trek. Seattle had been outscored 42-10 in its previous four losses.
But after losing on a bloop single, Walker wasn't able to relish his breakthrough game.
"It was a huge game and we needed the win," he said, "so it's kinda tough right now."
Seattle's late skid is largely the result of an outstanding pitching staff that appears to be running out of gas, but Walker steadied the ship, at least for a night, as he made the longest start of his young career. Only Goins' jam shot to center marred Walker's night after issuing his lone walk, a four-pitch freebie to Kawasaki that followed McClendon's challenge on a play at first on a diving tag by Kendrys Morales to keep Dalton Pompey off base.
"I was excited, probably a little amped up, maybe a little too much," Walker said after the Mariners won the replay challenge. "So the four-pitch walk to a guy I have to go right after, that doesn't help. I had to lock back in and try to get out of it. You have to try to not let them score, but a jam-shot blooper, not much you can do about that."
Jackson was stationed deeper than normal in center field on the play as the Mariners shifted back to prevent any balls going over their outfielder's heads with the potential go-ahead run on first.
"It just fell right between all of us, really," Jackson said. "It was a tough play for everybody. Playing no doubles right there, we're trying to keep that runner on first from scoring. He hit a ball in the perfect spot."
Blue Jays lefty Mark Buehrle came into the game looking to get six innings to reach 200 for a 14th consecutive season, but the veteran did far more than that as he held Seattle to three hits in eight-plus frames as the Mariners endured their club-record 19th shutout of the year.
Corey Hart doubled down the right-field line leading off the third but wound up stranded at third. No other Mariner advanced past first against Buehrle, and their last chance died in the ninth when reliever Aaron Sanchez picked off pinch-runner James Jones at first base following a leadoff single by Chris Taylor.
"He was as good as you're ever going to see him," Blue Jays manager John Gibbons said after Buehrle improved to 13-10 with a 3.39 ERA. "He was strong the whole night, his ball was really ducking and darting in there. He works quick, that game flew by and their guy was just as good."
Indeed, Walker was equally outstanding in his fifth start of the season for Seattle, breezing through with just four singles and a walk. The youngster had six strikeouts and finished his rookie season at 2-3 with a 2.61 ERA in eight games.
Greg Johns is a reporter for MLB.com. Follow him on Twitter @GregJohnsMLB as well as his Mariners Musings blog. This story was not subject to the approval of Major League Baseball or its clubs.