MLB.com Columnist
Lyle Spencer
A's need offense to rev it up to secure Wild Card spot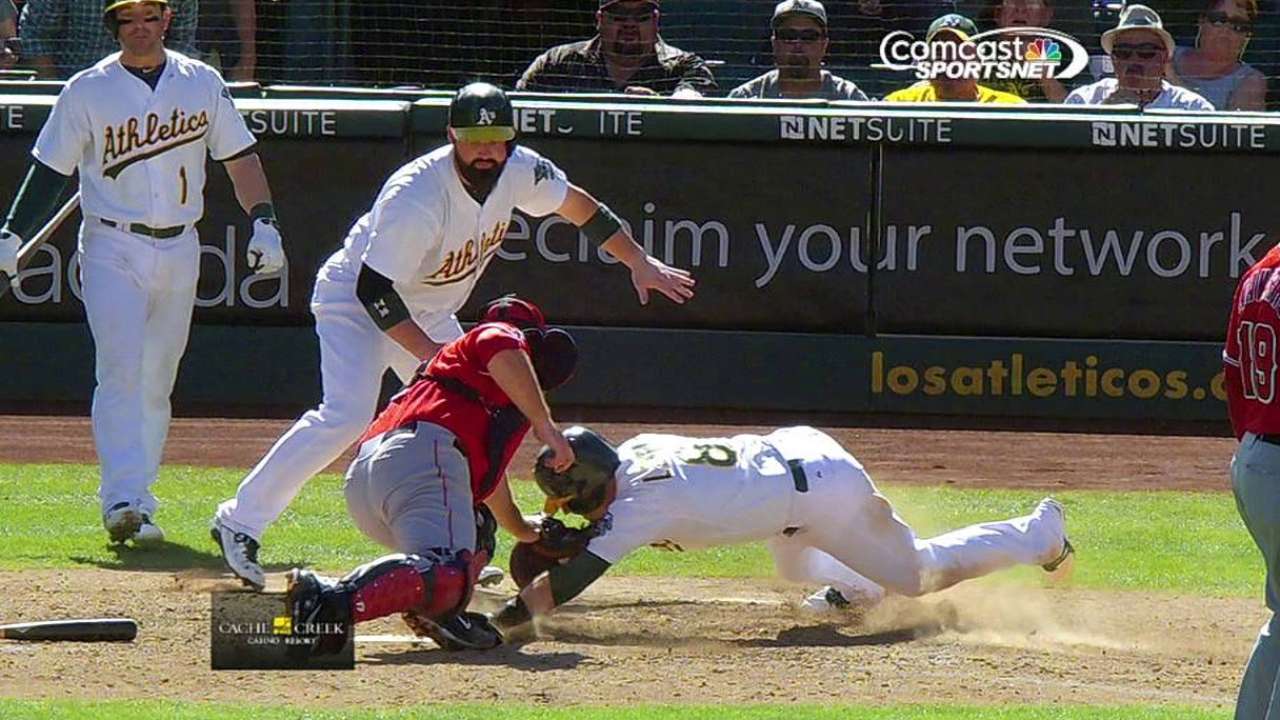 OAKLAND -- It was quiet enough in the Athletics' clubhouse Wednesday afternoon to hear a Wild Card drop. The challenge now for the green and gold troupe is to pick it up and play it as deep as possible into October.
"We don't look at it as a challenge," Josh Reddick, one of the few A's hitters who has been hitting, said following a draining 5-4 loss to the Angels. "We've been through it before. Nothing's going through our minds negative. We've just got to go play Oakland A's baseball and we'll be fine."
The A's showed some late life, calling to mind much better days, but the final home game of the regular season ended as so many others have during this 14-28 skid that began on Aug. 10.
The Halos, meanwhile, continued their winning habit, notching No. 98 to lead the Majors -- two shy of the club record set in 2008. The 2002 World Series champions won 99.
The Athletics, with an American League Wild Card spot in place but no certainty of keeping it, are focused on reaching win No. 87 and taking it from there.
A four-game series with the Rangers in Texas starting Thursday night will determine, along with developments elsewhere, whether the A's play in the AL Wild Card Game or disperse to points north, east and south for the winter, trying to figure out what happened.
"We control our destiny," Reddick said. "We don't want Seattle and Kansas City to have to lose to put us in that spot. We've been saying we've got to do something. Right now, it's time to act."
A's manager Bob Melvin expressed optimism that once his club makes it to the postseason, all the negativity that has surrounded it for the past month will wash away and the team will start anew, with a clean slate.
"We have to make it first," Melvin said. "But once you make it to the playoffs, everything changes."
This process of "trying to find out who we are will go away," he added, a suggestion that it has been a burden of sorts for a team that cruised along on good vibes and positive chemistry for so long.
"You can't rely on late innings to pick you up," Reddick said when asked if there could be a carryover from a four-run uprising in the seventh inning that rocked the house before it fell silent again.
Jon Lester, who was charged with five runs, three earned, across seven innings on Wednesday, will be in line to pitch the AL Wild Card Game if the Athletics are involved. Lester, acquired from Boston for such high-impact assignments, said he'd pitch out of the bullpen against the Rangers if necessary.
The A's would prefer to preserve Lester for the most pressure-filled game of the season. But who knows what's in store in Texas?
Melvin and his athletes are keenly aware of how dangerous Texas, with nothing to lose, can be in these situations. The Rangers swept a three-game series in Oakland on Sept. 16-18, outscoring the Athletics by a combined 19-6.
"We know they're a good ballclub -- they showed that the last time they were here," Reddick said. "There's no pressure on them. They want to be the team that puts us out. We just have to have more drive than they have."
Having produced just three singles against Hector Santiago and reliever Vinnie Pestano through six innings, the A's came alive in the seventh. There were five hits in a six-batter span, including a two-run double to the opposite field by Reddick and an RBI triple to the right-center gap by Nick Punto.
Coco Crisp followed with a line-drive single for the fourth run, and the faithful stood and cheered. But when Adam Dunn, the storied slugger acquired for such a moment, struck out against Jason Grilli, Oakland fell silent.
Reddick grounded out an inning later for the final out with a runner at second, but he's one Oakland hitter who has been getting it done. He was 9-for-16, a .563 average, on the homestand, getting squared away against left-handed pitching after platooning had kept him on the bench when southpaws drew starting assignments.
"I feel great [at the plate]," Reddick said. "It's amazing how quickly it can turn. It's just a matter of seeing the ball and hitting the ball."
Reddick might want to pass that fundamental information along to teammates who, in Melvin's view, have been "pressing to be the guy." This is one sport where pushing too hard can be the problem.
Reddick, as honest and straightforward as anybody in the game, isn't interested in any psychological probing of the A's, the search for their true identity.
"We know who we are," the right fielder said. "We've all been here long enough. We've got to figure something out and figure it out fast."
Lyle Spencer is a reporter for MLB.com. This story was not subject to the approval of Major League Baseball or its clubs.