With Crew on the brink, Lohse blanks Reds
Righty throws second shutout of season; offense scores five runs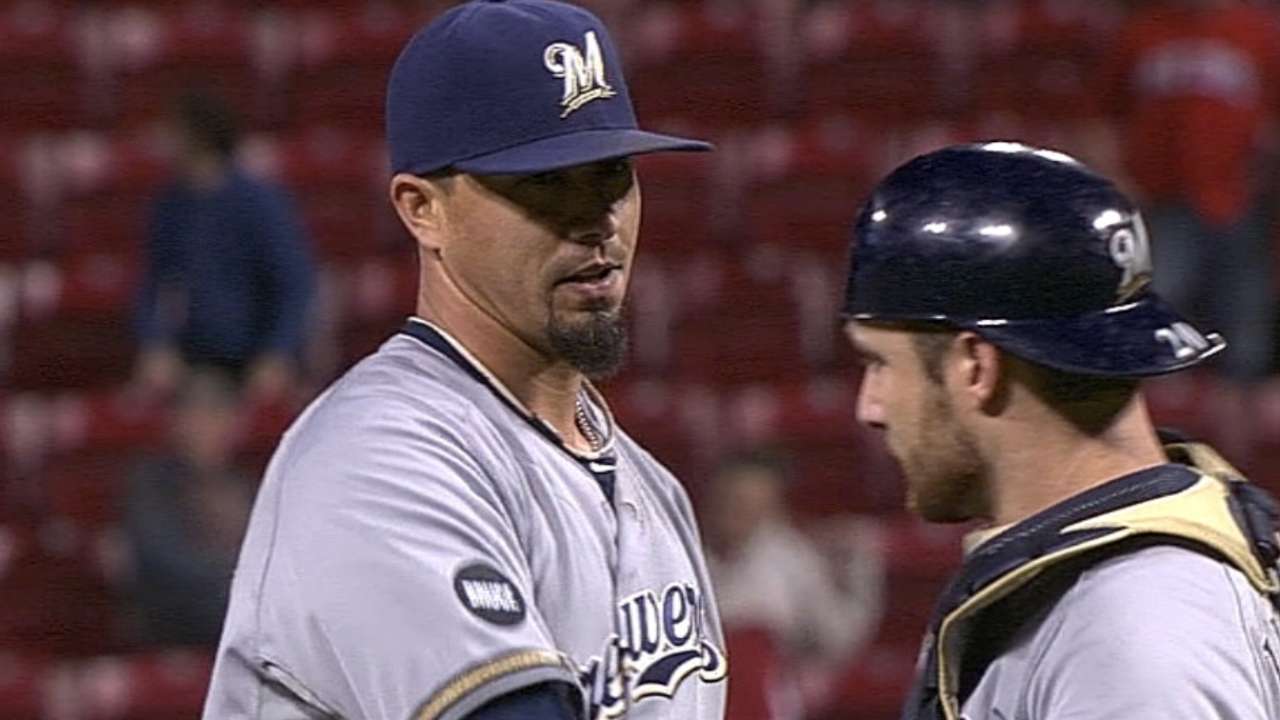 CINCINNATI -- For the second straight year, Kyle Lohse finished a season with a two-hit shutout. This time, it spared the once-soaring Brewers from a losing record and staved off their elimination from the postseason chase for another day.
The only man standing between Lohse and a perfect game on Wednesday was Reds first baseman Jack Hannahan, whose two singles accounted for the only baserunners against Lohse in nine innings of a 5-0 win at Great American Ball Park. It marked only Milwaukee's second victory in seven games and was win No. 81 this season, ensuring no worse than a .500 finish for a team that spent 150 days atop the National League Central.
The win delayed the Brewers' exit from the postseason race as the Giants lost to the Dodgers later on Wednesday night. Milwaukee's elimination number remains at one, so if the Brewers lose or San Francisco wins again, the Crew will not be able to reach the playoffs. Both teams have four more games.
According to data from Baseball-Reference.com, it was the 25th shutout on two or fewer hits in Brewers history, and only the fourth in the past 11 seasons. Two were this season, in this ballpark -- Matt Garza pitched a two-hitter against the Reds on July 5. Lohse owned the one before that, a two-hit shutout of the Braves in his final start of last season.
"It's weird," said Lohse. "Somehow I have to trick everybody into thinking every start is my last one of the year."
Lohse, who struck out six without walking a batter, logged his 12th career complete game and ninth shutout, and his second of each this season. He blanked the Cubs on three hits over nine innings of a 9-0 win on June 1.
It was Lohse's third career two-hit shutout, and it might have been even better if not for the pesky Hannahan, who lined a single to center field leading off the third inning and blooped a single to center field in the fifth.
"He hit two pretty good pitches, too," Lohse said. "First one, trying to get the backdoor curveball down in there to the dirt and he just did a good job of staying on it. The other one, I mean, I broke his bat. You can't do much more about that. I'll take what I got."
Considering their recent slump, the Brewers' scoring represented a breakout. A three-run eighth inning, built on Jean Segura's two-run double and Lohse's sacrifice fly, gave the Brewers more than four runs in a game for only the third time in 22 games this month. It was their first multirun inning in eight games on the road trip.
The Brewers also worked a season-high 10 walks, and three of those runners scored.
"I'm sure it's been printed for the past month or two: The pitching's been there," said second baseman Rickie Weeks, who contributed two hits, a run scored, an RBI and a terrific defensive play up the middle to Lohse's effort. "We haven't been getting key hits in the right spots. Things haven't been going our way. But for the most part, we came out today and backed up Lohse."
The co-player of the game with Lohse was Segura, whose clutch double in the eighth inning off Reds reliever Ryan Dennick extended a 2-0 lead to 4-0 and allowed Lohse to bat for himself. Manager Ron Roenicke confirmed that had Segura made an out or walked to load the bases, he would have removed Lohse at the 78-pitch mark in favor of a bat.
Segura's double to left-center field snapped a 26-game, 22-start RBI drought for the young shortstop.
"You know, we're holding onto those two [runs] for a long time," said Roenicke, who lamented his club leaving the bases loaded in the fifth and again in the seventh. "And then Seggy comes up with a huge hit. That was big."
He added: "A lot of good things happened today."
Many of them happened to Lohse, who got the slick defensive play from Weeks to rob Todd Frazier of a hit in the seventh inning, and highlight-reel catches from left fielder Gerardo Parra and center fielder Carlos Gomez in the eighth.
"We just couldn't get anything started," Reds manager Bryan Price said.
After missing time in August and struggling into September because of a sprained ankle, Lohse was able to finish his second season in Milwaukee with three consecutive quality starts. As he departed Great American Ball Park late Wednesday, the possibility of one more outing -- in a tiebreaker game against the Giants -- remained mathematically possible.
If that slim chance does not come to pass, at least Lohse could head home on a positive.
"It doesn't really matter how many years you've played, it's the same feeling with everybody," Roenicke said, "that you finish a season on a good note and you feel good going into the offseason and coming back the next year."
Adam McCalvy is a reporter for MLB.com. Read his blog, Brew Beat, and follow him on Twitter at @AdamMcCalvy. This story was not subject to the approval of Major League Baseball or its clubs.