Buehrle hits 200 IP for 14th straight year in win
Lefty exits three outs shy of shutout; Goins' bloop drives in lone run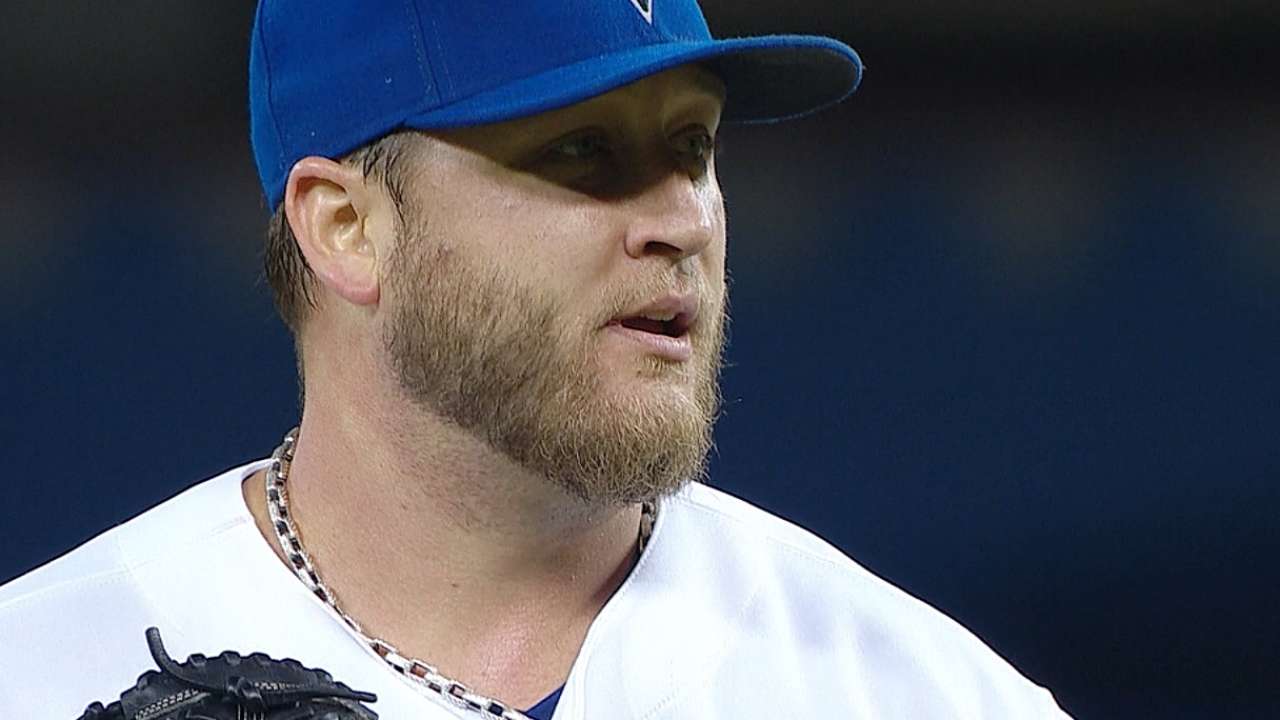 TORONTO -- Mark Buehrle has been Mr. Reliable throughout his Major League career, and even though he gets older with each passing season, it hasn't made the slightest impact on his overall performance.
It seems like year after year Buehrle defies the odds by continuing at his remarkable pace. There have been better pitchers over the past two decades but nobody has been as consistent, and the veteran lefty proved it yet again during Wednesday night's 1-0 victory over the Mariners.
Buehrle tossed eight scoreless innings to become the seventh pitcher since 1901 to record at least 200 innings in 14 consecutive seasons. Just as fitting, the milestone was reached in a game that took under two hours to play.
"You look at some numbers back in the day, 200 innings was a terrible year, those guys were going 400-500 innings," Buehrle said. "I don't know what's changed from then till now, but it seems like each year it's getting harder and harder to get to 200 innings for me. I like to think of myself as a throwback guy just because I like to go out there and have fun, but the game has definitely changed."
The game might have changed, but the company Buehrle now finds himself in would be impressive regardless of the era. He joined a prestigious group that includes Warren Spahn (17 seasons of 200 innings), Don Sutton (15), Gaylord Perry (15), Phil Niekro (14), Christy Mathewson (14) and Greg Maddux (14).
The 35-year-old Buehrle is the first pitcher in Major League history to record at least 200 innings with 61 or fewer walks in 14 straight years. He surpassed Cy Young, who accomplished the feat from 1897-1909. In addition to the innings milestone, Buehrle has won at least 10 games and made 30 starts in 14 straight years, which is the most since Perry had 15 from 1966-80.
The streaks are a testament to the success Buehrle's enjoyed at the big league level but also to his ability to stay healthy. Buehrle made his 461st consecutive start without a stint on the disabled list. That's the longest streak in the Majors and reminiscent of an era when pitchers were pushed to their limits year after year.
"You wish there were more of him, I'll put it that way," Blue Jays manager John Gibbons said. "When you coach and manage on teams, I've been here and different places, he's at the top of my list for not only baseball players but individuals. We all have our issues and things like that, but he does everything right. He's a throwback type of guy. He understands the game, he deals with the game, he just does everything right."
Buehrle's milestone outing looked like so many starts he's had throughout his career. The Major League leader in pace cruised throughout the night in a game that took one hour and 59 minutes to complete. His only minor hiccups on a 10-strikeout night came in the third on a double by Corey Hart and in the fourth on a leadoff infield single by Dustin Ackley.
The native of Missouri received a standing ovation when he officially hit the 200-innings plateau after the sixth and again in the ninth when he was lifted after a leadoff single. He's done this 200-inning thing plenty times before, but this one feels a little more special because for a long time there was some doubt about whether it would even happen.
"I think it's going to mean more at the end of the season, knowing I accomplished it again," Buehrle said. "I think when I had two or three starts in a row I had three innings, four innings, mixed a six-inning game in there, I kind of, I don't want to say gave up, I said, 'Hey it's not going to happen.' I did the math and said I have eight starts, I need so many innings, I didn't like my chances. It means a lot because I put this goal on myself in Spring Training."
Toronto almost wasn't able to capitalize on Buehrle's strong outing. The Blue Jays were unable to get anything going off rookie right-hander Taijuan Walker, who matched Buehrle pitch for pitch for much of the night. Walker faced two batters over the minimum through seven innings, and it wasn't until the eighth that Toronto finally managed to piece together a mini rally.
Infielder Munenori Kawasaki got things started with a one-out walk. He remained at first base until one out later when Ryan Goins hit a high blooper to center. Kawasaki was running on the play and the ball dropped between center fielder Austin Jackson and second baseman Robinson Cano. Kawasaki scored all the way from first base and gave the Blue Jays the only run of the night.
Buehrle was in search of his first complete game since July 25, 2013, but left after a single by Chris Taylor led off the ninth. Rookie reliever Aaron Sanchez entered, picked off pinch-runner James Jones and then retired the side to record the third save of his career.
"He had it going," Mariners manager Lloyd McClendon said of Buehrle. "He's a veteran guy that knows what he's doing. He's got great touch and feel. He had the cutter going in, good changeup, breaking ball, mixed it all. That was vintage Buehrle."
Gregor Chisholm is a reporter for MLB.com. Read his blog, North of the Border, and follow him on Twitter @gregorMLB. This story was not subject to the approval of Major League Baseball or its clubs.