MLB.com Columnist
Richard Justice
Fenway perfect backdrop for Jeter's sendoff
Decades' worth of passion between rivals directed toward icon this weekend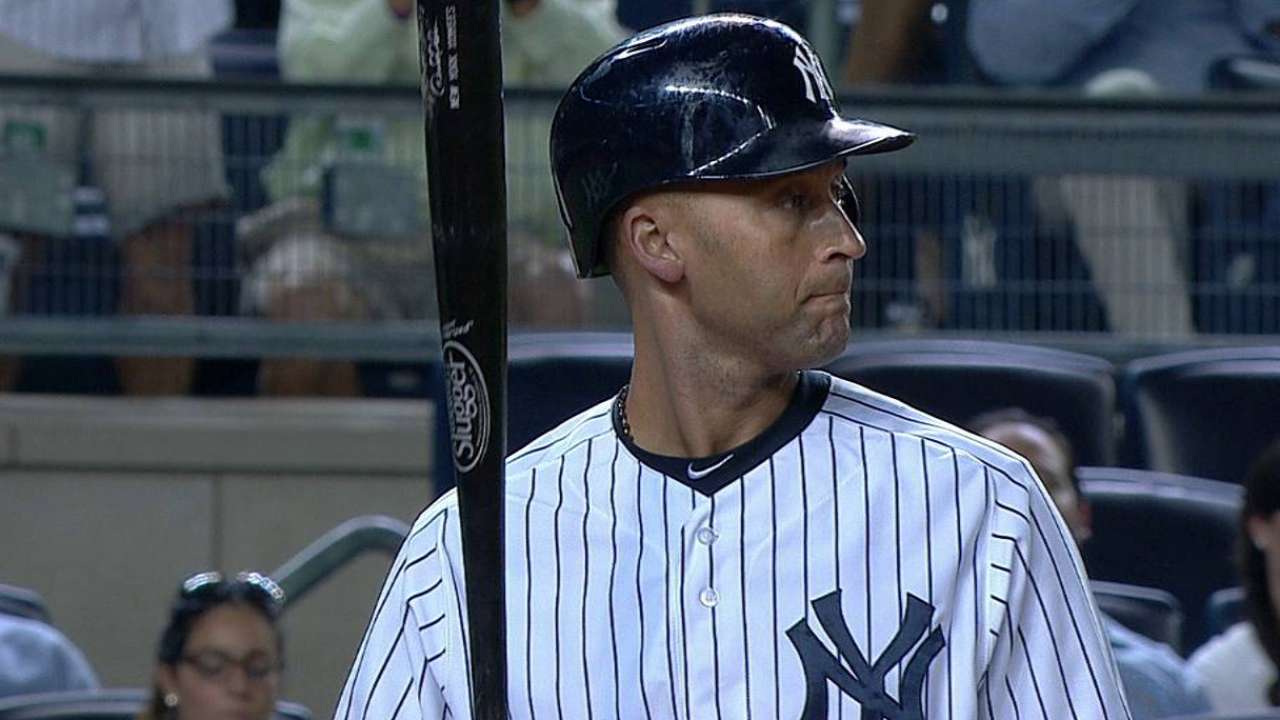 NEW YORK -- We are about to be given another Yankees-Red Sox memory this weekend at Fenway Park. Like so many others, it's to be savored and celebrated and ultimately to be stored away in that certain area of the heart and mind.
These two teams have given us so many memories through the years, so much passion and fire and grit, that it somehow seems fitting they'll be the backdrop for Derek Jeter's retirement.
Unlike all those other Red Sox-Yankees moments, this time, there'll be no loser. No pennant will be blown, no division lost. Rather, it will be a celebration of one man's life and times.
Beyond that, it will be a celebration of baseball. In the end, that's what Jeter represents to so many of us. He has played this great game at its highest level for 20 seasons. Jeter has also represented so much more than simply playing well. He has been about team play and hard work and also about charity and social responsibility.
So when Jeter plays his final big league game this weekend, presumably Sunday at Fenway Park, it will be a moment for the Yankees and Red Sox alike to embrace.
Red Sox fans will show up and pack the place as usual. Yanks fans will be there, too, in big numbers. Red Sox fans will cheer Jeter in a way they've never cheered him before. Bet on that. While they've booed him through the years, the boos have never been more than half-hearted.
Jeter has joked about all the terrible names he has been called in Boston, but the truth is, he understands what that has been about. That's a Yankees-Red Sox thing, bred into New Englanders from an early age.
Here's the dirty little secret Jeter has probably already figured out. These are great baseball fans. They love their Red Sox, but they love the sport, too. And they respect greatness. They appreciate Jeter in the same way they appreciate Dustin Pedroia and David Ortiz.
Respect cuts along similar lines, regardless of the uniform. With both teams out of contention, with both teams in transition, Jeter may represent something more to Boston fans.
When they see Jeter, they'll remember their finest hour, rallying from a 3-0 deficit in the 2004 American League Championship Series. That season ended with Jeter bitterly disappointed and with the Red Sox breaking the 86-year-old Curse of the Bambino to win the World Series.
Jeter has played 281 games against Boston in the regular season and 19 more in the postseason. He has played 151 at Fenway Park. Baseball is a personal sport, especially in a place where the fans are close and the relationship to the players is so intimate. That's why Red Sox fans surely feel they know the guy.
They've simply seen so much of Jeter, the way he plays and carries himself, his grace in victory and defeat. At some point, they had to believe they had him figured out.
They knew Jeter was made of the right stuff, that he was impossible to really dislike and that he did the game proud in so many ways.
This isn't the way opposing players are usually treated. Then again, nothing has been typical for Jeter the last few weeks. On Wednesday afternoon at Yankee Stadium, fans stood and cheered each time he stepped into the on-deck circle.
When Jeter grounded out in the eighth inning of a 9-5 loss, they stood and chanted his name, demanding a curtain call. He declined, saying postgame that he wasn't going to do anything to disrupt teammate Chase Headley's at-bat.
Jeter has noticed what's happening around him, has admitted it feels strange. He would like to focus on the games, but we would like to tell him thanks. This is one of those unique moments.
That's also why we love this game. No other sport delivers the way this one does, in terms of passion and historical context. Here's hoping that someday Jeter looks back on the whole thing and understands the place he holds in the hearts of minds of baseball fans -- not just in New York, but all across the country. Including Boston.
Richard Justice is a columnist for MLB.com. Read his blog, Justice4U. This story was not subject to the approval of Major League Baseball or its clubs.