Berkman, the student, makes field trip to Minute Maid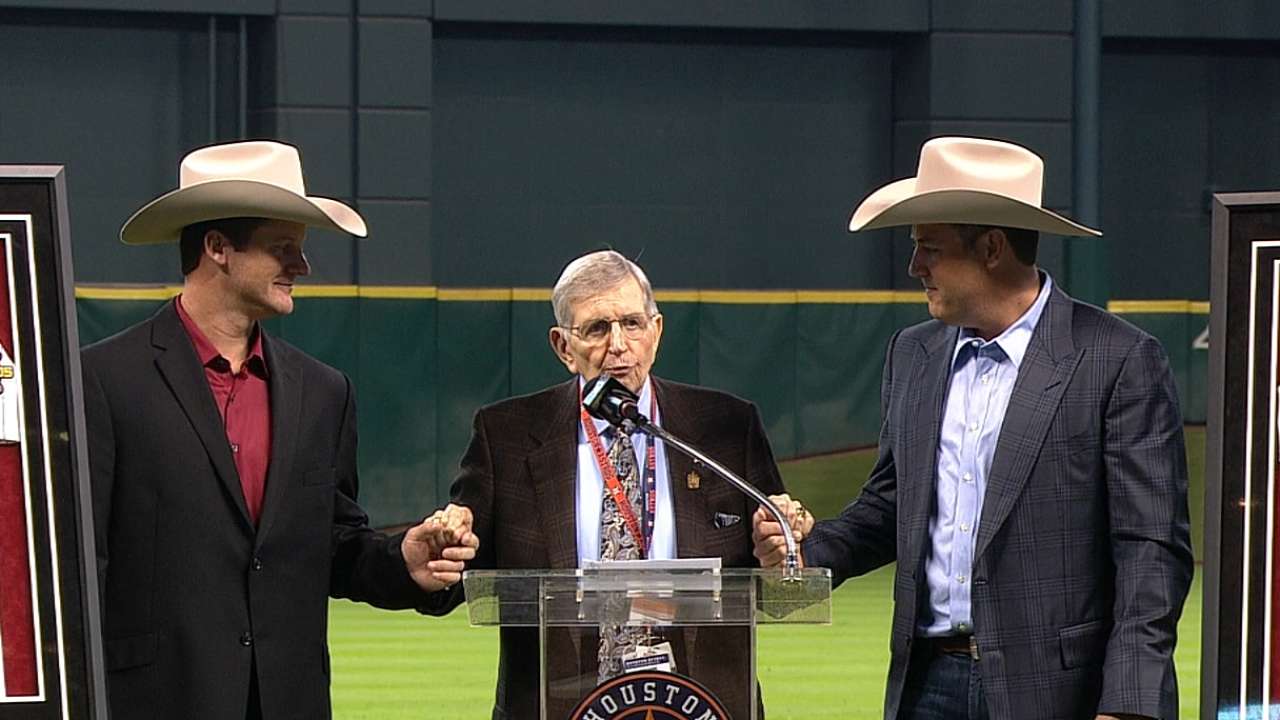 ARLINGTON -- When Astros director of decision sciences Sig Mejdal, who oversees the club's analytics department, invited some Rice University students to come to Minute Maid Park on Sunday for a presentation on analytics, he had no idea about the star pupil who would walk through the door.
Former Astros slugger Lance Berkman, who helped the Cardinals win a World Series in 2011 when Mejdal and general manager Jeff Luhnow were in St. Louis, was among a group of about two dozen students who came to the ballpark on a field trip. Berkman is finishing his degree in kinesiology at Rice, where he was the 1997 college player of the year and works as a baseball student-assistant coach.
"It was a surprise to see him walking with all the other students," Mejdal said. "It was like Rodney Daingerfield in 'Back to School.'"
The two classes that met with Mejdal are taught by Jimmy Disch, associate professor in the department of sport management. One class is Theory of High Level Performance, which is how to coach high-level athletes, and the other is Sport Analytics, which studies statistical trends in sports and how they're being used to help performances on the field.
"The people that didn't show up had to do a written assignment, and I didn't want to do a written assignment," Berkman joked. "To be honest with you, I've heard a lot about how the Astros have made the analytics side of things a priority, and I kind of wanted to hear what it was all about."
Mejdal started the presentation with the history of statistical analytics in baseball, from the influences of Branch Rickey and Sandy Alderson, to the data that's available now. He discussed some of the tools the Astros use to analyze data, as well as lessons learned and a few examples of how they use it.
"There's a lot of information that is not so readily obvious, particularly when it comes to pitch selection on a certain hitter," Berkman said. "For example, a hitter may have a perceived weakness against a certain pitch, and when in fact that's not necessarily the case from a statistical standpoint. I think things like that can be very beneficial to pitchers when it comes to preparing scouting reports and having a general philosophy about how they're going to attack certain lineups and how the defense is going to be positioned in certain situations.
"We never shifted hardly at all my whole career, and now I think the Astros lead the Major Leagues in shifting and they can demonstrate where that has been an effective strategy in terms of taking hits away from the opposition."
Mejdal shared some of the PITCHf/x data capabilities with Berkman, who asked specific questions about the ability to quantify a good pitch from the data.
"I shared a little bit about the defensive positioning and he shared his thoughts on that," Mejdal said. "He's all for it. He's skeptical, of course, of whether it's being done too much or not enough, what effect it has on the human factor associated with it and what affect is has on the pitchers and the infielders."
With that in mind, Berkman suggested to Mejdal that the Astros' analytics staff could communicate more directly with the players about what they're trying to accomplish with shifts, etc.
"He and I were talking perhaps half an hour past the end of class and he had suggested 'Why don't you put on a uniform and go present this to the players?'" Mejdal said. "I laughed and said, 'That's the job of the coaches' and in fact I told him the interaction I've had with him is about as much interaction as I've had with a player at one time. It's really the coaches that are the ones that deal best with the players, but it was a great interaction with him."
Berkman said he didn't think analytics would have changed things much for him while he was playing.
"I think it has more to do with the way a team approaches defense rather than how an individual player is going to perform," he said. "For me, a lot of the stuff is intuitive, where I think the numbers confirm some of the things I've always believed about the game. Sig showed us statistical analysis that pitching up and in and down and away is effective. Some of that stuff you just kind of know or you learn from being around the game."
Brian McTaggart is a reporter for MLB.com and writes an MLBlog, Tag's Lines. Follow @brianmctaggart on Twitter. This story was not subject to the approval of Major League Baseball or its clubs.