Padres to focus on bats in offseason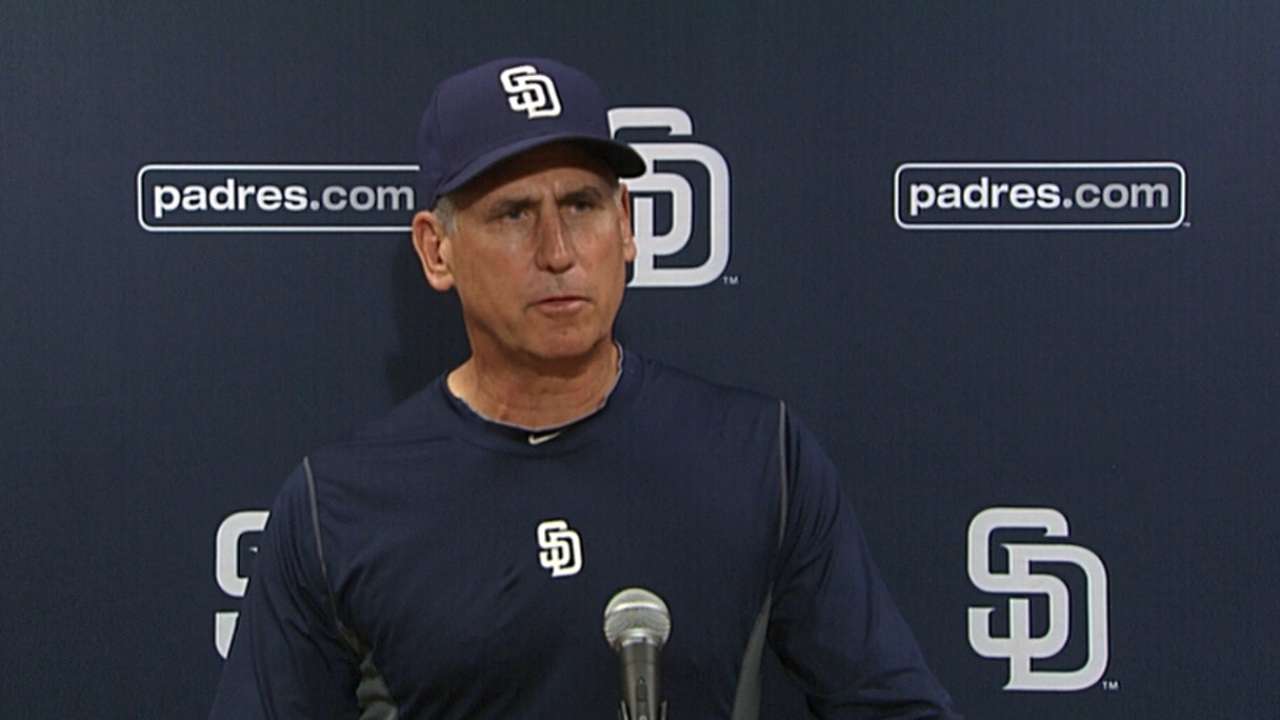 SAN DIEGO -- Padres manager Bud Black got a bit nostalgic Wednesday afternoon during his final pregame media session at Petco Park this season. More specifically, he spent some time revisiting where the Padres stood at this point a year ago.
Entering the offseason last September, the Padres felt as though they had a lineup that was more or less set, Black said. This year, it's the pitching staff that looks stable, and the offense that could see a bit of a reshuffling come Hot Stove season.
"If you look back a year ago, and you look at our roster, it looked pretty steady at what was going to happen the following spring," Black said, before listing this season's originally projected starters, position by position.
"We were pretty set, and I think that's definitely changed this year. I don't know whether uncertain is the word. But I do think there will be some roster construction more so than last year."
A number of position players who put up solid years in 2013 have struggled this season, including (but not limited to) Jedd Gyorko, Will Venable and Everth Cabrera. As a result, the Padres' 515 runs entering play Wednesday are the fewest in baseball, and it's not even close.
Conversely, the pitching staff is on pace to set a franchise record for fewest runs allowed per game and features a bullpen -- the best in the National League ERA-wise -- with just one free agent (right-hander Tim Stauffer).
The obvious question is just how valuable that pitching is, and whether it's worth dealing parts of it to acquire bats.
"I'll answer it this way: We've pitched well all year, and there's an adage that good pitching beats good hitting," Black said. "... If you trade out of a strength, you'd better have guys to replace them. You'd better make sure that you're getting the right guy back."
The quartet of Gyorko, Cabrera, Venable and Yonder Alonso averaged a 45-point dip in batting average this season. And Gyorko, Cabrera and Alonso all spent significant time on the disabled list.
Ultimately, it's new general manager A.J. Preller who will be calling the shots as far as offseason moves are concerned. Before it comes to that, he'll have to conjecture which returning players might revert to their form of 2013 or earlier.
"We had a lot of guys that had down years," Black said. "Can you bounce back? Of course. Are they going to? I don't have the crystal ball."
Worth noting
• During the eighth inning of Wednesday's home finale, the Padres announced they will be installing an HD scoreboard in place of the model currently overlooking the left-field seats at Petco Park. The club said further details about the scoreboard will be announced in the near future.
AJ Cassavell is a reporter for MLB.com. Follow him on Twitter @ajcassavell. This story was not subject to the approval of Major League Baseball or its clubs.