Hamilton suffers mild concussion on leaping catch
Center fielder tracks down deep drive in third, then exits game before fifth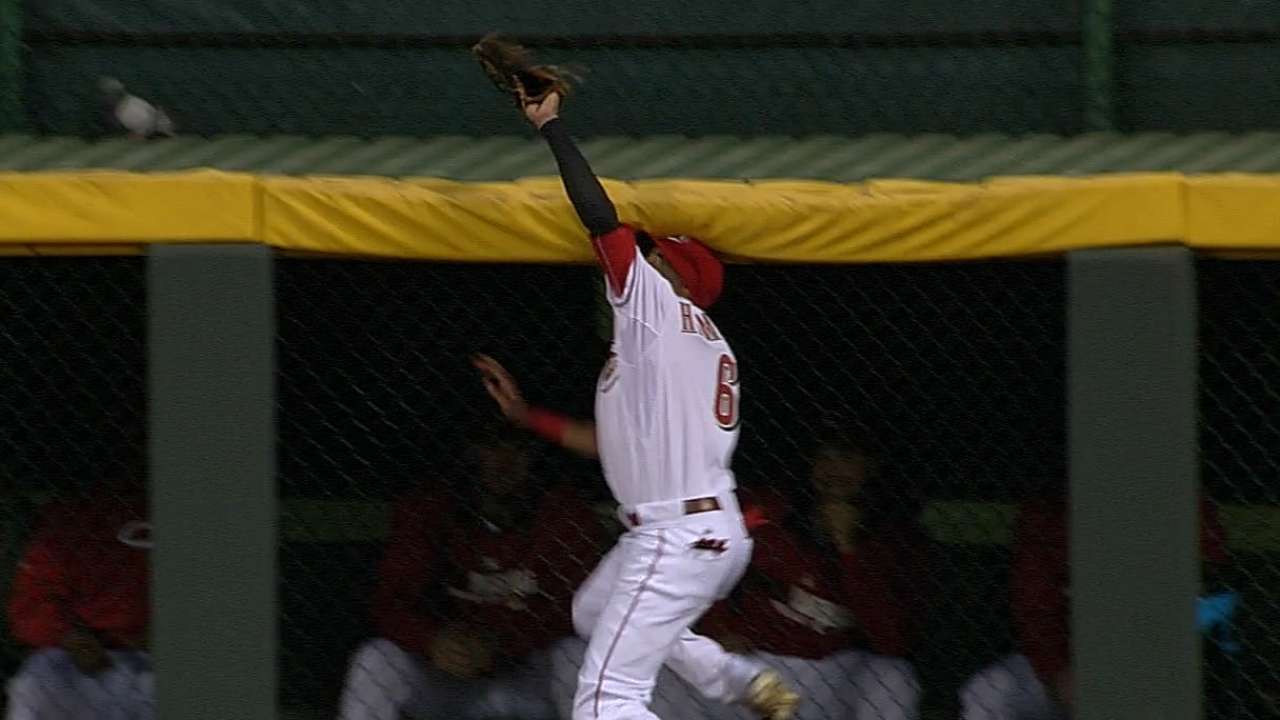 CINCINNATI -- Reds center fielder Billy Hamilton added to his already impressive portfolio of highlight-reel plays with a spectacular catch against the Brewers during Cincinnati's 5-0 loss on Wednesday night at Great American Ball Park, but he suffered a mild concussion while making the play.
With two outs and nobody on in the third inning, Ryan Braun hit a deep drive to left-center against Cincinnati starter Daniel Corcino. Hamilton raced toward the wall, leaped and reached over the fence to rob Braun of a home run.
Hamilton collided hard with the fence as he made the grab, and the rookie was seen holding the right side of his face as he returned to the dugout. He lined out to second to end the bottom of the third, then was replaced by Chris Heisey in center before the top of the fifth inning.
Hamilton said he felt dizzy after the catch and the stadium lights began bothering him. After the game he wasn't feeling any better, and said he wanted "to go home and go to bed."
"I'm going to do whatever I can to try and make the catch, and it happened," Hamilton said of the collision. "I couldn't concentrate anymore; I went back out there -- I thought I could, trying to be the tough guy, making it a little worse. I'll see how I feel tomorrow, and we'll go from there."
Hamilton has been very durable in his first full season, playing in 152 of the Reds' 158 games. He won't be in the starting lineup for Thursday's series finale against Milwaukee.
"I wasn't planning on starting him anyway, so we'll have some opportunity to kind of survey him a little bit tomorrow, and if we do have to run a [concussion] test on him, we can do that and see if he'll be available to help us," manager Bryan Price said.
Corcino was amazed by the catch, but not surprised.
"It was awesome. I've watched Billy. I've been playing with him all Minor Leagues and know what he can do," Corcino said. "You see him in center field, he's only had one year but he can do a lot.
"When [Braun] hit the ball, I was thinking the ball was gone. As soon as I saw Billy close to the wall, I was like, 'Well, he's got a chance.' He got a good jump, and I said, 'Yes, he got it.'"
Manny Randhawa is an associate reporter for MLB.com. This story was not subject to the approval of Major League Baseball or its clubs.